As the nation hunkers down amid the coronavirus pandemic, millions of people are under citywide lockdowns and curfews, working from home, and "social distancing" themselves from friends. To fight off stress in this time of great anxiety, here are six Latino-themed shows and films to enjoy.
Gentefied
The title is a play on the word gentrification and the word gente, which means "people" in Spanish. "Gentefied" shows what happens, for better or worse, when young Latino hipsters move back to their old communities as longtime residents and business owners try to keep up with rising rents and prices. A bilingual, bicultural love letter to the Boyle Heights neighborhood in Los Angeles, the show follows three cousins in pursuit of their dreams. "Gentefied" star Annie Gonzalez told NBC News she hopes her show leads to more opportunities for Latinx performers. "If we can have all these other procedurals of police shows and firefighters shows, we could have more shows like this," she said. "There's never enough." Executive produced by America Ferrera, "Gentefied" it's available on Netflix.
Latin History For Morons
If you missed John Leguizamo's show on Broadway in 2017 or on its North American tour, you can still enjoy his crash course on Latino history. Leguizamo said that he didn't always know so much about the contributions of Latinos to American history. After his son was bullied at school, however, the actor set off on a journey of self-education that ultimately resulted in his popular one-man show. "I started to think why people feel comfortable disrespecting us (Latinos) in a way that's just not normal or natural," he said. "And I started to think that's because our contributions aren't in history textbooks." Class is in session with "Broadway's professor" on Netflix.
One Day At A Time
The groundbreaking 1970s sitcom has been given a reboot, centering on a Cuban American family in Los Angeles. While tackling serious issues such as depression, post-military civilian life, bullying and gun control, this show has been embraced by viewers and critics for its authentic, hilarious depiction of Latinx life. And how can we not love a show that features Rita Moreno as the family matriarch? In fact, social media campaigns led by impassioned fans have twice helped save "One Day At A Time" from cancellation. Speaking about the sitcom's appeal, co-showrunner Gloria Calderón Kellett said, "On the show, I get to talk to my community, and I get to educate other people who don't know anything about my community." Season four of "One Day At A Time" premieres on POP TV on March 24.
Party Of Five
Equal parts heartwarming and heart-wrenching, this is an update of the 1990s series with a twist. Like the original, the five Acosta siblings are navigating life on their own, without their parents. But their father and mother haven't died; they've been deported and sent back to Mexico. "Party of Five" features solid writing and a cast of young heartthrobs, as well as a look at how immigration policy affects an American family.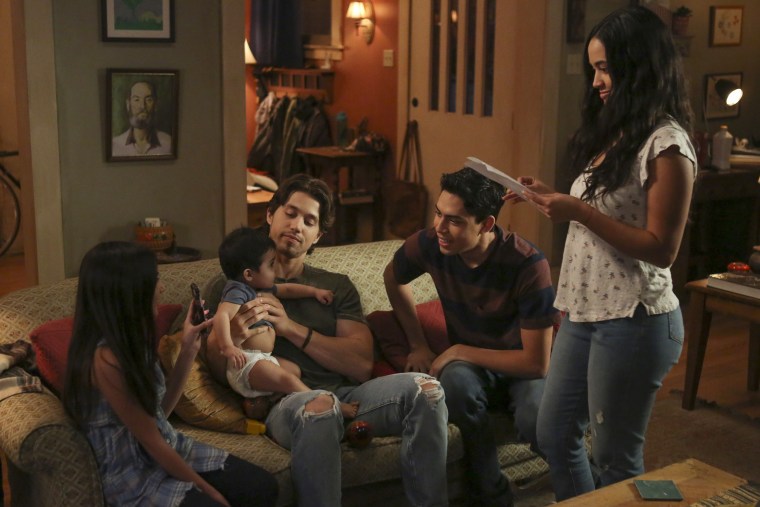 As a critic for NPR noted, "At a time when the immigration debate still involves kids kept in cages, there is no better moment for America to see a series like this." The 10 episodes of season one are available on Disney's Freeform channel.
Elite
This show from Spain follows the lives of several working-class students as they attend a rich Spanish private school. The show quickly becomes a murder mystery after a classmate is found dead. Often compared as the new "Riverdale" or "Gossip Girl," this popular drama series has entered its third season. Follow the lives of these high schoolers on Netflix as they meet their fate.
Vida
"I'm operating on chingona (badass) level," one of the characters in "Vida" declared in season two. That about sums up the tone of this fierce, irreverent series, which has been hailed by critics for expanding the boundaries of Latinx LGBTQ representation. Created by playwright Tanya Saracho, the series follows the lives and loves of the Hernandez sisters, who are running a bar on the east side of Los Angeles. Last year, Saracho told the LA Times that she was eager to tell unique, relatable Latinx stories. "We have been absent from the narrative for so long," she said. "And that is not a Hollywood thing. That is an American thing." Season three, which features mariachi karaoke and "queer-ceañeras" premieres on Starz in April .
La Reina Del Sur
This ground-breaking telenovela is about Mexican drug trafficker Teresa Mendoza and her climb to become the most powerful drug trafficker. Throughout the crime thriller series, Mendoza, played by Kate del Castillo, dispels the notion women can't dominate the industry. "The trick is to stay alive long enough to enjoy the fruits of this labor," Mendoza said. Telemundo revived this hit crime thriller series for a second season last year after it became its most popular show for the network. It's a bingeworthy show that can now be watched on Netflix. "Queen Of the South," a reinterpretation of the show in English starring Alice Braga, can also be streamed on Netflix or in the USA Network app.
Selena —the movie, as we wait for the series
Much has changed in the quarter-century since the Queen of Tejano music was murdered by the president of her fan club. After her tragic 1995 death, Selena achieved crossover success, and became an icon to millions of people around the world. Now Netflix has a new drama about the life of the late singer, with Christian Serratos in the title role. "It has been a generation since Selena died, and yet she is still as popular as ever, especially among young people," said Deborah Paredez, author of "Selenidad: Selena, Latinos, and the Performance of Memory." "She has become a cultural inheritance, something passed down through generations in our communities, and a figure people turn to in times of joy, grief, and aspiration."
While fans await the release of the series on Netflix, in the meantime there is always "Selena," the 1997 film starring Jennifer Lopez – one of the most beloved Latino films of all time, available on Amazon.
Follow NBC Latino on Facebook, Twitter and Instagram.