LAS VEGAS — José Ramirez used to go door to door preaching the word as a Jehovah's Witness. Now he's knocking on the doors of Latinos as a Bernie Sanders evangelist.
It's his second time working on Sanders' campaigns, and he has stepped up his game, from calling potential voters on Sanders' behalf in 2016 to block walking in Latino-heavy East Las Vegas.
"I will not let any opportunity pass by that I can [to] help elect Bernie," Ramirez said.
Early voting began Saturday in Nevada ahead of the state's caucus on Feb. 22nd, which will give Democrats their first substantial feedback from Latino voters on their presidential candidates.
While Latinos voted in Iowa and New Hampshire and efforts were made to increase participation, Nevada has a larger, far more active Latino electorate.
Nevada has made itself a key part of the Democratic process, not only as the first-in-the-West caucus, but also by showing how Democrats could win by harnessing Latino votes.
In 2010, former Democratic Sen. Harry Reid won a tough re-election race by supporting immigration legislation and ramping up Hispanic support.
Kevin Muñoz, former Vice President Joe Biden's spokesman in Nevada, said Latinos were decisive in electing Democratic Sen. Jackie Rosen in Nevada in 2018 over Republican incumbent Dean Heller.
Muñoz, who is Mexican American, said the 2020 election is "deeply personal" for many in the community. "Donald Trump started this on the backs of Latinos," he said, referring to the president's initial campaign speech trashing Mexicans and Mexico.
"I, like so many others, knew we had to do our part and make sure the candidate best positioned to win, did," he said, adding that he feels Biden has the record "of what is achievable" as Barack Obama's vice president and will have Hispanic support.
Latinos are almost a third —29 percent — of Nevada's population and almost 20 percent of the 2.07 million registered voters in the state, according to the Pew Research Center.
In 2016, about 84,000 people participated in the state's primary. According to NBC News' exit poll, 19 percent of all voters in the Democratic caucuses, won by Hillary Clinton, were Latino.
Union members cast early votes
On Saturday, a line formed early for early caucus voting at the Culinary Workers Union building in east Las Vegas. This is Nevada's first year allowing early voting, which continues through Tuesday.
The union, whose membership statewide is 54 percent Latino, did not endorse a candidate, but it has been critical of "Medicare for All" proposals, warning its members that they would lose their generous health insurance packages.
That concerned Vicki Loreto-Zaragoza, 31, a housekeeping employee for Park MGM hotel and casino. Her insurance policy through the union covers her entire family.
"We do very hard work, and it's not fair for a president to come in and say that he wants to change insurance for what he wants and know what we want and we deserve," she said.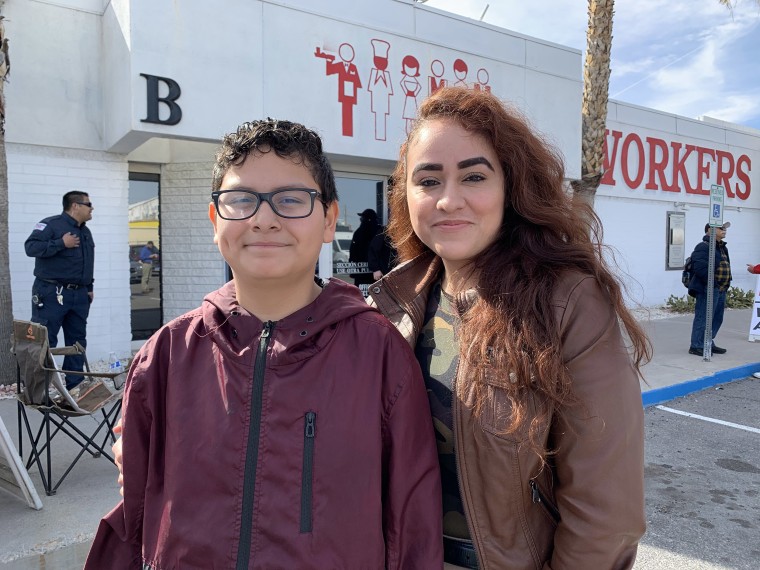 Loreto-Zaragoza, who brought her son Alberto, 13, so he could watch the process, said she would caucus for Tom Steyer. She said she knew workers who were also planning to vote for him because they were worried about their health insurance if Sanders won.
She said she would be reluctant to support Sanders, the independent senator from Vermont, if he became the nominee. But against Trump, "there's probably no other choice," she said.
Union member Alina Quintana, 68, of Las Vegas showed up at the early voting site with a swollen hand. A piece of machinery had fallen on it at the Tropicana, where she works as a housekeeper and has worked for 32 years, she said.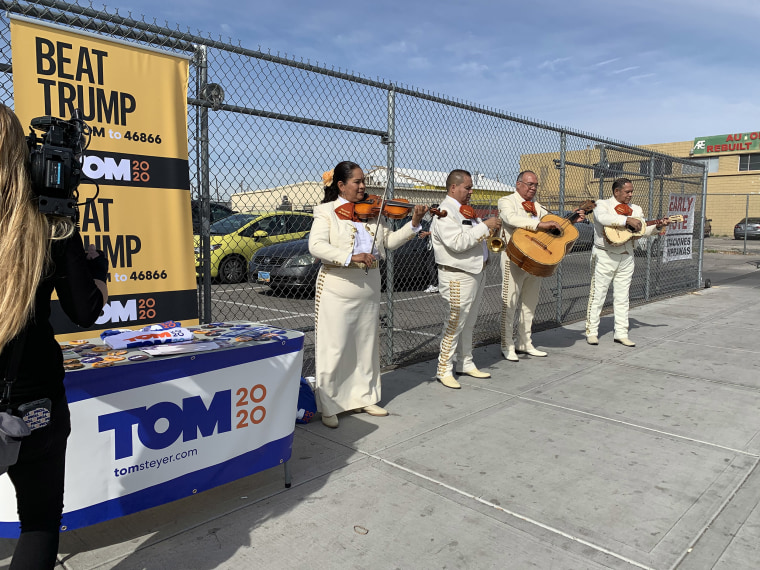 Asked how she'd caucus, she unfolded a small piece of paper on which she'd written "Joe Biden" and under his name "Tom Steyer." "So I don't forget the name," she said.
"They say they are good. We will see," said Quintana, who added that she had seen them on television.
Candidates court Latino votes
Steyer made an appearance at the union voting site Saturday, stopping to eat a taco from a food truck stationed nearby as a mariachi band that has been making appearances with him played on.
On Thursday, Steyer, Pete Buttigieg and Sen. Amy Klobuchar of Minnesota were on stage at a town hall in southern Nevada hosted by the League of United Latin American Citizens, the nation's oldest Latino civil rights organization.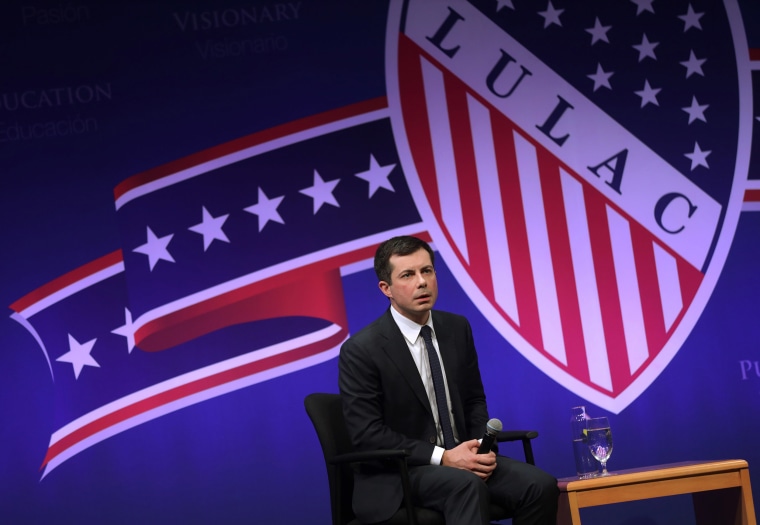 There, Buttigieg, the former mayor of South Bend, Indiana, took digs at Sanders and aligned himself with the union and its focus on preserving its members' health insurance.
"This is one example where we have this my-way-or-the-highway politics that suggest if you're not with me you must be against me," Buttigieg said.
"If you're not for the revolution, you must be for the status quo," he added, a reference to Sanders' calling his campaign a revolution.
Download the NBC News app for breaking news and politics
But while health care was the focus for the union members, Maria Pulido, 27, a community activist in Reno, said she's been grappling with where to throw her support now that former Housing and Urban Development Secretary Julián Castro has dropped out.
"The candidates that are left are white and don't have a good understanding of how to address and talk about race," Pulido said.
She said Sen. Elizabeth Warren of Massachusetts is probably her No. 1 candidate because Castro is supporting her. She said that Sanders seemed to be penetrating the community most but that she doesn't support him because he "diminishes the idea of race down to class."
Alex Simpson, an adjunct professor of public speaking at the College of Southern Nevada, also planned to support Warren and would be voting early.
Simpson said Warren impressed him when she started the Consumer Financial Protection Bureau to police the financial industry during in the Great Recession. Latinos in Nevada were among the hardest hit nationwide during the recession because of the state's deep housing crisis.
Sanders campaign touts its mobilization
A Las Vegas Review-Journal/AARP poll shows Sanders as the leader in Nevada, but the poll reported a 4.8 percent margin of error, leaving room for Biden to end up the winner.
Chuck Rocha, a senior adviser to Sanders, argues that Sanders will top the field because his campaign has been in the state for eight months, with 76 Latino staffers out of 200, almost all of whom are bilingual.
The largest population of Latinos is in east Las Vegas, where many campaigns have opened their offices. But Las Vegas Democratic consultant Andrés Ramirez, who is not working with any of the campaigns, said the largest numbers of Latino voters is in the suburbs of Las Vegas.
Maria Plasencia, 48, a nurse's assistant, planned to vote early, with Sanders as her top choice. She said she understood that the union workers have good insurance, but she said: "Those of us who don't work in the casino don't have good insurance. We pay a lot of money. I pay $200 every two weeks for my husband and me."
Asked about the criticism of Sanders as a socialist who may not be able to unite the party, Plasencia responded, "The communist is Trump."
Follow NBC Latino on Facebook, Twitter and Instagram.