Growing up in a family of activists, Julie Chavez Rodriguez thought that she had a normal childhood. At age 9, she was arrested for taking part in a protest. While other families went on picnics, hers went on picket lines. When her grandfather took her out for a drive, it often meant knocking on doors or leafleting in support of farm workers. This was everyday life for Rodriguez – the granddaughter of famed labor leader Cesar Chavez.
Now Rodriguez, 36, is carrying on her family legacy of public service as the Obama administration's Deputy Director of Public Engagement. Previously she served as Director of Youth Employment at the Department of the Interior and as Deputy Press Secretary to former Secretary of the Interior Ken Salazar. Before that, Rodriguez was the Director of Programs at the Cesar E. Chavez Foundation. "But never in my wildest dreams," she wrote last year, "did I imagine that my journey would lead me to the White House."
A graduate of the University of California, Berkeley, Rodriguez has led a life both public and private. Her grandparents' home, where she visited her grandfather and played with her cousins, was designated a National Monument by President Obama in 2012. Her family's quarrels receive national media attention. When prominent Latino leaders attend White House functions, some of them have known Rodriguez since she was a child. Yet when the film "Cesar Chavez" was screened at the White House last year, White House Chief of Staff Denis McDonough did not know about Rodriguez's relation to Chavez.
In advance of Tuesday's commemoration of Cesar Chavez Day, Rodriguez spoke with NBC News about her life, her work – and her iconic grandfather.
NBC: What was it like, being born into a family of activists?
JCR: I definitely thought it was normal at the time. It wasn't until I went off to college that I realized how atypical my upbringing was. For me, it was lot of fun, it was exciting to see such strong role models and people committed to something bigger than themselves. I grew up not just around activism but also in community of farm workers. I was brought up in a community where a farm worker was someone you respected, someone who had dignity, someone who was valued. It was a different type of orientation than most people are exposed to. Knowing the hard work, struggle, and sacrifice that went into putting food on our table was a profound experience for me as a child… I also felt like every march and every rally we went on was like a family reunion. We'd stay up late making flags, and we had a strong sense of family and community. That is something I hold very dear to this day.
NBC: Did you always know you wanted to work in politics?
JCR: No – actually I didn't think about politics specifically. For me the driving force was that I wanted to be of service to others. It was a value I saw lived out in my family. And it just happened that when the president announced his first run, I was inspired and motivated by his vision for government. I saw this as away to carry out the deeper ethic of service I was raised with.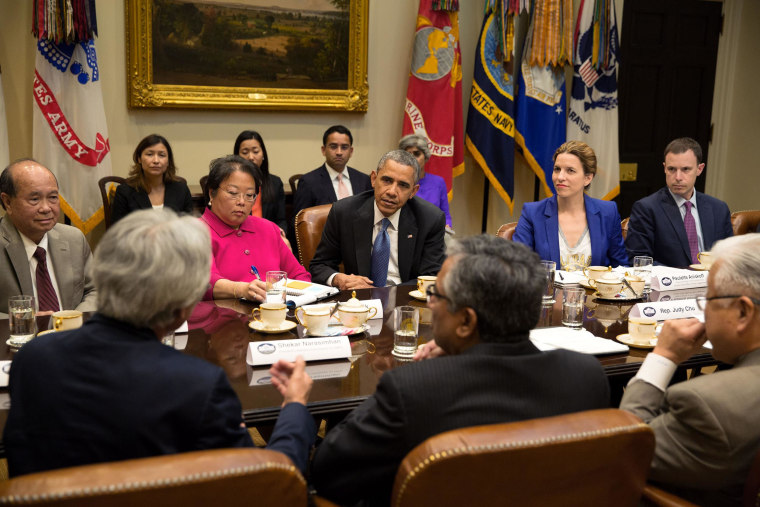 NBC: Have you ever felt tired of carrying the name and legacy of your grandfather?
JCR: I don't know that "tired" is the way I would describe it. It was definitely intentional that people met Julie, before they met the granddaughter of Cesar Chavez. I wanted people to know who I was, to know my values in my own right. There were a number of times when I was growing up that I saw a shift in treatment when people found out who I was. I felt like that was offensive, and not true to my grandfather's values. So it's always been important to me to meet people and interact with them they way they interact with everybody else. My family legacy is something I am deeply proud of; I stand on huge shoulders. But it is also not something I lead with when I meet people. My grandfather was not that way either. He was a very humble man, all about the work, and the farm workers.
NBC: What kind of work do you do in the Office of Public Engagement?
JCR: I have served in different roles. I started out doing Latino and immigration outreach. Now I oversee different issue areas in a number of organizing efforts we have underway – including immigration, the veterans' community, the LGBT community, people with disabilities, Asian American and Pacific islanders. My work has given me the opportunity to see the commonalities among these groups, and to understand the uniqueness of these coalitions as well. It has given me a tremendous perspective about issues I was not previously immersed in, and that has been fascinating.
NBC: Politics and work aside, what was your grandfather like?
JCR: He had a great sense of humor. When we were kids, he was kind of goofy. He would make up funny games, one was "snake," where he would pretend he was a snake and chase us all over the house. He was a vegetarian and practiced yoga most of his life; I remember that he taught my cousins and me how to do headstands. Once he got the idea from a book that we were supposed to be fully "present" as we ate our meals. We had to chew our food forty times, and this drove us all crazy! It was one of those things you would only do if your grandfather made you do it!
Another time when I was really young, my aunts wouldn't let us play outside in the yard for some reason. So my siblings, cousins, and I, we staged our own protest. I think someone even hung a sign on me. (laughs) You can imagine how that played out!
NBC: Have you considered writing a book or memoir about your family?
JCR: (laughs) I have not. I really don't think there is time in my day-to-day life to do that. But thank you for the encouragement.