The job of negotiating ways to cut away at the hostility between the U.S. and Cuba, largely formed a half-century ago, is being led by two women, each with a string of international experience behind them.
On the U.S. side, the negotiations delegation leader is Roberta Jacobson, U.S. Assistant Secretary of State for Western Hemisphere Affairs, whose government service spans four administrations, although she was not always in political positions. Leading for Cuba's negotiating team is Josefina Vidal Ferreiro, general director of Cuba's U.S. Division in the Ministry of Foreign Affairs.
On Thursday Jacobson tweeted in Spanish and English about a cultural visit during the negotiations.
Carl Meacham, director of the Americas Program at the Center for Strategic and International Studies, said while it is an interesting fact that the negotiations are being led by women, more important is that the negotiations are led by two people qualified to handle "a very sensitive topic at a very sensitive time as we move into normalization."
For the U.S. Jacobson is that person, he said. "She was able to rise through the ranks the way she has because of her competence. She's very competent in her expertise," said Meacham, who has known her since he was working in Congress on the Senate Foreign Relations Committee.
Her counterpart,Vidal Ferreiro, is one of those few Cubans that are "Americanists" who follow and study the U.S. politics and culture, he said.
Jacobson ended up in her diplomatic post in what at least at the time was a non-traditional route. She landed a senior post in the Peru embassy in 2000, upsetting a usual tradition of such a job going to career diplomats rather than civil servants such as her. She has held a number of key positions in the State Department including being a negotiator on the Merida Initiative, through which the U.S. provides equipment, funding and training to Mexico to counter drugs and organized crime and political corruption. She also played a role in the crafting of NAFTA and negotiations with Canada and Mexico in that trade deal.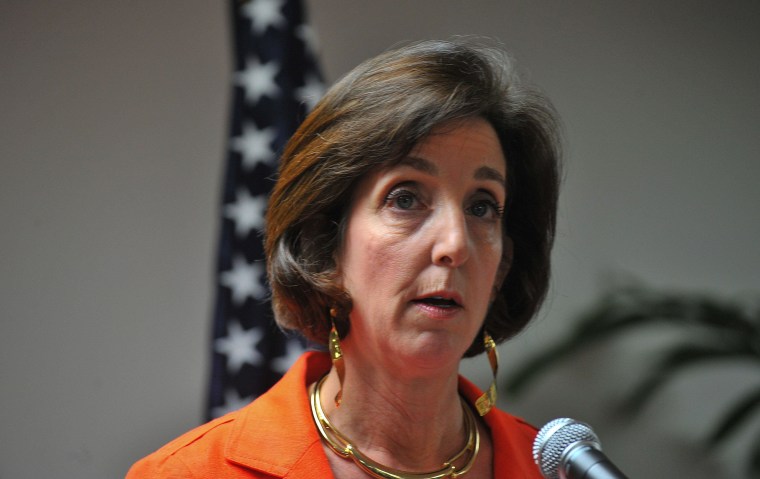 "Roberta Jacobson combines the best abilities of a diplomat and a Latin American analyst," said Arturo Lopez-Levy, adjunct faculty at the NYU School of Professional Studies Center for Global Affairs. "She has perfect Spanish with an Argentinian accent and since 1986 showed a fine knowledge of the links between religion, civil society and revolutionary politics in Latin America."
Meacham said what makes Jacobson a capable negotiator is her demeanor. "She's a very sort of calm and deliberate type of person, but the overwhelming factor here is that she is very competent and knows how the State Department works and how the U.S. government works."
Meacham added that he is a Republican praising someone serving a Democrat and his Democratic policies. "For me to sing her praises in a highly polarized environment is a testament to her ability and her competence to be able to perform and be liked," Meacham said.
Jacobson is a graduate of Brown University and Fletcher School of Law and Diplomacy at Tufts University, according to her State Department bio.
Lopez-Levy said Vidal's expertise is held in high esteem in Cuba and abroad.
"If someone were to predict the possibility of Cuba having its first woman chancellor, I would say it would be Josefina (Vidal Ferreiro) due to the depth and seriousness of her work. She has an international legal background from a prestigious international relations institute in Moscow, and has a knowledge of Cuba and the U.S. like few others," said Lopez-Levy.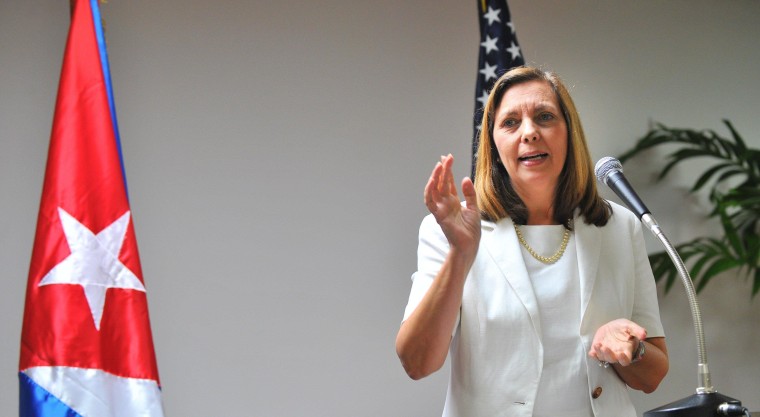 Vidal was described by Charles A. Serrano, managing director of Chicago-based Antilles Strategy Group, as being "seen as an up and coming leader" who recognize economic and change going on in her country, the Miami Herald reported.
"Cuba has changed more in two, three years than it had in the previous 20 years," said Vidal, who speaks fluent English during in a speech at Columbia University in 2013, according to the Herald. "The United States seems to be ignoring these transformations that are taking place in our country," she said, and wasting opportunities for business participation in the island.
Like Jacobson, Vidal was involved in negotiations for the freedom of Alan Gross, the government contractor released after five year imprisonment in Cuba when the U.S. announced the changes in policies toward Cuba.
She once served in what is known as the Cuba Interests Section in Washington D.C., but her husband was named as a spy and expelled from the U.S. in 2003. She left with him. An Interests Section takes the place of an embassy when relationship are strained between countries. The U.S. has an Interests Section in Cuba and both are overseen by the Swiss government.
Meacham said elevating the Interests Sections to embassies is a key element of the negotiations that "everyone is hoping is resolved."
"They (Cubans) also have to show they are making progress because there's a lot of people who oppose the policy and who are going to be picking at every item," he said. "If they can't show they are making progress, it's going to make it harder."