OAXACA, Mexico — Nestled in the Sierra Mountains of central Mexico, Oaxaca has made a name for itself as a tourist destination of cultural and culinary richness. With its cobblestone streets, vendor-lined town squares and a mix of renaissance with colonial architecture, the city welcomes visitors from all over the world.
It is in this historic town where one man came up with a business idea to change the pattern of Mexicans thinking they need to migrate to the U.S. for better economic opportunities.
Entrepreneur Carlos Moreno, 33, turned to mezcal, handcrafting the distilled alcoholic beverage made from the agave plant and part of Oaxaca's indigenous culture and history. Moreno founded "Koch el Mezcal" and included in the mission statement: "reducing the rural exodus and emigration phenomenon in Oaxaca."
Sitting by the Santo Domingo church established in 1608, Moreno talked about his agave-based liquor and how its production provides fair-wage jobs to more than 500 locals.
About half of his workforce is made up of people who once risked their lives trekking across the border for better jobs.
"They think they'll go, make some quick cash and come back," Moreno said, adding the feeling is quickly replaced by loneliness and fear because of their illegal status. "They feel hunted," said Moreno.
He started the business with a friend when he was 24 and had just $200 in savings. The venture originally began as a project to help the needy in Oaxaca.
"When we started, it was a project to develop people in the communities in arts and social programs, health, in different communities," he said. "The main idea was to develop people, and give them the opportunity to have a better life."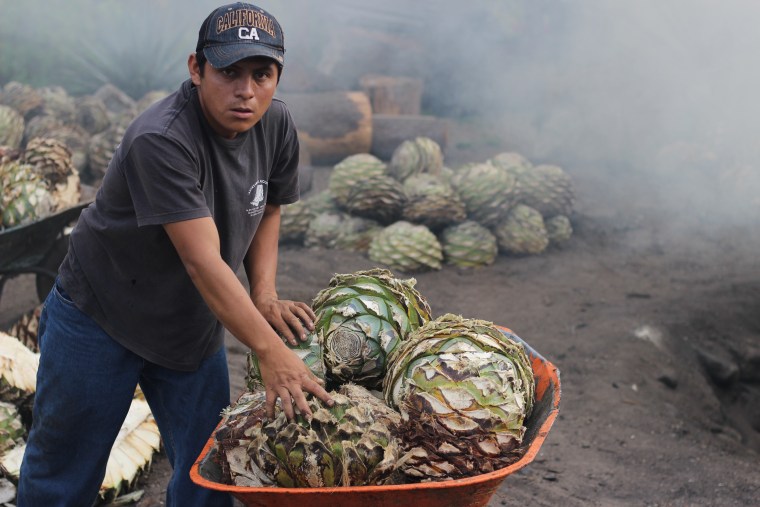 He teamed up with expert mezcalero Pedro Hernandez, then 35, and the pair began perfecting the artisanal process of making mezcal. They bought some bottles and corks, got some friends to design a label and went to market.
"With bottles of alcohol, you are knocking on doors saying, 'Hey, try my product,'" Moreno said.
Nine years later, Koch el Mezcal sells in 16 countries across the U.S. and Europe, and its 24 different varieties are a staple of locally sourced bars and restaurants that pride themselves on authentic cuisines and liquors. Their sales have doubled each year since they began selling in 2013.
Keeping true to the old-fashioned process, Moreno begins with cultivating the agave plant, which takes between seven and nine years to grow. Some varieties take even longer, from 15 to 20 years. Once the agave plant has reached its maturation point, it's harvested and brought to one of his 14 rustic factories, or palenques, where it will be cut, leaving just the heart, or "piña."
The piñas are then smoked in a circular roasting pit, covered by tarps to ensure the smoky flavor is part of the end product. After four days in the pit, the singed hearts are crushed by a horse-driven stone mill.
Moreno refuses to break the agave mechanically or replace the pits with ovens to speed up production for fear it would change the rustic flavor of mezcal. "The process of artisanal mezcal is old fashioned," he said.
The agave pulp is fermented in Juniper wooden tanks and later distilled in clay pots or copper stills.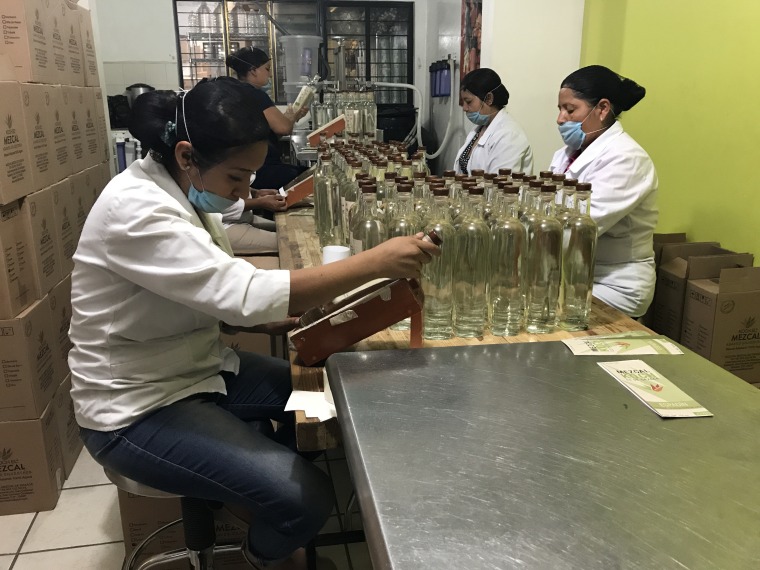 After a double distillation process and alcohol adjustments, the clear mezcal is ready for its packaging stage. The end product is robust and smoky, ranging from 38 percent to 55 percent proof.
At the Koch factory in San Baltazar Guelavila, a town of about 3,000 residents, Filogonio Cruz Garcia, 36, is among the men who abandoned a life as an undocumented immigrant in California and now uses his ancestors' mezcal-making skills to support his family.
Cruz is a descendant of the Zapotec tribe, the largest indigenous community in the Oaxaca area, dating back some 2,500 years. Roasting agave to make mezcal is second nature to him.
"I love this job now," he said, adding that he is not going back to the U.S. "I feel proud of what I make."
Moreno says there is now a waiting list for people who want to join his company. He shares his financial success with the community by sponsoring a school in San Baltazar Guelavila where children learn to read and write in both Spanish and their native Zapotec language. The two-classroom school house also provides free lunch for students.
Migration from Mexico to the U.S. has dwindled drastically in the last few years, starting around the Great Recession, to the point where more Mexicans are leaving the U.S. to return to Mexico than coming in. But there are always Mexicans seeking a better life in the U.S. According to the most recent figures from the Migration Policy Institute, 139,400 Mexicans migrated to the U.S. in 2015. Moreno hopes the annual number of migrants shrinks.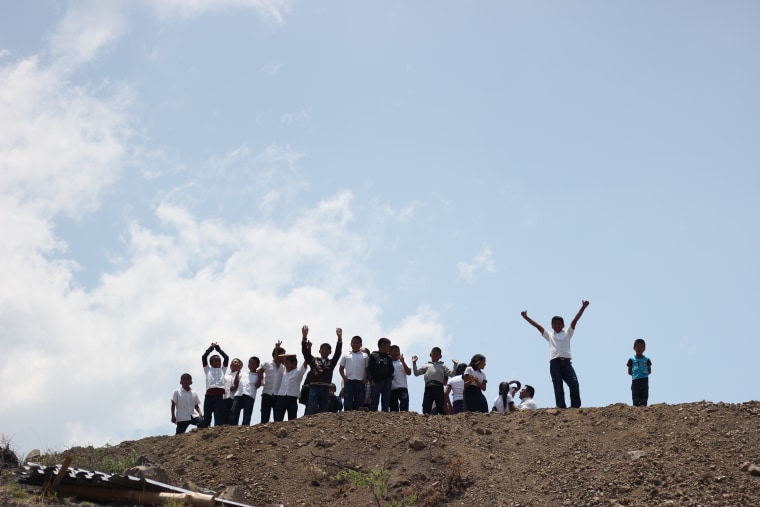 He says there is a feeling of optimism among young people in Mexico that there will be more job opportunities. Many of his friends are opening hotels, bars and other businesses. "There are chefs opening restaurants even in their own houses," he says.
Moreno says the concept of going to the U.S. to achieve the American dream is being replaced. "They want to stay here and do something for their family," he says. "It's the Mexican dream."