Donald Trump touches down Wednesday in Mexico, where he's expected to get some face time with President Enrique Peña Nieto, a leader whose own favorability ratings have plummeted in recent months.
Peña Nieto took office in 2012 vowing a transparent government that would clean up the entrenched corruption, including the nation's infamous drug cartels. Instead, he has been dogged by controversies and personal scandals — not unlike the brash GOP nominee.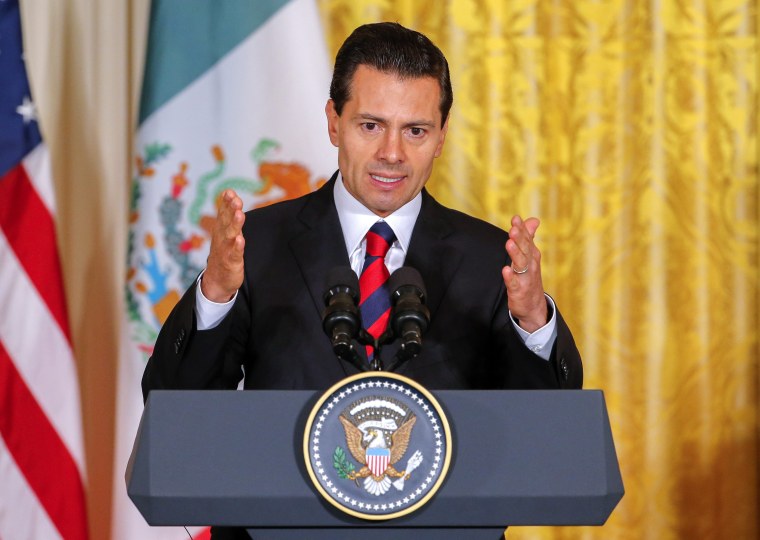 But the law student-turned-governor-turned-powerful national figurehead — once dubbed a "man of mystery" — is still attempting to burnish Mexico's reputation on the global stage while mired in unpopularity at home.
Meeting with Trump, who nets just a 4 percent favorability rating among Mexicans following controversial remarks over the course of his presidential campaign, could put a larger political target on Peña Nieto.
Here are some of the things that have beset the Mexican president during his rocky tenure:
His approval ratings hit a record low this month.
Approval ratings dropped for Peña Nieto to 23 percent, according to the newspaper Reforma — the lowest approval rating for a president since the paper began polling in 1995.
A whopping 74 percent said they disapproved of his performance.
It's a sizeable drop from when he took office almost four years ago with a healthy 50 percent approval rating. His ratings fell to about 35 percent halfway through his term as the value of the Mexican peso tanked and the overall economy grew at a snail's pace.
A Pew Research Center poll last year found that voters don't like the way he's handled the economy as well as education, crime and corruption.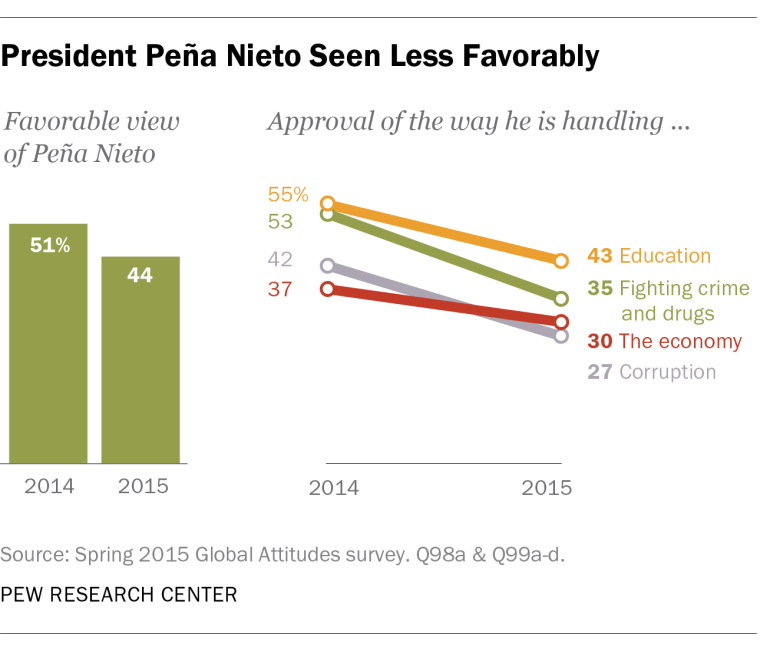 He's accused of plagiarizing his law school thesis.
The allegations came to light in a report published last week by Mexican news outlet Aristegui Noticias.
The report said 29 percent of a 1991 thesis he submitted to the Panamerican University was material lifted from other works, including 20 paragraphs copied word-for-word from a book written by former President Miguel de la Madrid without citation or mention in the bibliography.
He's known for his gaffes.
Peña Nieto has been ridiculed by the press and on social media for failing to know names, dates and key information during interviews.
Most famously, when he was a candidate for the presidency in 2011, Peña Nieto stumbled when he was asked to name three books that influenced him. He managed to name the Bible, before fumbling through other mismatched authors and titles.
The government has been plagued by a string of high-profile incidents.
Those include the prison escape of drug kingpin Joaquin "El Chapo" Guzman last summer and federal police executing at least 22 suspected drug cartel members without justification, forcing Peña Nieto to dismiss the country's chief of the federal police force this week.
But perhaps the most damaging to his presidency was the fallout from the abduction of 43 teachers college students in Guerrero state in 2014. Activists claim local police cooperated with drug cartels to stage the students' disappearance and murder them as part of a politically motivated plot.
Protesters held demonstrations in Mexico's capital demanding the federal government do more and accusing Peña Nieto of being aloof during the crisis.