LIMA, Perú — From the fate of the Amazon to LGBT rights and even the future of democracy itself, Jair Bolsonaro's historic victory in Brazil's presidential election could have profound repercussions across Latin America.
With 209 million citizens, Brazil is easily the region's most populous nation and often wields an outsize influence among its neighbors in everything from soccer to social policies and international relations.
The triumph of the hard right former army captain —with his lengthy track record of homophobic, misogynistic and racist remarks — as well as his unapologetic nostalgia for his country's 1964-1985 military dictatorship and support of torture, has many analysts wondering just where Latin America may now be headed.
Bolsonaro has pledged to open up the Amazon to mining and other activities that would threaten the world's largest tropical rain forest and a vast carbon sink that could play a vital role in tackling climate change. He has also threatened to kick left-wing political opponents out of the country and is a fierce participant in Brazil's culture wars, fervently opposing both abortion and same-sex marriage.
"Brazil now has the most right wing leader of any democracy in the world," says Dawisson Belém Lopes, a professor of international politics at Brazil's Minas Gerais Federal University. "There is a real risk of contagion. When Lula [Brazil's former leftist president Luiz Inácio da Silva] was elected, it set the trend across Latin America that [Venezuela's late socialist leader Hugo] Chávez never could."
Bolsonaro''s win comes after Brazilians' repudiation of the current government, which has been engulfed in massive corruption scandals. But voters may soon see stark changes; If Bolsonaro implements certain policy positions once in power, they would constitute a 180° turn on a range of issues. This could potentially give renewed momentum to like-minded politicians and interest groups across the region, from social conservatives to the agribusiness lobby that has often chafed at environmental laws aimed at preventing deforestation.
Change toward Venezuela, China?
Brazil's President-Elect could also usher in a sea change in regional attitudes towards Venezuela's economic and democratic collapse, forming a hard-line alliance with Colombia's new conservative president Iván Duque, who has also struck a more aggressive tone towards the Maduro regime and its so-called "Bolivarian" socialism.
Another area where Bolsonaro could attempt to put Brazil on a new path is regarding its relationship with China, which has long been buying South American commodities, everything from soy to copper, to fuel its economic boom.
China has been Brazil's principal trading partner for a decade now and has increasingly displaced the United States' economic influence in the region. Bolsonaro has railed at what he views as Brazil's dependence on Beijing.
"The Bolsonaro administration could unleash a new wave of questioning, or pushing back, against China in the region," says Jason Marczak, director of the Adrienne Arsht Latin America Center at the Atlantic Council, a Washington D.C. think tank.
But perhaps one of the biggest repercussions of Bolsonaro's victory in Latin America could be a new era of radical outsiders successfully running for the highest office.
The triumph of outsiders — and fake news
Bolsonaro has been dubbed the "tropical Trump," yet there at least is one crucial difference between the two. While the U.S. President ran as the official Republican Party candidate, the Brazilian represented the tiny Social Liberal Party, with its minimalist party organization and negligible resources.
His victory was in large part fueled by fake news that spread like wildfire over WhatsApp, which had 68% market penetration in Brazil in 2017. The smears spread this way against Fernando Haddad, Bolsonaro's opponent, which included unsubstantiated allegations of rape and of pushing homosexual indoctrination on six and seven-year-olds when he was education minister.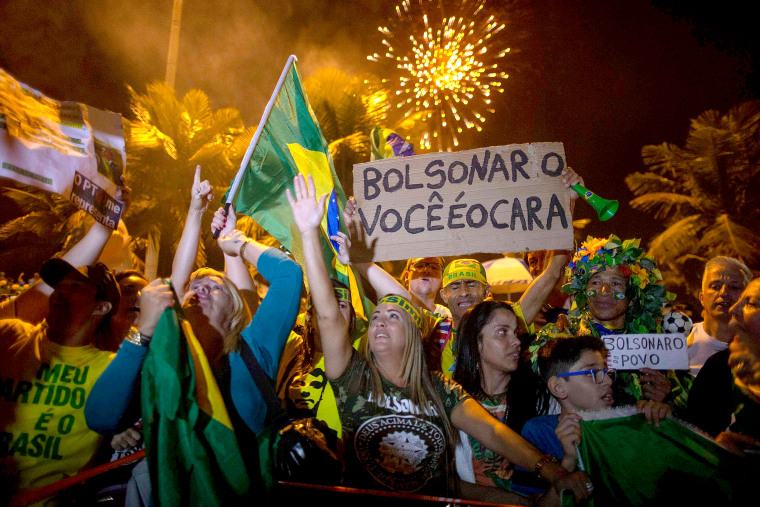 The proliferation of social media and instant messaging apps, married to voter outrage at the corruption of the political establishment, could mean that Bolsonaro is just the first of a wave of outsiders, with little or no respect for democratic institutions, taking office in Latin America.
"We so-called experts need to reconsider our understanding of politics, our understanding of what is possible," says Belém Lopes.
Yet not everyone is convinced that Bolsonaro really will be a regional trendsetter.
His homophobic rhetoric has coincided with a reported rise in violent attacks on members of the LGBT community in Brazil, and his victory worried activists in the country. However, Leyla Huerta, a trans activist in Peru —which shares a 2000 mile-border with Brazil — is among those who view South America's largest nation, where Portuguese is spoken, as something of an island apart from its Spanish-speaking neighbors.
"Of course it is worrying," says Huerta. "Any kind of backsliding on human rights is. But I am not sure that Brazil necessarily sets the agenda for the rest of us."
Organizations will be monitoring Bolsonaro's government, but for now it's mostly wait and see.
"There have been tremendous strides in human rights and democracy in Latin America in the last couple of decades and it is critical that they are not reversed," said the Atlantic Council's Marczak. "But we also need to be careful about assuming that Brazil's dynamics will apply in other contexts."
Once Bolsonaro assumes office on January 1, Brazilians — and Latin Americans — will likely find out.
FOLLOW NBC LATINO ON FACEBOOK, TWITTER AND INSTAGRAM.