Election reforms in Mexico that began in 2005 have now made voting accessible to Mexican nationals living in the United States through an unprecedented outreach program implemented by the country's elections governing body, the National Elections Institute (INE).
Under those reforms, Mexican citizens living outside the country who registered by the March 31st deadline will be allowed to cast their vote for president in the upcoming July elections. Unlike the U.S., presidential terms in Mexico last six years.
Political participation in Mexico is higher than in the United States, and the expansion of Mexico's voter base to include the growing number of Mexican nationals in the U.S. will continue to solidify the familial bonds of the two countries.
In her book, "Two Nations Indivisible: Mexico, the United States, and the Road Ahead", Shannon K. O'Neil, a Latin America scholar at the the Council on Foreign Relations, writes, "Building an impenetrable wall—if that were even possible—won't solve the problems, as U.S. ties to Mexico will not stop with a line on the map. Mexico's future is permanently linked to our own. And as Mexico looks forward to its next election this July, more signs have emerged illustrating how closely Mexico's future is linked here in the United States.
Historically, Mexican politics has been dominated by the Institutional Revolution Party (PRI), which ruled for over 70 years, and the National Action Party (PAN), an opposition party that finally rose to power at the turn of the century.
So far, experts have not attributed much weight to the Mexican election on what many see as divisive rhetoric from President Trump. His comments about making Mexico pay for the wall, while making big headlines in the United States, seems to have come and gone in Mexican politics.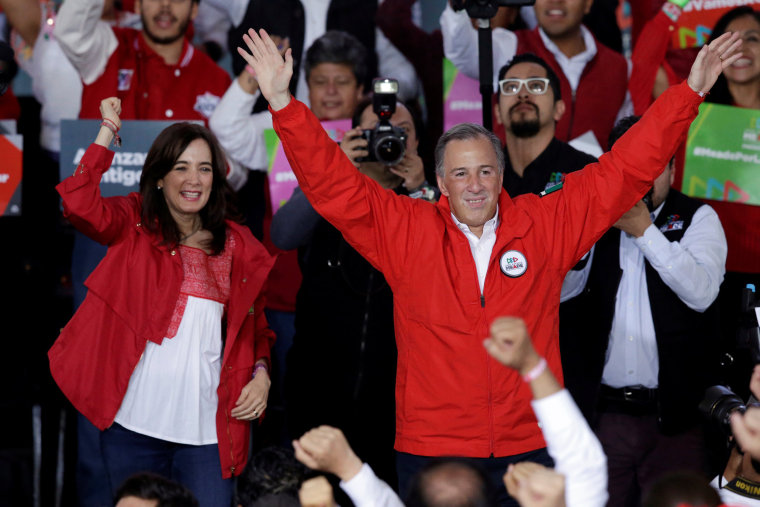 Yet, some say that the rise of a new third party called the National Regeneration Movement, or Moreno, led by leftist Andrés Manuel López Obrador is a result of a nationalist upsurge in Mexico in response to Donald Trump. Obrador has vowed to reduce inequality, tackle corruption and slow down economic liberalization policies, and it has been resonating in the polls; he is the front runner, though his lead has been narrowing in the last survey.
In a telephone conversation with NBC News, Adrian Felix, an Assistant Professor and expert on Politics of Mexico at UC Santa Cruz, said "There is one theory that there is a Trump effect. Some say Obrador being a populist, leftist, is akin to figures like Chavez in Venezuela, but he has been very strategic in positioning himself and he hasn't actually been openly anti-Trump."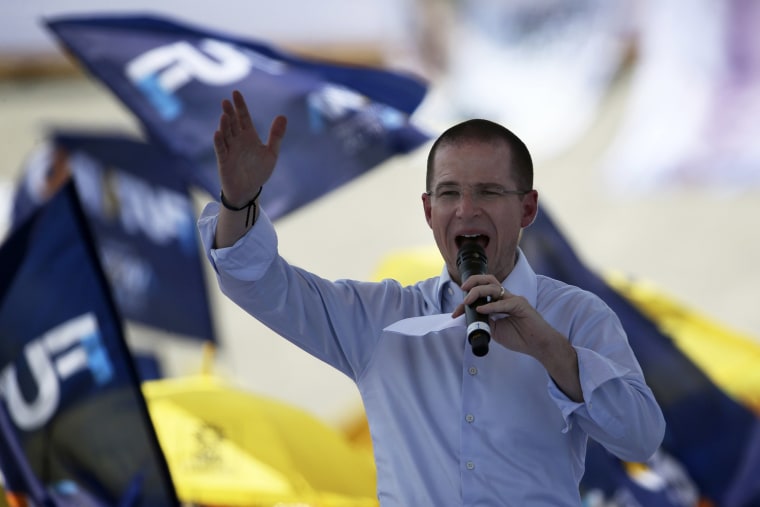 Instead, says Felix, Obrador has sought what most Presidential candidates in Mexico's history has sought, "respectful bilateral cooperation."
In an email exchange with NBC News, O'Neil agreed with Felix on the weight of what matters in the upcoming election.
"Mexico's election is going to be won or lost on domestic issues -- corruption, crime, economic opportunities. The US — and Trump's often anti-Mexican stance — matters, but much less in voters' minds," wrote O'Neil.
The PRI party has been hit by a wide array of corruption scandals that has dogged the administration of Enrique Peña Nieto early into his term as President.
Instead, O'Neil points to the practicalities of US-Mexico relations and the side effects that may result from chilly relations between leaders on both sides.
"While increased political and diplomatic tensions won't end the ties between the two nations, they could be costly for companies, for workers, for families on both sides of the border," said O'Neil.
This may influence how Mexican nationals in the United States will vote in the next election, and to that end, a recent poll was conducted by Latino Decisions on the voting behavior of Mexican nationals in the US.
Latino Decisions interviewed 662 Mexican-American adults nationwide who were eligible to vote in the Mexican presidential election in July 2018. The survey has a margin of error of +/-3.8 percent, according to Latino Decisions. The survey found similar attitudes by Mexican nationals as their counterparts in Mexico, with Lopez Obrador leading comfortably against the other candidates at almost 30 percent among all Mexican nationals in the U.S., and 40 percent among those registered to vote.
Other candidates, such as Ricardo Anaya Cortés of the National Action Party (PAN), have trailed Obrador in Mexico by as wide a margin as 21 percent, but recent polls show that the race is tightening.
The candidates will gather in Tijuana, Mexico to hold their second Presidential debate on May 20th and the proximity of the debate to the border will be sure to make Mexico's relationship with the United States a central topic.
David Ayón, a Professor at Loyola Marymount University, and principal at Latino Decisions, said that having the debate in Tijuana will put the United States on the agenda.
As "permanent neighbors," said Ayón, as Mexico gets closer to the election, Trump's rhetoric may prove too tempting for the candidates, particularly Obrador, not to use, especially to fire up his base.
NBC Latino contributor Stephen A. Nuño is a political scientist and professor at Northern Arizona University.
FOLLOW NBC LATINO ON FACEBOOK, TWITTER AND INSTAGRAM.