Cecily Aguilar, the Texas woman who admittedly helped mutilate and conceal the body of soldier Vanessa Guillén, was sentenced to 30 years in prison following a lengthy court hearing Monday, the U.S. Attorney's Office in Western Texas said.
Aguilar had pleaded guilty in November to federal charges connected to the 2020 killing at Fort Hood. The charges included a count of accessory to murder after the fact and three counts of false statement or representation.
Aguilar was the girlfriend of Aaron Robinson, the soldier who was suspected of killing the 20-year-old soldier. Robinson fatally shot himself as police moved to arrest him in connection with the case.
According to evidence and information shared during Aguilar's trial, Robinson was in the Fort Hood military base, which was recently renamed Fort Cavazos, the day Guillén was killed. He was in the arms room, where a forensic search found blood where Guillén was presumably killed.
Mayra Guillén, Vanessa's older sister, celebrated Aguilar's sentence on social media, saying, "You received justice today."
During Aguilar's sentencing hearing, witnesses said Robinson got the idea to dismember Guillén's body from the crime drama TV series "Criminal Minds," KCEN-TV, NBC's affiliate in Temple, Texas, reported. Witnesses also noted that Aguilar and Robinson visited the site where they buried Guillén's remains twice, first to dismember the body and then to mix her remains with cement. Aguilar also said that it took about seven hours for Guillén's bones to be fully broken down.
Members of the Guillén family and supporters spoke at a news conference outside the Waco courthouse where Aguilar received her sentence.
Guillén's mother, Gloria, said she believes she "touched the judge's heart" with her testimony during the sentencing. Gloria Guillén took the stand to testify about the pain her family endured because of her daughter's killing.
"I hope God forgives her and that she repents," Gloria Guillén said in Spanish, referring to Aguilar.
Mayra Guillén said Aguilar apologized to the family during her testimony. Mayra Guillén said that, regardless of the apology, "nothing will ever bring back my sister."
"After three years, it would not be so easy to forgive someone who made us suffer so much," Mayra Guillén told reporters in Spanish.
Guillén disappeared from Fort Hood on April 22, 2020. Advocates and family members quickly organized rallies outside the base and launched a #FindVanessaGuillén hashtag social media campaign.
More than two months later, the calls to #FindVanessaGuillén turned into demands for #JusticeForVanessaGuillén after her dismembered remains were found near the base.
Shortly after Guillén's disappearance, her family said the slain soldier had told relatives and colleagues at Fort Hood, which has some of the highest rates of murder, sexual assault and harassment in the Army, that she had been sexually harassed.
Guillén's allegations, which were posthumously confirmed by an Army investigation, helped spur changes, including the removal of 14 Fort Hood leaders from their positions and prompting several military policy reforms, including revisions to the Army's sexual harassment and prevention program and to the "missing soldier" protocols, among other changes.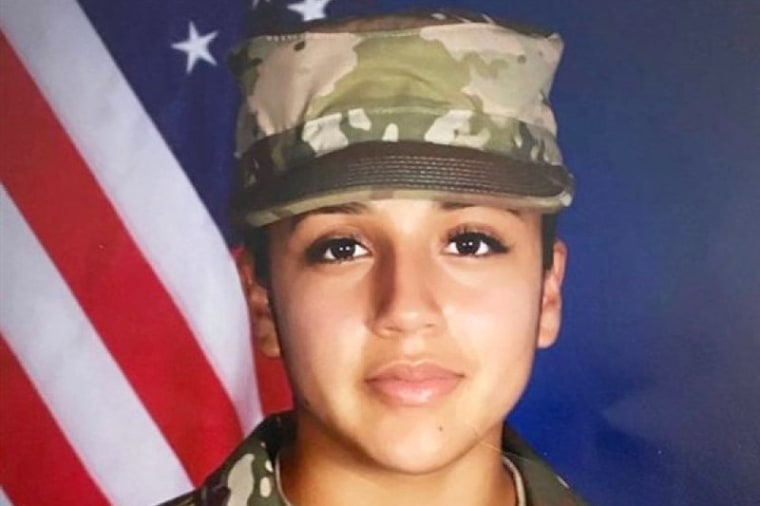 Key parts of the I Am Vanessa Guillén Act became law in December 2021, including criminalizing sexual harassment under the Uniform Code of Military Justice, improving how certain officials respond to sex-related offenses through independent investigations, and removing the decision to prosecute sexual misconduct cases from service members' chains of command.
The Mexican American family's demand for answers following Guillén's killing sparked changes to the military at a time when more people of color and women are enlisting in the armed forces.
The Guilléns sued the Defense Department last year seeking $35 million in damages for Guillén's wrongful death. A trial date in federal court will be set in coming weeks, Natalie Khawam, the family's attorney, said Monday.
The family's story was featured in the 2022 Netflix documentary "I Am Vanessa Guillén," which is nominated for an Emmy for outstanding investigating documentary.