Wednesday was Anggie Godoy's 14th day since eating her last meal: French fries covered with grilled meat, cheese and guacamole. She hasn't had anything to eat since then – just water.
"There are days where it's good and there are days where it's bad," she said about her fast. But what keeps her going is knowing that she's fighting for something just as critical to her survival.
The 19-year-old daughter of Guatemalan immigrants is among a group of women who are close to completing a 15-day fast in Los Angeles. They hoped to persuade city council members there to raise the minimum wage of $9 an hour to $15 an hour. They planned to break the fast Thursday.
The fast began April 16 with a core group of eight women—most of them Latinas. Several other women joined them to fast for a day, while others stayed longer. They spend their days under a large white tent set up outside Los Angeles City Hall and at night they sleep either in churches or at home.
"We want them to notice us," Godoy said of the city council members. "That's why we're here every day."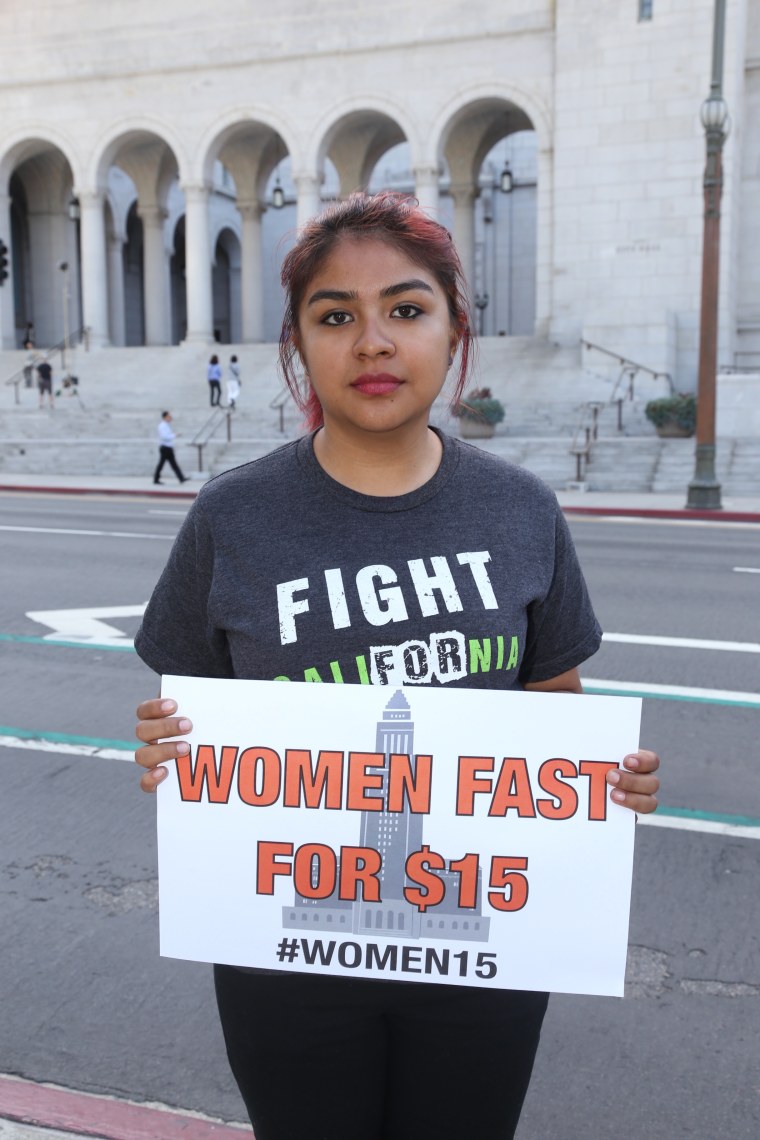 Godoy is one of the core fasters. She makes $9 an hour working as a cashier at a McDonald's. She uses that money to help her mother pay for rent and to support her two younger siblings, which makes it difficult to save for college.
She'll graduate from high school in June and is struggling to come up with enough money to pay for the rest of tuition that financial aid won't cover. "Right now I'm struggling to figure out how I'm going to get to college," she said.
On Wednesday, Godoy and the other fasters plan to escalate pressure by going inside Los Angeles City Hall to call for the approval of a $15-an-hour minimum wage. This comes as city council members are considering a proposal to raise the minimum wage to $15.25 by 2019. Mayor Eric Garcetti, on the other hand, wants to raise the minimum wage to $13.25 by 2017.
Both proposals are being debated. Opponents say businesses would be forced to cut jobs or to pass the cost of a minimum wage hike to consumers. Meanwhile, proponents say a raise would be good for the economy and would help lift families out of poverty.
For Mary Carmen Farfan, a raise in the minimum wage would mean more money to support her family. The 46-year-old works part time at a Burger King making $9 an hour. She works about 25 hours a week. Farfan would like to work more hours but said she and other employees are limited to less than 30 hours a week so the company won't have to give them benefits.
"I want to be a voice for all those other workers who can't be here," Mary Carmen Farfan, who is fasting to raise Los Angeles' minimum wage.
With Farfan's husband also making minimum wage at an Italian restaurant, she says the family is barely getting by. Farfan said the couple struggle to pay $1,236 a month in rent and support their four children on minimum wage salaries. Farfan said she tries to do everything she can to save money.
"When I go to the grocery story, I only buy whatever is on sale," she said. "I don't give myself the luxury of shopping at an organic food store because it's very expensive."
Farfan joined the fast a day after the core fasters began fasting and planned to continue until Friday. The 46-year-old mother of four said she joined because she wants to earn more money so she can "provide a better life" for her children. She's also doing it to represent all the fast food workers – especially the single mothers she works with – who'd like to push for a minimum wage increase but fear they'll lose their jobs or face retaliation from their employers.
"I'm here for them," Farfan said. "I want to be a voice for all those other workers who can't be here."
The other fasters include clergy, advocates and labor leaders. They represent groups such as the Service Employees International Union, the Central American Resource Center and the Alliance of Californians for Community Empowerment.