For Guillermina Castellanos, the Pope's message on compassion for immigrants is personal. Though she and her nine children are U.S. citizens, the California resident said her husband has been living in the U.S. for about 20 years and has not been able to legalize his status. Every time her daughters see a police officer drive up behind them, they're afraid that their father will get pulled over and get arrested for being undocumented.
"I tell them, 'Don't be afraid. The cop won't do anything to your dad,'" Castellanos said. "But they still live with that constant fear."
The Pope's trip to the city of Juárez, Mexico on Wednesday is drawing hundreds of thousands of faithful on both sides of the border. But as the eyes of the world descend on the Pontiff's visit to the area, some U.S. families like Castellanos say they want to ensure that people focus on the Pope's message of compassion and dignity for immigrants.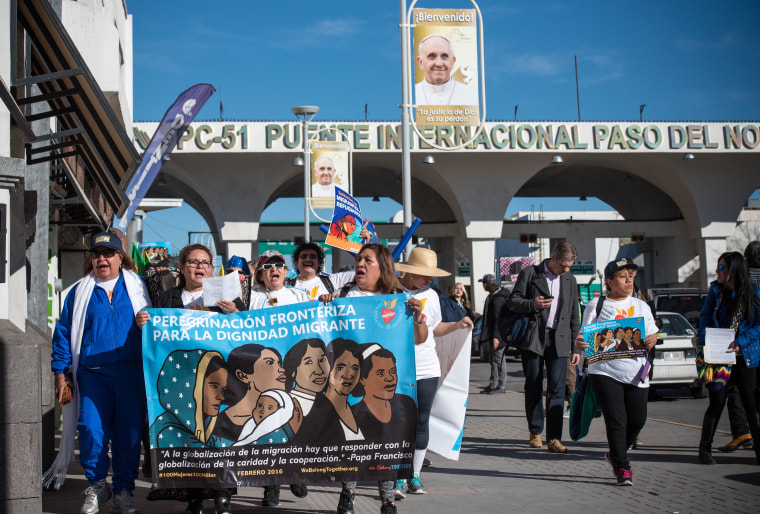 Castellanos was one of 150 women from across the country who took part in a pilgrimage across the border to call attention to immigrants' lives. The women met in El Paso Tuesday morning and crossed the border to Juárez through the Paso del Norte International Bridge. Once in Mexico, they met with women from Juárez and prayed together inside a cathedral that is dedicated to the Virgin of Guadalupe.
The women from both countries prayed together for those who have died trying to cross the border and for those who had crossed into the U.S. but have since been deported and separated from their families.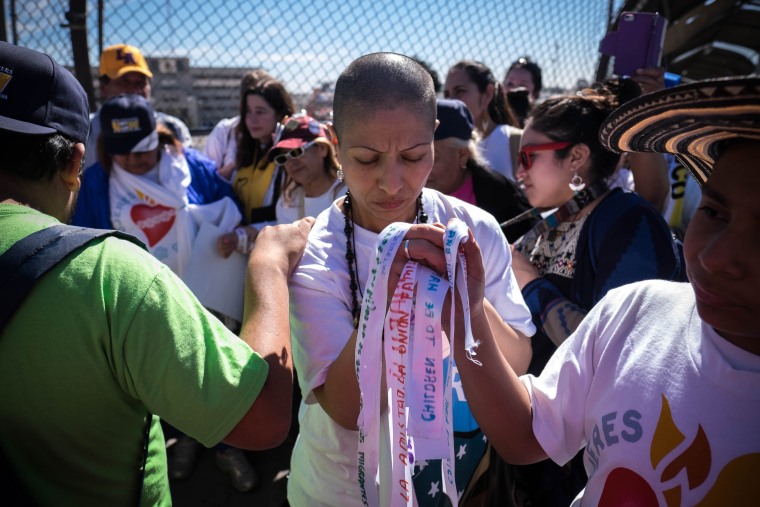 While some of the faithful have journeyed to Juárez to stay until the Pope's visit, the group of women returned to El Paso, a few steps away from the border, where they will be when Pope Francis celebrates mass. In this border city the group went to a federal courthouse to observe how immigrants are prosecuted and, in many cases, ordered deported through a program called Operation Streamline. They concluded the pilgrimage with a closing mass and dinner at the Sacred Heart Church in El Paso.
"Our message to immigrants is that they're not alone," Castellanos said. "We are fighting for them every day."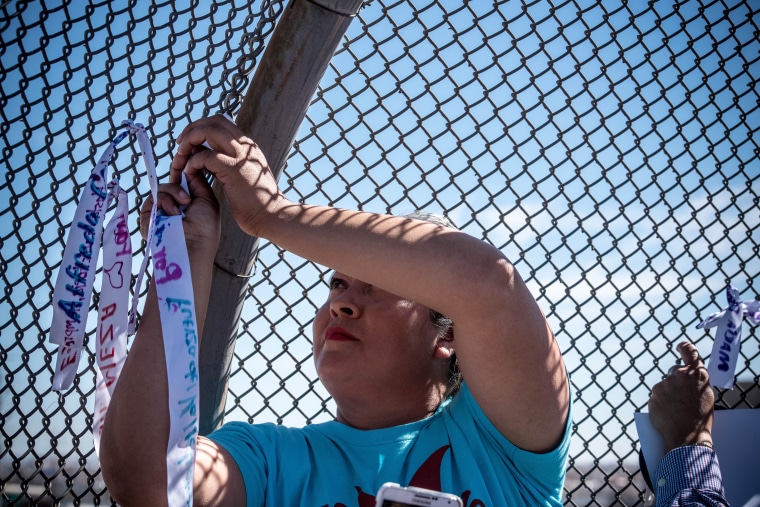 Many of the pilgrimage participants were also part of a group of women who in September set out on a 100-mile pilgrimage from Pennsylvania to Washington, D.C. They arrived at the nation's capital just before Pope Francis addressed a joint meeting of Congress and met with President Obama.
"Last September, we asked the pope to be a voice for immigrants," said Juana Flores, a former nun who participated in both pilgrimages. "He did that, but we saw that it didn't produce results. We still see deportations and raids happening in our communities."
Pope Francis has repeatedly spoken about the plight of immigrants and refugees. During his visit to the U.S. in September, Pope Francis urged compassion for immigrants during a speech to Congress. He delivered a similar message during his six-day trip to Mexico that will conclude after he celebrates mass in Juárez, not far from the border.
Flores and the other women who participated in Tuesday's pilgrimage are hopeful that through his trip to the border, the pope will call attention to the plight of migrants trying to cross the border in pursuit of a better life in the U.S. as well as how current policies are affecting the lives of undocumented immigrants and their families.
"This is a pope who hasn't been afraid of speaking out about immigration, and we are very thankful for that," said Flores, who is co-director of Mujeres Unidas y Activas in San Francisco. "I have a lot of faith that his words will lead to big changes."