WASHINGTON — Against the political noise of Donald Trump's anti-Mexican, anti-immigrant declarations and the ensuing backlash, the clank of hammers, clunking of wood and the high-pitched whine of heavy machinery inside a Trump construction site in the nation's capital goes on.
Many of the workers, though not all, are immigrants or Latino, or both, and have been on site of the Old Post Office Pavilion on Pennsylvania Avenue — about midway between the Capitol and the White House — since early in the morning and for many days.
On Tuesday, during breaks and while leaving at the end of their long day, they wore their work on their clothing and on their skin — splattered paint, dust, the exhaustion of their labor under a tough sun.
In his presidential bid, Trump told his audience of supporters that Mexico was sending to the U.S. people who weren't like them. Instead, Mexico was sending problems: rapists, criminals and drug runners, he said.
Few of the workers at the construction site wanted to discuss Trump's comments when asked about them a day after the Washington Post ran a front-page story about the workers on the hotel development billed as a $200 million project.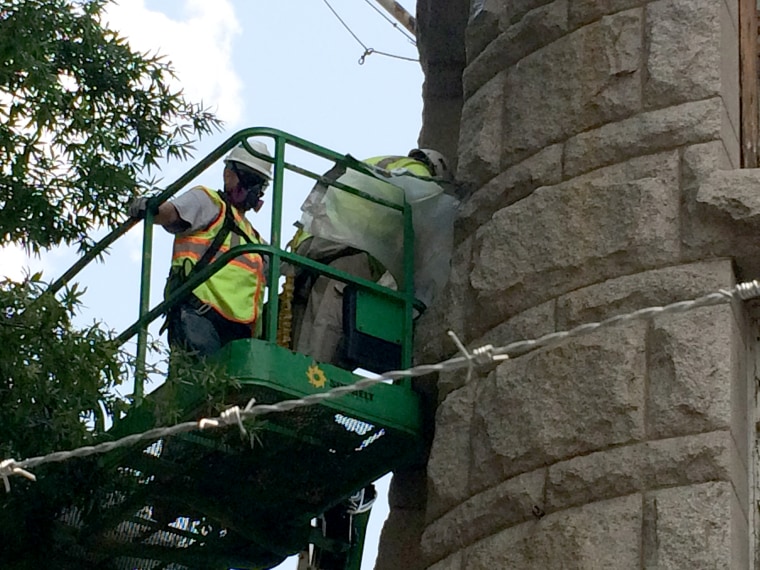 The Post reported that several of the workers were immigrants and many were citizens or working legally, but laborers also told the Post that many had first entered the U.S illegally.
Many of the workers interviewed were from El Salvador or Honduras, reflective of the Washington, D.C., Latino population. Larger Mexican immigrant populations are found in communities around the district.
Those that did talk to reporters Tuesday said Trump was crazy or that he clearly didn't know that the people who work on his projects are decent people.
"They've come here to work, to get ahead, not to do anything bad," one worker who would not divulge any personal information told NBC. "All the ones I know, at least, are workers, not rapists."
Their stories as reported by the Post give a different view of immigration, one that shows the complexity of the lives of people and their status in the U.S. — here illegally, once here legally but now a citizen, a legal resident, here with temporary protected status.
Although Trump has pegged them as problems, the workers' toil away making a luxury hotel out of a historic building complex that houses the official Bells of Congress gifted to the U.S. from Britain during the nation's bicentennial and a 315-foot clock tower dating to 1899.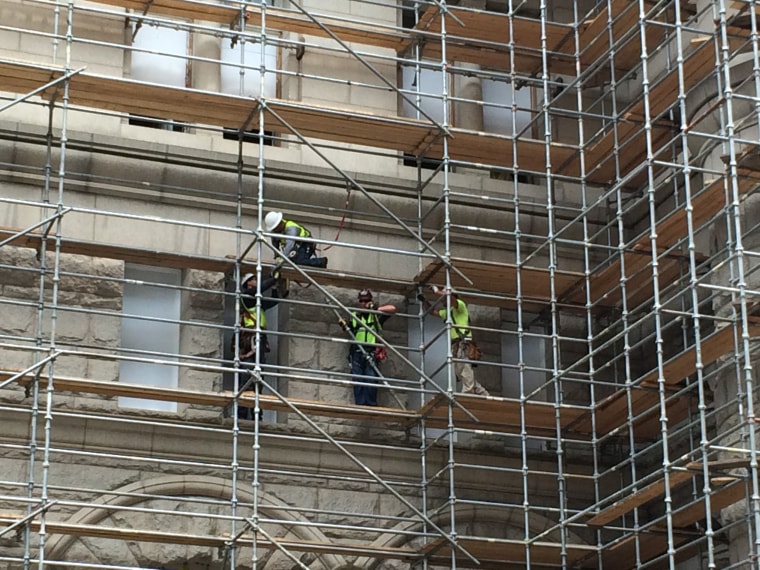 There's no mistaking who is reaping at least some of the benefit of these laborers' work.
The blue banners atop fencing across the front of the construction site announce the developer in large white letters: TRUMP.
It's a brand that Trump himself acknowledged is becoming increasingly tarnished. Often associated with success, wealth and excess, Trump's brand is increasingly being connected to racism and xenophobia.
Businesses have been severing ties with Trump, including NBC, Univision, Macy's and Serta Mattresses.
"I didn't know it was going to be quite this severe," Trump said on "Fox & Friends" of the backlash since his statements.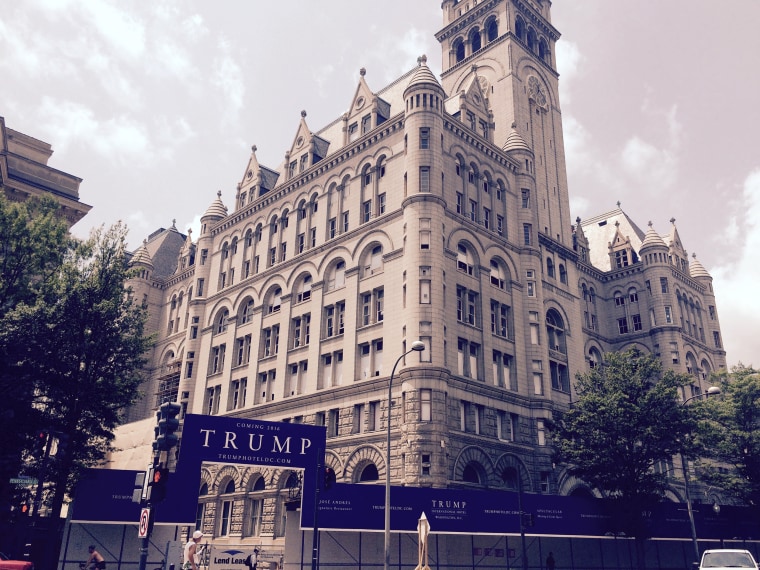 On Tuesday, the Professional Golfers Association pulled this year's Grand Slam of Golf from Trump National course in Los Angeles.
"I think Donald Trump knew he was going to be provocative and knew he was going to get pushback, but I believe he didn't think the pushback would actually come in the form of being dropped by sponsorships and contracts," said political analyst Victoria Francesco de Soto.
"Trump is losing out real money and his brand is being harmed," she said. "We all know Trump has that outrageous provocative brand, but it's going a bit deeper."