Tobacco growing is causing "massive harm" to the environment through the extensive use of chemicals, energy and water, and pollution from manufacturing and distribution, the World Health Organization (WHO) said on Tuesday.
The United Nations agency called for the tobacco industry to compensate for its products that contribute to greenhouse gases blamed for climate change, but gave no estimate of damage.'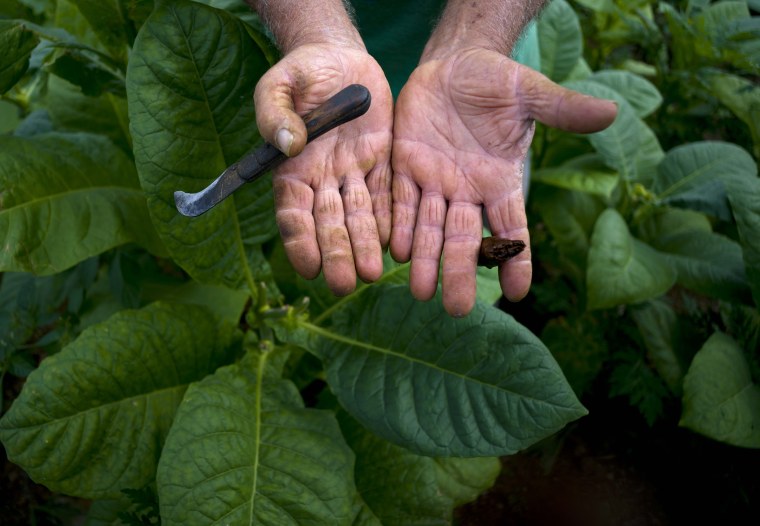 The ecological footprint goes far beyond the effects of cigarette smoke, the WHO said in its first report on tobacco's impact on the environment. "From start to finish, the tobacco life cycle is an overwhelmingly polluting and damaging process."
"Tobacco growing, the manufacture of tobacco products and their delivery to retailers all have severe environmental consequences, including deforestation, the use of fossil fuels and the dumping or leaking of waste products into the natural environment," Oleg Chestnov, WHO Assistant Director-General, said in the report to mark World No Tobacco Day on Wednesday.
Tobacco use kills 7 million people a year, according to WHO.
It clinched a landmark treaty in 2005, now ratified by 179 countries, that calls for a ban on tobacco advertising and sponsorship, and taxes to discourage use.
RELATED: Two Latinos Win Prestigious Prize as 'Grassroots Environmental Heroes'
Tobacco plants require large quantities of insecticides, herbicides, fungicides and fumigants to control pest or disease outbreaks.
"Many of these chemicals are so harmful to both the environment and farmers' health that they are banned in some countries," the report said.
Vast quantities of wood are burned to cure tobacco leaves, contributing to deforestation. Some big growers like China and Zimbabwe are also using coal, which emits carbon dioxide, the main greenhouse gas blamed for global warming, the WHO said.
Millions of kilograms of non-biodegradable cigarette butts are discarded every year, it said.
Tobacco waste contains over 7,000 toxic chemicals that poison the environment, including human carcinogens, it added.
Japan Tobacco Inc, Philip Morris International and British American Tobacco report on their use of environmental resources and waste streams, but the self-reported data is "limited and opaque," the report noted.
It also criticized the China National Tobacco Company, which produces roughly 44 percent of cigarettes consumed globally, for not publishing comprehensive environmental data.
The WHO said it should be mandatory for tobacco companies to supply information on environmental damage.
"All producers should be required to compensate for the environmental harms caused by deforestation, water use, waste, etc. through offsets in order to ultimately reduce the long-term ecological harm their business causes," it said.