All eyes are on the Chicago Cubs and Cleveland Indians as they play what could be a make-or-break Game Six for the World Series title.
After one of the most memorable Game Fives in baseball history, the Chicago Cubs pulled out all of the stops on Sunday night to defeat the Cleveland Indians 3-2. The Indians still hold a 3-2 series lead, and the setting returns to Cleveland where they'll once again have home field advantage.
But the Cubs have proven that they won't go down quietly, and they're looking to force a decisive game seven on Wednesday. The Indians on the other hand want to end this series once and for all and bring home their first championship since 1948.
Here are the Latino players that could push their teams to a World Series victory: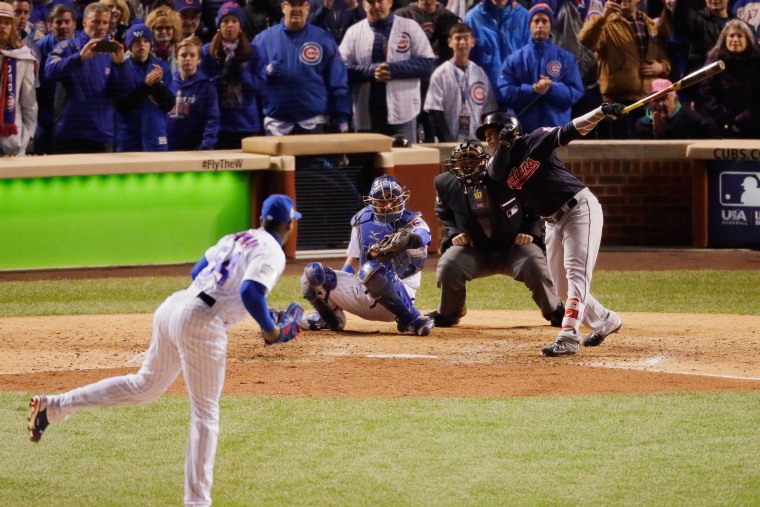 Willson Contreras
In order for the Cubs to extend this series one more time, they'll need another strong pitching performance. And they have a good chance of getting that by sending right-hander Jake Arrieta to the mound. In game two, the Cubs iron man held the Tribe to just one run on two hits. He also struck out six over 5 2/3 innings of work. Now the 2015 Cy Young award winner is tasked with saving his team's season, a task that he is proud to take on.
RELATED: 6 Latinos Making History in Cubs vs. Indians World Series
Catching for Arrieta is Willson Contreras who will be making his third start in this series, and his fifth appearance overall. Despite his playing time, the Venezuelan phenom has not gotten on base since game two. Since then he's gone 0-for-9 and his World Series batting average sits at .071. The Cubs desperately need his bat to come back to life if they want to stay alive for one more game. After all, manager Joe Maddon added Contreras to the playoff roster in because of his swing.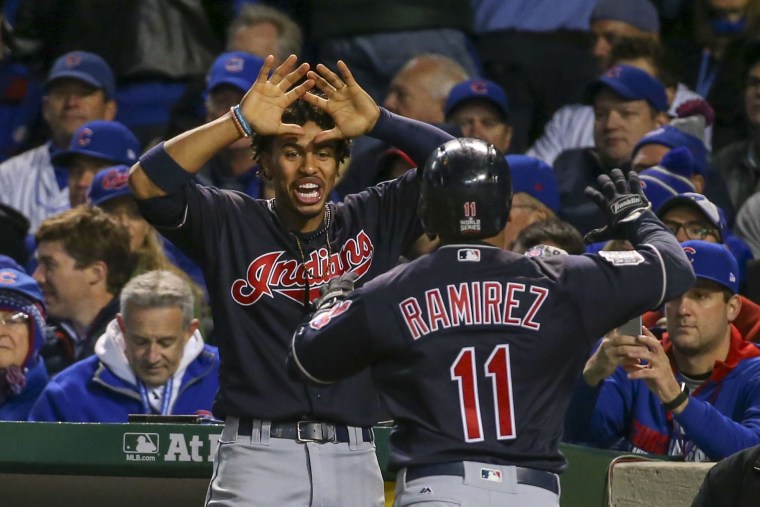 Javier Baez
Like Contreras, Cubs second baseman Javier Baez has also hit a dry spell. After winning Most Valuable Player honors in the National League Championship Series, Baez only has three hits in 21 at-bats against the Indians. He's also struck out nine times and has yet to draw a walk. In my last story, I posed the question as to whether or not the 23-year-old could be the savior of the franchise. If the Cubs want to even this series Baez may need to become just that.
As for the Indians, everything starts and ends with shortstop Francisco Lindor. His consistency has been nearly unmatched as evidenced by his .421/.476/.474 slash line. He has reached base in every game thus far and unless the Cubs can find a way to keep Lindor off the base paths, the Indians are one step closer to the Commissioner's Trophy.
RELATED: Divorcing Chicago Cubs Fans Fight in Court Over World Series Tickets
Carlos Santana
Will the real Carlos Santana please stand up? In the first two games at Progressive Field the Indians' designated hitter could only come up with two walks. But during the last three games at Wrigley Field (while playing left field and first base), Santana collected four hits, a double, a home run, an RBI, and scored a run. The Chicago version of Santana is the one that The Tribe will need to increase their championship hopes.

Jose Ramirez
Through all of the madness third baseman Jose Ramirez has gone unnoticed to some degree. He's had some success in the batters box against the Cubs (6-for-20, two RBI's, 10 total bases), and has made some solid defensive plays along the way. While his teammates have gotten most of the attention in October, the 24-year-old Dominican has quietly gone about his business. If the Indians can get one more under the radar performance from Ramirez, they may finally put this series on ice.
Both teams are in a must-win mode but are also feeling a sense of desperation. Chicago and Cleveland will push themselves to their limits in Game Six — but the question is will the Cubs continue fighting, or will the Indians finally reach the Promised Land?