The year started with a record number of Latinos entering Congress and the buzz over what 2016 will mean when it comes to Latino representation. But the elation has had a hard time penetrating Donald Trump's cloud of anti-Mexican, anti-immigrant statements and his ascendancy among GOP candidates. So that's where we'll begin our review of political happenings that caught the attention of the Latino community in 2015:
1. DONALD TRUMP – A good portion of the Latino community cringes at seeing him get top billing in any way, but the reality is he has set the backdrop through which many Latinos now are being viewed in this country. He said Mexico "sent" to the U.S. criminals, rapists and people bringing drugs. He pledged to build a wall. He said Mexico was out to get the U.S. In one of the GOP debates, he called for a reprisal of a massive deportation program like that conducted by Dwight D. Eisenhower. He didn't say it, but most knew he was referring to racially-charged "Operation Wetback." When two men invoked Trump as they beat a Hispanic homeless man, his initial response was that his fans were "passionate." He dismissed both of the top two Latino news anchors, cutting off Telemundo's Jose Diaz-Balart mid-question at the border and ejecting Univision's Jorge Ramos from a news conference. He lost several business deals as a result of his initial comments, but then was allowed to host Saturday Night Live, a move that drew protest from Latino groups already upset about the lack of Latinos on the show.
Even more, none of this has seemed to matter to a large segment of the U.S. population. Other Republicans and the party were slow to respond to what many in the community saw as bigotry. GOP leaders have said they will support whoever is the frontrunner. At this time, that is Trump. All of this has happened as Latinos were beginning to feel they could exercise some political clout in this country, that their numbers – about 55 million – were giving them more exposure in media and society and potentially giving them a greater voice and hand in policymaking. Latinos fought back with protests, unity in the community and Trump piñatas. Those who don't want Trump's views of Latinos in the White House, Republican or Democrat, are now left to hope it will energize and not demoralize the Latino electorate.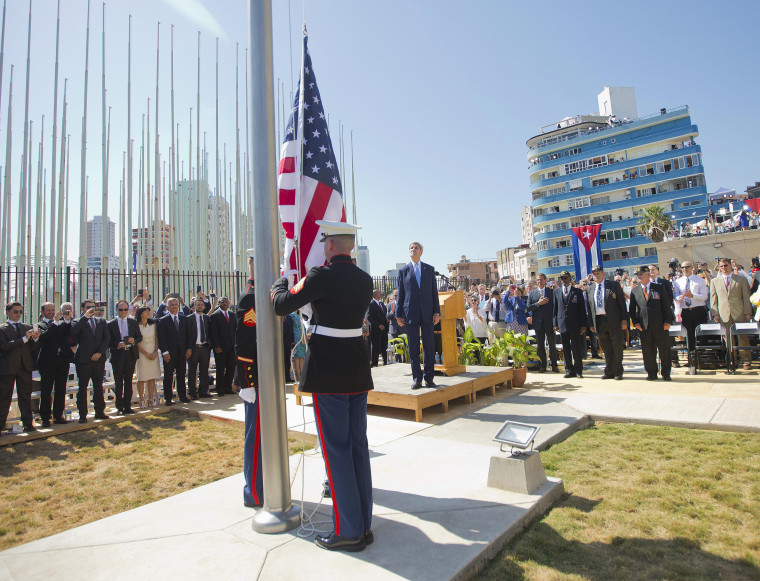 2. CUBA THAW GOT REAL – The surprise announcement of a coming U.S-Cuba thaw came late last year, but this year we saw it begin to happen, en serio. The small, bureaucratic moves became tangible change when Havana opened its embassy in Washington, D.C., in July, followed by the raising of the U.S. flag at the American embassy in Havana. John Kerry was the first U.S. secretary of state to visit the island nation since 1945 and the Buena Vista Social Club played at the White House, making history as the first musical group from Cuba to do so in half a century. Travel has increased, businesses are sprouting and there's some opening of Internet access. But that hasn't stopped the tough treatment of dissidents or created a free flow of information and communication. Several Cuban Americans in Congress are not happy with what is taking place, along with parts of the Latino community with most of the opposition among Cubans. Sens. Ted Cruz and Marco Rubio, both GOP presidential candidates, oppose further easing of restrictions on Cuba.
3. PUERTO RICO'S DISTRESS CALL - While there is hope for expanded opportunity in Cuba, there is despair over the financial crisis in the U.S. territory of Puerto Rico. Puerto Rico Gov. Alejandro García Padilla declared the commonwealth's economy to be in a death spiral and said its $72 billion-dollar debt is unpayable. He issued what he said was a "distress call" to Congress and along with others reminded U.S. officials that Puerto Ricans on the island also are Americans who they've allowed to sink into a humanitarian crisis by failing to respond with legislative relief. But on this issue too there is disagreement on the best way to fix Puerto Rico's economic ills. Bondholders, which include some Latinos, don't want to lose value on the money they've loaned the island, but Puerto Rico officials say they are out of cash and only by restructuring their debt, including potentially lowering the value of bonds, can they survive. Puerto Rico faces another major payment deadline in January, so this issue will develop quickly in 2016.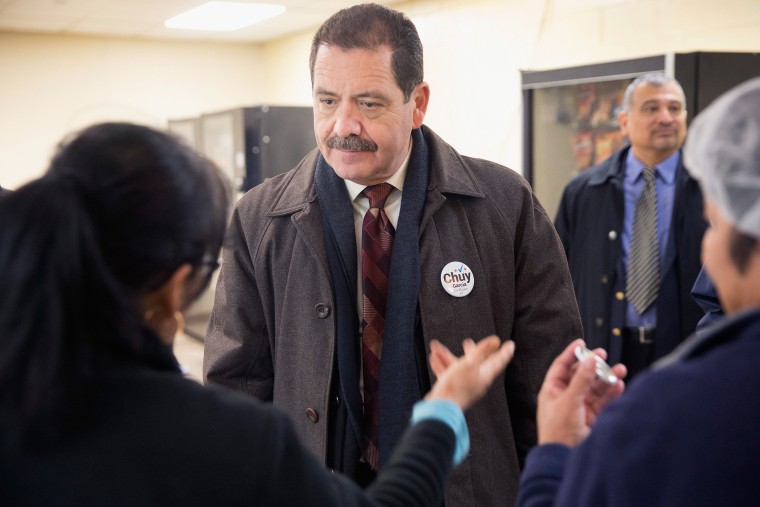 4. DACA, DAPA PUT ON HOLD – A day before applications for expanded DACA and DAPA were going to be accepted, a Texas judge threw up a block. Following a lawsuit from several states, U.S. District Judge Andrew Hanen refused to allow the programs shielding millions of immigrants from deportation and granting them work permits that President Barack Obama had authorized in 2014. And it's been a slow-moving court battle since then. The administration's run at the appeals court failed - as was largely expected - and the question over whether he overstepped his boundaries with the programs has moved to the Supreme Court. There the administration did get one smaller victory. The justices refused to give Texas an extra month to respond to the administration's request to the court to hear its appeal. The court could decide next month whether to take the case. The programs have become an issue in the presidential campaign with Democratic candidates saying they support the action taken by Obama and several Republicans saying they would repeal the programs and others going further to say they will end an earlier DACA program Obama authorized in 2012.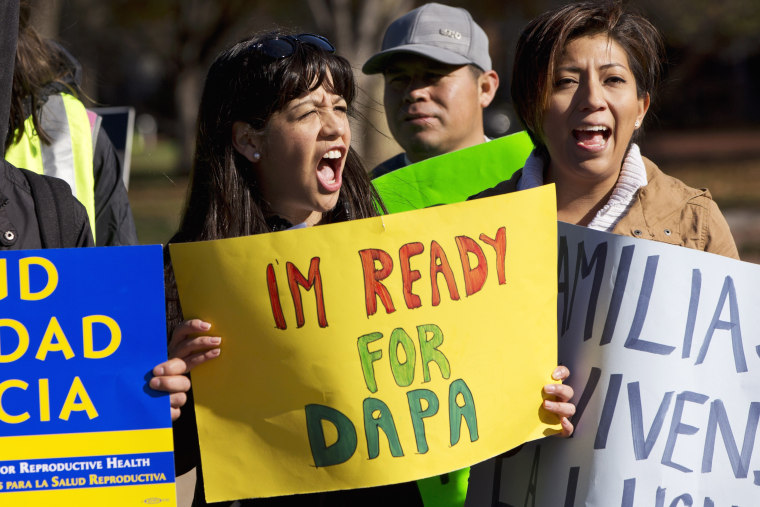 5. LATINOS OUTNUMBER WHITES IN CALIFORNIA – The confirmation came a whole year later, but in summer, the official word came down that in 2014 Latinos had surpassed whites as the largest ethnic group in California. It took a year to have official numbers, 14.99 million Latinos, 14.92 whites. For the state's Hispanics, the issue in 2016 will be how the community expands its political clout at the local and state levels, since there is a lag in representation.
6. A TRICKLE FROM THE PIPELINE – There were some bright spots for Latinos moving into political office. Keep in mind that there are 6,100 Latinos in elected office nationally. The latest incursion into the political ranks came in Washington state – that's right – Washington state. There, three Latinas were elected to the Yakima, City Council after a judge found the voting system used by the city was suppressing the Latino vote. Two of the Latinas won in majority Latino districts. In Seattle, Lorena González is the first Latina on its city council after winning a citywide elected seat. And in another non-traditional Latino locale, the town of Wilder, Idaho elected its first Hispanic mayor, Alicia Almazan. Two new Latino council members also were elected, creating an all-Latino city council.
7. THE CHUY CHALLENGE – Underfunded and late to the campaign, Jesus "Chuy" Garcia thrust his populism and mustache into the national limelight when he forced incumbent Chicago Mayor Rahm Emanuel into the city's first-ever mayoral runoff. The contest set off a wave of excitement in the community over the possibility that a Mexican immigrant could lead the city with the nation's second largest Mexican-American population. The spotlight helped educate the public on his nickname and its spelling (not like the Star Wars character's) and gave his beloved "bigote" (mustache) its own celebrity. He lost in the end, pulling in just 40 percent of the vote, but for a while he raised the community's hopes and made the incumbent Emanuel sweat.