Facing a serious financial crisis and the looming threat of Zika, Puerto Rico has had its share of turmoil and negative headlines. But now one Puerto Rican is looking to change all that.
Carlos Lopez-Lay is bringing Puerto Ricans together with the #YoNoMeQuito movement, or 'I will not give up'. The goal of the movement is to spread positive energy and motivate "borícuas," as Puerto Ricans are known, to keep moving forward despite the island's recent challenges.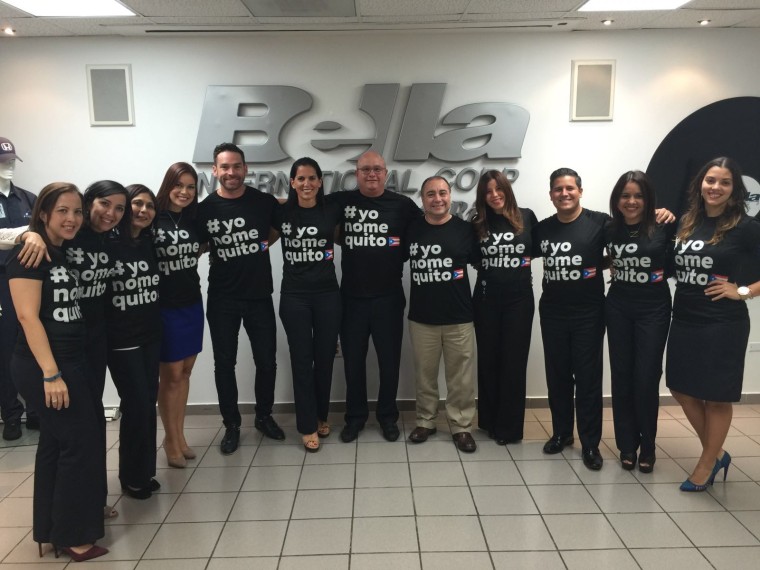 "We are facing some of our darkest hours and it is up to each and every one of us to come together, united, and refuse to engage in the common dialogue of negativity," Lopez-Lay told NBC News. "We are in it together, we are united under one common goal – move Puerto Rico forward."
Related: Move Over JLo, There's a Puerto Rican Superhero and She Can Fly
Born and raised in Guaynabo, Puerto Rico, Lopez- Lay is the President of Bella Group, a transportation distribution company and one of the largest employers on the island. The #YoNoMeQuito movement was born out of conversations at work about a month and a half ago. Lopez-Lay said he regularly sent out positive messages to his employees and finished with 'yo no me quito.' Not long after, Lopez-Lay formed a group to spread his vision of a stronger, more vibrant Puerto Rico on a bigger scale.
"Yo No Me Quito – I will not give up, I will not throw in the towel. I will revel in everything that is good and positive and wonderful about Puerto Rico. We will work together, friends and competitors alike, not to return to where we were, but become what we hope for," he said of the movement he has created.
His message has caught on. There's a #YoNoMeQuito Facebook page with over 60,000 likes, an official #YoNoMeQuito song sung by acclaimed Puerto Rican singers and salseros Gilberto Santa Rosa and Victor Manuelle, and apparel and billboards all over the island featuring the slogan.
For Puerto Rican resident Steven Janer, the forced exile and 'brain drain' of the island's professionals is one of the biggest problems facing the island. A report on migration patterns released by the Puerto Rican commonwealth shows that over the last four years about 12,000 people in the professional class - doctors, lawyers, educators, health care workers - have left amid the island's financial struggles.
Related: 'Forced Exile,' Say Puerto Ricans Leaving Island Amid Financial Crisis
But he believes the optimism of the #YoNoMeQuito campaign can help people envision a better future.
"It's a good campaign- it's possibility," Janer said. "Puerto Rico does have good things - it's a community. Things are possible here, things can happen. People need to look at the future."
Lopez-Lay is also planning a #YoNoMeQuito concert in August that he hopes will attract more than 35,000 people.
"We want this to be an event in appreciation of all the people who have supported us from the beginning and have a mass demonstration. We want there to be a social impact and everything we collect will go to charity," he said.
Lopez-Lay says his movement isn't about whether people stay or leave the island.
"Leaving Puerto Rico is a personal decision. This movement is about loving Puerto Rico. Those people that leave Puerto Rico will be ambassadors. It's not a matter of if you stay or if you go, but about being the best wherever you go," he said.
"The citizens are the future of Puerto Rico. We need to solve our situation."