WASHINGTON D.C — At first glance, the young Latinos gathered for a group photo on a winding driveway seem like typical millennials. Awaiting direction from a photographer, they chatted about mutual friends and work. One young man helped another straighten his tie, while two women took a selfie together. "Are you on Snapchat?" someone asked.
But these are no typical millennials. This group stood inside the gates of 1600 Pennsylvania Avenue. They were posed just a stone's throw from the West Wing, beside the set-up of media outlets from around the world. They were standing, literally and figuratively, at the nexus of power and politics in the United States, and they have worked on issues affecting the lives of millions of Americans.
These are the Latino millennials of the Obama White House – where more young Hispanics have worked than in any previous administration and an important part of his legacy.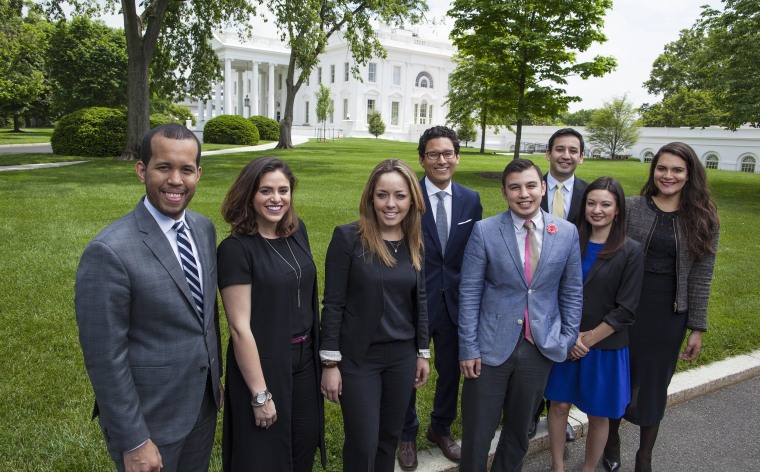 Like other Hispanics, these young people are a true cross-section from diverse backgrounds. They hail from California, Texas, New Mexico, and Florida. Some are fluent in Spanish; some are not. Some are the children of immigrants, while the families of others have been here for generations.
While the idea of working on a presidential campaign — which was the way many of them started — or in the White House may sound glamorous and exciting, the reality is much more prosaic. Young volunteers often put their lives on hold, sleep in cramped apartments far from home, and trudge through cold winters in places like Iowa and New Hampshire.
White House staffers put in long hours, routinely missing family milestones and even holidays as they labor over endless policy papers and data sets. Most of the work is done out of the spotlight, simply because they believe in their candidate and his vision. It is a life that can be incredibly challenging and rewarding, yet at times lonely and exhausting as well.
Listening to these young adults talk about the NBA and a new Thai restaurant, it's easy to forget that they interact with Cabinet officials, world leaders, and, on occasion, the president and the first lady of the United States. It's easy to forget that these young people put in long hours working on education policy, technology, and public outreach. It's also easy to forget that these millennials work amid tight security; on the day after NBC Latino visited, the Secret Service shot a man armed with a gun at a White House gate.
What is remarkable about these Latino millennials is that they have achieved their success largely on their own. Most are not from wealthy backgrounds, nor did they have family connections to propel them to their current positions.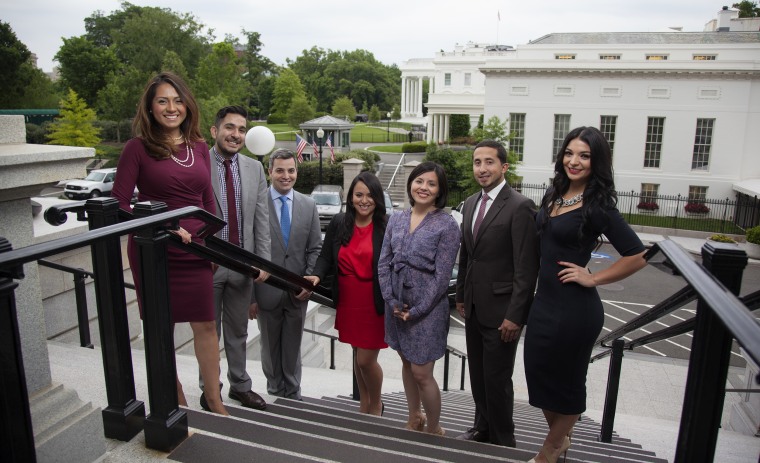 As these men and women spoke with NBC Latino, none of them mentioned party affiliation or political battles. Instead they spoke of a passion for public service, the responsibility of representing their communities, and a strong belief in the transformative role of government.
Those values stick with them even after they leave. A group of current and former Obama administration appointees have created LATINOS44, an alumni group, to provide professional development and keep the appointees connected after President Barack Obama's exits the Oval Office. The group kicks off this weekend with an event that will bring together 150 current and past appointees and others.
"LATINOS44 will continue building on the leadership pipeline that the president has invested in over the last eight years so as to ensure this group has the capacity to continue advancing the issues of our community in a post-Obama world," said Stephanie Valencia, one of the group's co-chairs.
Many would characterize these Latino millennials as achievers and role models; in fact, they are both witnesses to and participants in history.
Here, in an NBC Latino exclusive, is a look at the young Latinos of the Obama White House.
ELIAS ALCANTARA, 29, grew up in The Bronx, New York, with a strong sense of civic engagement, thanks to his parents, immigrants from the Dominican Republic. As a child, he accompanied his father every Election Day when he voted at their neighborhood polling place. "That helped spawn, in many ways, the public service direction my life has taken," said Alcantara.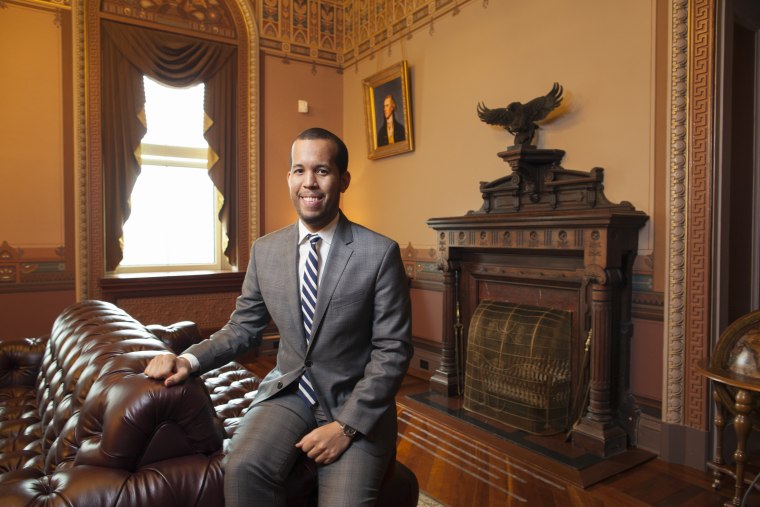 In 2008, he and his father voted side by side for Obama at this same polling location – without any idea he would someday work for the President. The first time he met the President, Obama asked him to tell him something about himself. "I'm from the Bronx," blurted Alcantara. Obama smiled and said that was a "fine place" to be from.
Alcantara serves as associate director in the Office of Intergovernmental Affairs, fas a liaison for mayors and local officials across the country. Named to the Huffington Post's list of "40 Under 40: Latinos in American Politics" in 2014, he is most proud of his work on the My Brothers Keeper initiative and the administration's response to Hurricane Sandy. Alcantara has also brought scores of young people from the Bronx to the White House to learn about government.
The young Dominican American recalled the emotion that hit him the first time he briefed the president in the Oval Office about a mayors' conference. "It was in that moment that I realized that all the sacrifices my parents made, coming to this country, and all the work that I had done up to this point was actually worth it," he said. "Here I was, a first-generation American, a kid from the Bronx, having a chance to brief the president of the United States on an effort that is obviously incredibly important for him and for this administration."
ANDREA AMBRIZ, 32, grew up in Los Angeles and attended DePaul University and the University of California Berkeley. She met then-Senator Obama while in Chicago. "I knew he was not a typical politician," she said. "His message really resonated with me."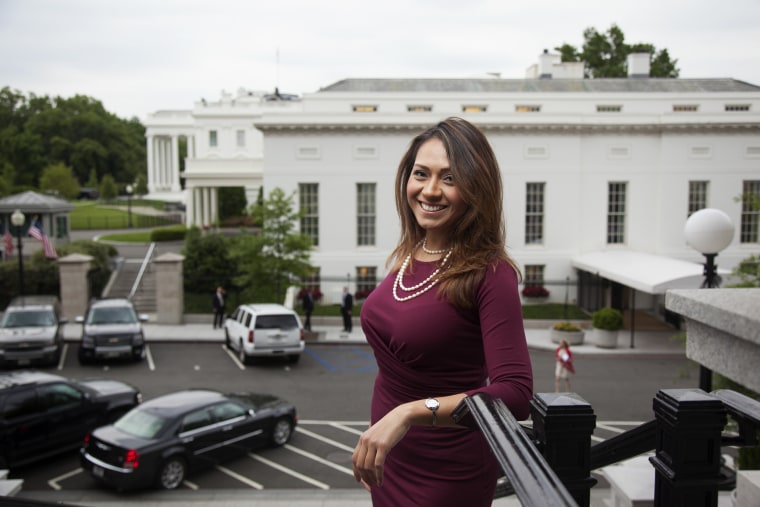 After serving as an aide to California State Sen. Kevin De Leon, Ambriz worked at the Department of the Treasury in Washington D.C. and in the White House Office of Public Engagement. Among her proudest accomplishments is working the rollout of MyRA, a retirement account program for people without access to 401(k) plans, and hosting the first White House summit on diversity in the private sector. She also helped lead the effort to lift sanctions on private investment in Myanmar (Burma). "We literally changed history there," she said. "When I was talking to the president on my departure day, I mentioned that I would be traveling to Burma, and that we had helped open investment opportunities there. He told me, 'I know.' And I was humbled."
Ambriz is passionate about Latino civic engagement. "If you look at the statistics, we clearly have the best opportunity ever to help develop the policies, the day-to-day stuff, that affect our communities," she said. "Now more than ever, this is the time for folks to step up and say this is what I want, and this is my proposal to get it done. It makes sense for us to be part of the process."
MABEL ARRAMBIDE, 28, worked on the first Obama presidential campaign before she could even vote. Born in Monterrey, Mexico, she grew up in Chicago and volunteered at the Obama headquarters in 2008. "On my first day there, (then) Senator Obama introduced himself to me," Arrambide said. "I was 20, and still a legal permanent resident (green card holder)."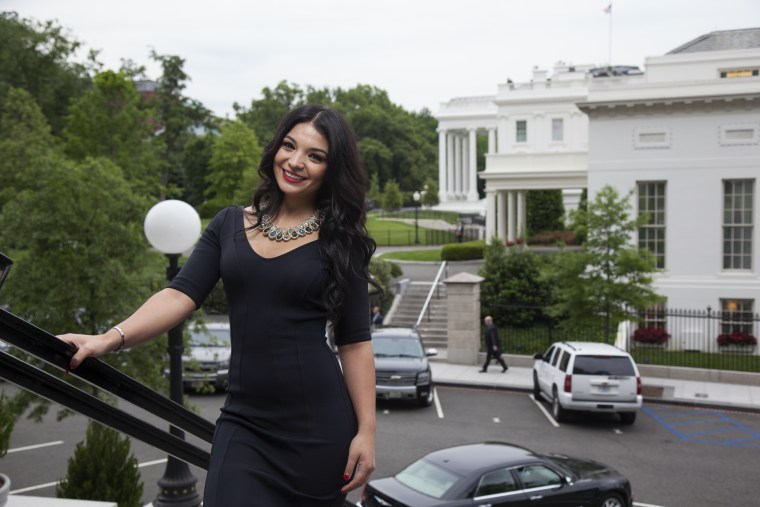 Hired by the campaign to work in fundraising, Arrambide cast her first vote ever in the 2012 presidential election while living in Miami. She remembers the campaigns as "stressful and difficult." But she also knew it was a life-changing experience. "Every day was all so amazing and I never took it for granted. I come from a home with a single mom, I never thought I would be helping elect the president – twice!"
Arrambide said that it was rewarding to work on campaign fundraising, in part, because there are few Latinas in the field. "It was a great opportunity to meet people, to network, and to represent our community."
While in Miami, she helped start the Futuro Fund, and she currently works at NMA Consulting Partners.
On the campaign trail and with the Democratic National Committee, Arrambide was responsible for many fundraising events. However, one stands out in her memory. "In June 2012, we did a big concert fundraiser with Marc Anthony at the Fillmore in Miami Beach. We filled the place; it was a full house. Marc Anthony performed, the president spoke and everyone was so excited and inspired," she said. "That was when I realized, this is my job. This is what I get done."
NATHALY ARRIOLA, 27, was a budding community activist from a young age. "I was a good student in high school, very quiet," the Hayward, California, native recalled. "But I was involved in organizing for immigration reform and health care. I would cut class – not to go hang out – but to go do phone banking or to attend a march."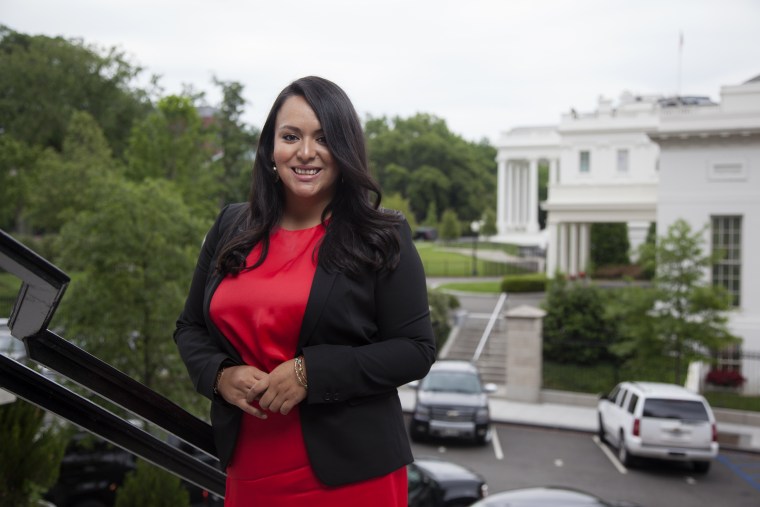 Born in Peru, Arriola is an alumnus of the University of California, Santa Barbara. It was there, organizing alongside longtime community activists, that she decided to take her activism to the next level. After working on the 2012 presidential campaign, she went on to jobs in the administration, where her duties included everything from representing four million federal employees worldwide to booking Ricky Martin on the radio to talk about the Affordable Care Act.
"The good and beautiful thing about this administration is that it welcomed people like me, with no political pedigree," she said. "You just needed a passion and a purpose to be able to make it."
For Arriola, being separated from her family was not easy. "It was unusual, living between the world I grew up in, a very working class home, and my life in Washington. While I was working in the White House, my father was working a minimum wage job."
But Arriola said she does not regret "one minute" of her time in D.C. "I never had to make the choice between being an advocate for my community or being a staffer," she explained. "In this administration, it was expected that you would be both."
IRVING BURBANO, 27, worked with Hispanic media in the Obama for America 2012 campaign, and then served as a field organizer in New Mexico. "I had already been interested in politics at my university. But I had no connections, my family was not really involved in politics," he said. "I emailed people, trying to get involved and then I found something online, through Twitter, and was able to connect with the Obama campaign that way."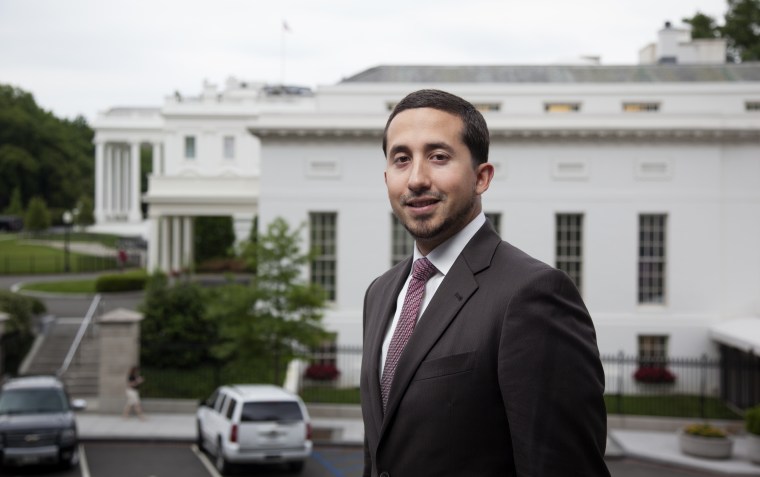 Before long, Burbano was knocking on doors in New Mexico, which proved a kind of culture shock. "I grew up in Washington Heights, New York City, and it was a different kind of Latino in New Mexico," he said. "They were Mexican-American, so I learned about the diversity of our Latino communities. I have warm memories of my time there. The families in New Mexico who volunteered, they gave us rides, they donated furniture, they would cook for us, it was literally like a family environment. I really miss that."
Today Burbano works with the Congressional Hispanic Caucus Institute in Washington D.C. Looking back, he told NBC News that he would "absolutely recommend" the experience of working on a campaign to others. "When you do field work in a presidential campaign, it is like a rite of passage," he said. "It is like the boot camp of politics. You make tremendous sacrifices… but you will get a return, both personally and professionally."
MARIO R. CARDONA, 31, is the son of immigrants from Guatemala. He serves as senior policy advisor for Education, Domestic Policy Council, working with the Department of Education on everything from regulations, to grants, to the Every Student Succeeds Act, the 2015 law that replaced No Child Left Behind education law.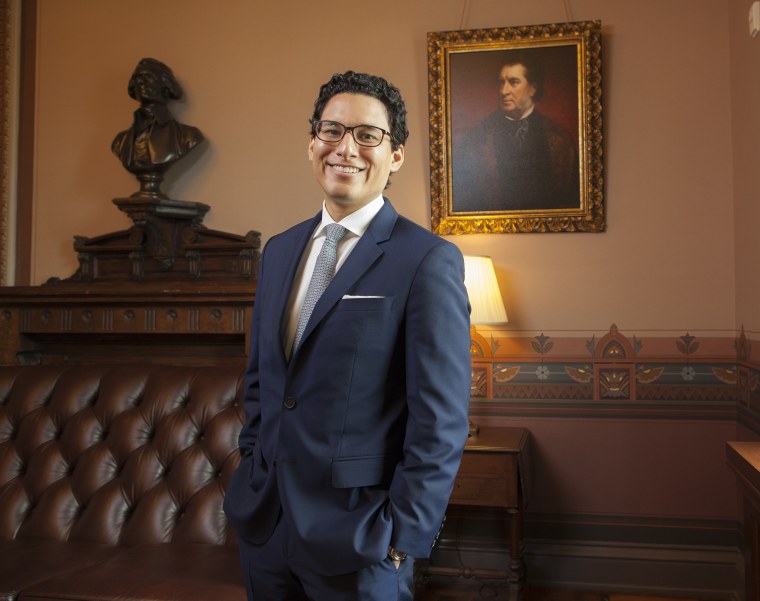 Cardona attended the University of Texas at Austin, the Harvard Graduate School of Education and George Washington Law School. Yet he said he is continually struck by the "intellectual firepower" of his colleagues. "Everyone around here is so, so smart, hardworking – and it never stops," he said. "Before, I worked in the Senate and there were breaks, like when they were not in session, so it was a time to recharge. Here it never stops."
Cardona feels that it is a privilege to work at the White House. "But it is difficult for folks here to have perspective, because everyone is so busy, working hard and planning events," he said. "There is not much time to reflect on what an incredible experience it is. When I talk to my parents, then it hits me; they never expected to have a son working in the White House."
"Once I'm done here, after January 2017, I will probably have a better perspective about it all," he said. "Right now, I am just in it."
Cardona smiles when he talks of having to explain to friends and relatives that he doesn't get to go up to the President and relay his loved ones' views on a certain policy. "I do not play golf with the president. I do not play basketball with the president," he said wryly.
XIMENA GONZALEZ, 26, was inspired to get involved in government when First Lady Michelle Obama came to speak at her college campus. "I heard her, and it represented something different to me," she said. "What they were trying to accomplish, I knew I wanted to be part of that."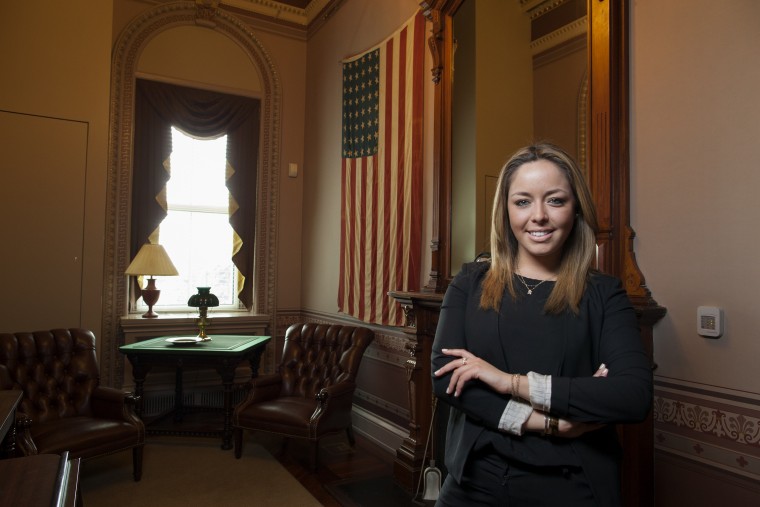 The daughter of a retired special education teacher and a school bus driver, Gonzalez was born in Brownsville, Texas. She earned a Gates Millennium Scholarship at the University of Texas at Austin and currently serves as deputy chief of staff for Presidential Personnel.
"Coming into the White House, it wasn't intimidating," she said. "I was 20 at the time, I had no idea of what I was getting myself into." She and another colleague sometimes joke that, "we were raised here."
One of Gonzalez' favorite memories is traveling with the President to Mexico. "I was part of the support team for his visit to Mexico City," she told NBC Latino. "The president gave a speech at the Museum of Anthropology for thousands of Mexican university students. To travel with the president back to my homeland was a remarkable moment – to come full circle, and see him inspiring students, like I had once been."
Gonzalez finds public service rewarding. "When you are talking about creating systemic change and impact at a level you cannot even imagine," she explains, "just to be a small part of that – I can't imagine that kind of satisfaction anywhere else."
"The only disadvantage of working in the White House," Gonzalez laughed, "is that it is very far from Brownsville, Texas!"
VIVIAN GRAUBARD, 26, is a founding member of the U.S. Digital Service, which has been nicknamed the president's "Geek Squad." After graduating from American University, Graubard had no job offer or plan, so she took a short-term gig volunteering at the presidential correspondence office. A few months later, thanks to her tech background, it turned into a full-time job.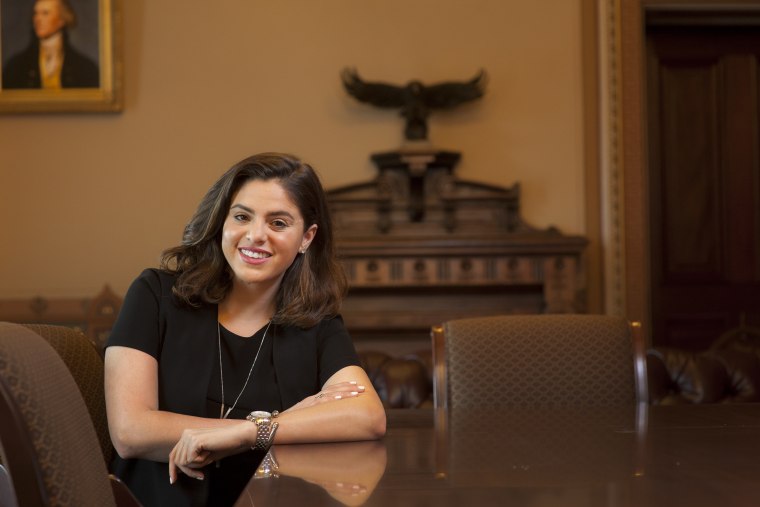 Any concerned citizens who call the White House comments line can thank Graubard, because she was part of a team that helped update the system and bring it into the 21st century.
Graubard told NBC that one of the challenging aspects of working for the government is that you don't see change overnight. "Everything is long-term," she said. "You don't fix things overnight. The worst thing is that you sometimes wake up and day after day and it is hard to see the progress you are making."
Still, Graubard – one of Time Magazine's "30 Under 30 World Changers" – knows that her work has had a positive impact. She recalled once stumbling upon a big box of unanswered letters at the White House. "They were letters, some in Spanish, that people had written to the president, that just didn't get answered," she said.
"There was an unofficial policy that they weren't answered because the president didn't speak those languages, but I thought many were likely from U.S. citizens and they deserved a response." So Graubard put her tech skills to use helping to build a system to catalog and answer foreign-language letters. Obama now has the distinction of being the first president to respond to letters in Spanish, French, Portuguese, and other languages.
LEAH KATZ HERNANDEZ, 28, sits at a desk steps away from the Oval Office. As White House receptionist, she sees every person who has a meeting with President Obama. Hernandez has been hailed worldwide as "a pioneer" because she is the first deaf person ever to hold the position of "ROTUS" – receptionist of the United States. On the TODAY Show, Matt Lauer said, "she might just be one of the most impressive figures in Washington."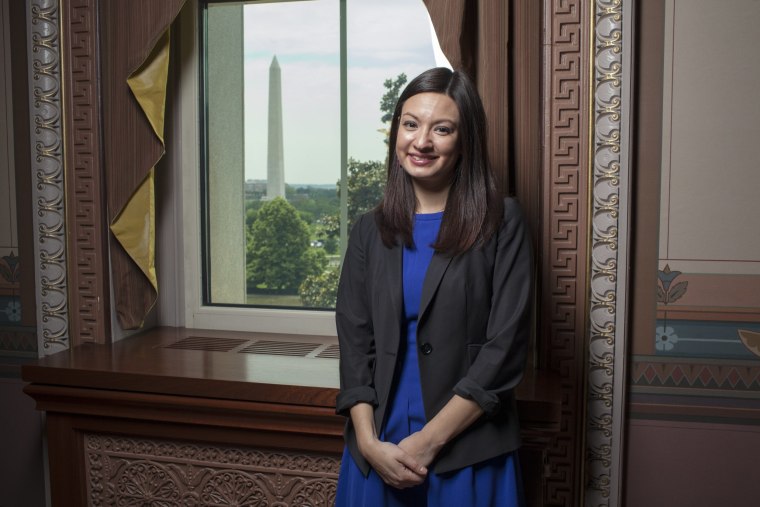 A graduate of Gallaudet University, Hernandez has access to a sign-language interpreter to do her job. She worked her way up from an unpaid volunteer position in the 2008 campaign to the West Wing. "Other (than) serving President Obama and supporting his vision for America," she explained, "I did this because I wanted to prove that our people could work in this field and succeed."
Despite dealing with Cabinet members and world leaders on a daily basis, Hernandez does not get nervous or intimidated. "I love meeting new people, and am happy in my position," she told NBC Latino.
Hernandez believes that serving as a visible, productive member of her community is important for the next generation. "I will always remember bringing in deaf children to the White House and one of these deaf children introduced First Lady Michelle Obama at a 'Let's Move' event," she recalled. "We (the deaf community) have always been separate, but now we are becoming more and more part of the public consciousness in an equal way, and I'm proud of that, especially for our children."
ALEJANDRO MIYAR, 35, was born in Mexico City and raised in Miami. Politics was not a focus in his house, though his grandfather was a political cartoonist in Cuba. "I was always intrigued by him," Miyar said, "and the shadow of the Castro regime definitely had an effect on my family."
When Bill Clinton spoke at his middle school, Miyar decided to learn more about the political process. He began his public service in local government and found himself "smitten with the game."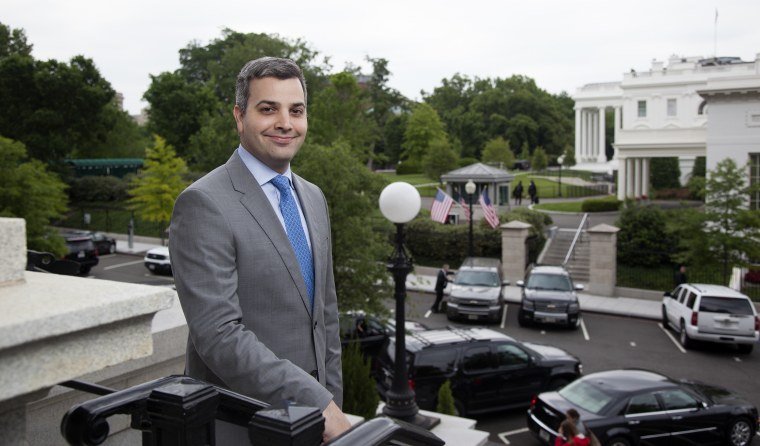 Miyar played a key role in Obama's 2008 victory, as regional communications director in Florida for the campaign. "It was the opportunity of a lifetime," Miyar said, "and I put a lot of pressure on myself to do the job we had to do. And everything we did in English, we did in Spanish as well."
Miyar served in the administration as a national spokesperson for the U.S. Department of Justice (DOJ). A graduate of Haverford College and the University of Miami School of Law, he now works at the prestigious Fox Rothschild law firm in Miami.
Miyar believes that it is critical for Latinos and Millennials to get involved in the political process. "If you don't take an interest in politics, politics will take an interest in you," he said. "Those people who are disenchanted with things happening at the federal level, they have an opportunity to have be part of process. I am a living case study of a person who had little involvement in politics before – and was able to serve in the campaign and in the administration."
VALENTINA PEREDA, 28, grew up enjoying music and singing, and dreamed of a performing career. But her world view dramatically shifted on a family trip to Venezuela to see her ailing grandfather – when her mother confessed that she was undocumented and would not be allowed to re-enter the U.S.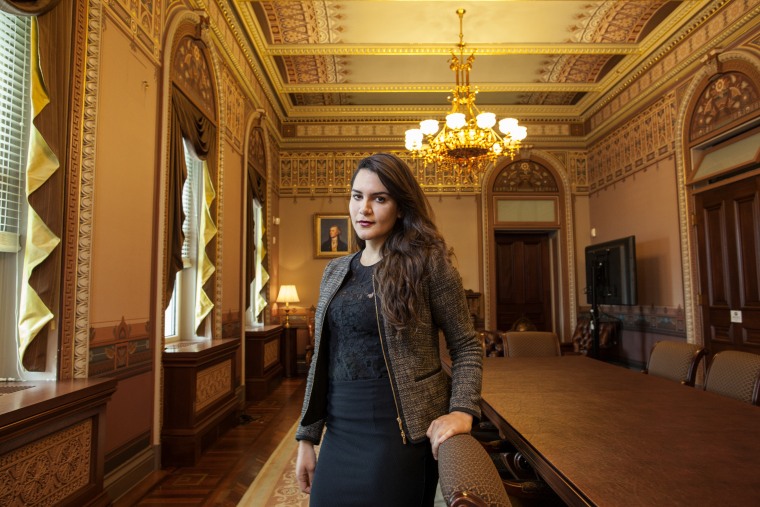 A U.S. citizen, Pereda returned home alone. She was 14. "I just remember going back to the airport, and we were literally ripped apart from one other. My uncle had to physically separate us," she said. "I never understood, nor did I have any interest in politics and government until that moment. That's when immigration and immigration laws became very personal to me."
Subsequently Pereda became active in the movement for immigration reform. In 2006, the New York Times noted that she "embodied the powerful forces of transformation" in her hometown of Greenwich, Connecticut.
Pereda's mother was later able to return to the U.S., and she became a citizen earlier this year.
"The Hispanic experience has often been seen as separate, it has not been seen as the American experience," said Pereda, who until a few months ago served as White House deputy director for Hispanic media. "So it is very important for us to be at the table, especially in media … We are all the American experience."
Pereda understands that some young Latinos feel disconnected from civic engagement. "But politics matters, it impacts our lives every single day," she said. "You need to vote at every single election … We need to understand that our voices, our votes absolutely matter."
KENNETH SANDOVAL, 25, was raised in rural New Mexico. "I grew up on a farm, so getting up in the morning and feeding the cows before school was the norm," he said. "You were sort of making sure everything ran on time."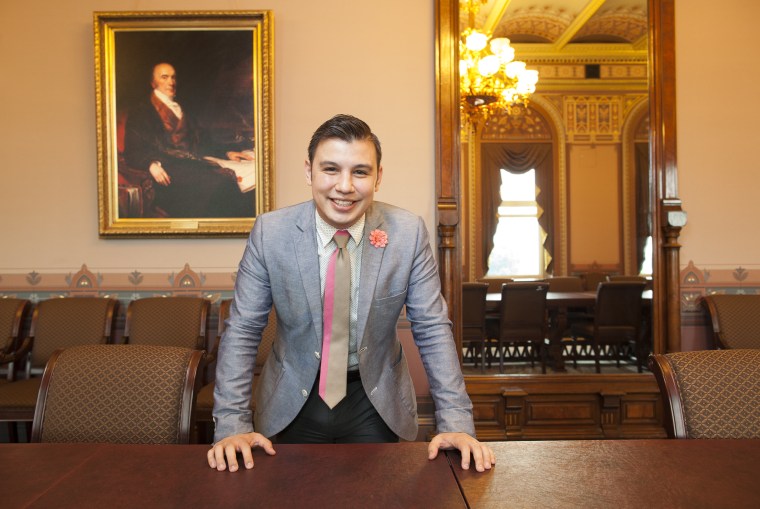 In a way, Sandoval's background prepared him for his current position in the West Wing, where he serves as executive assistant to two deputy assistants to the president and deputy counsels. "What I do is manage their day to day, I manage their schedules … I try to make sure they're on time, try to keep the trains running, so to say," he said.
For Sandoval, who came out as gay at age 13, being in the White House when the Supreme Court decision on marriage equality was announced remains a cherished memory. "When they handed the decision down, the entire building erupted in just thunderous applause, people were hugging each other and crying. And you just heard people just so excited," he said. "To know that you work in a building where the president works, and to work around people who are so heavily involved and are so excited for something that impacted me personally, was just incredible."
Coming from rural America – and a single-parent household – Sandoval is grateful for his career path so far. "Walking in these gates, every day I am awed and blessed and excited," he said. "But as for what comes next, I think the sky's the limit."
TOMAS TALAMANTE, 28, was raised in a civic-minded household. "In New Mexico, we are taught to be engaged in our communities, in politics. My father used to take us to rallies, and to help him canvas for candidates in Albuquerque's lower valley," Talamante said. "My father passed away when I was 12, but the desire to be involved in politics stayed with me."
After volunteering on the Obama for America 2008 campaign, Talamante worked as a state field director in the 2012 election. "I felt such a sense of pride when our state was called for Obama, and hearing people shout out Obamanos!" he said.
"It wasn't just about winning or the numbers. It was all the team-building and organizing we had done along the way, from the abuela who registered to vote for the first time ever to the single mother of three who still found time to come in and volunteer, to the LGBT people who felt our community was finally being acknowledged."
Talamante served on the Presidential Inaugural Committee and now works in the Executive Office of the Mayor in Washington D.C.
"When I was growing up, I didn't see senators, cabinet secretaries, or Supreme Court justices who looked like me. Now it is not, 'Can I be?," it is 'I will be!'" Talamante told NBC News. "My nephew is 2, and I want the world to be empowering of him so he can achieve whatever he wants someday."
STEPHANIE VALENCIA, 33, vividly recalls being part of history. Having served as Deputy Latino Vote Director on the Obama campaign, she was in Chicago's Grant Park when the then-president-elect gave his victory speech in 2008.
"It is something I will never forget," Valencia said. "I stayed up until 3 a.m., and then went back to my unfurnished, donated apartment. The only things I had in that apartment were a towel, a suitcase, and an air mattress," she said. "The next day, I was just wandering around downtown, looking at newspapers with Obama and the First Lady on them. I felt elated and exhausted, and I was thinking, is this a dream?"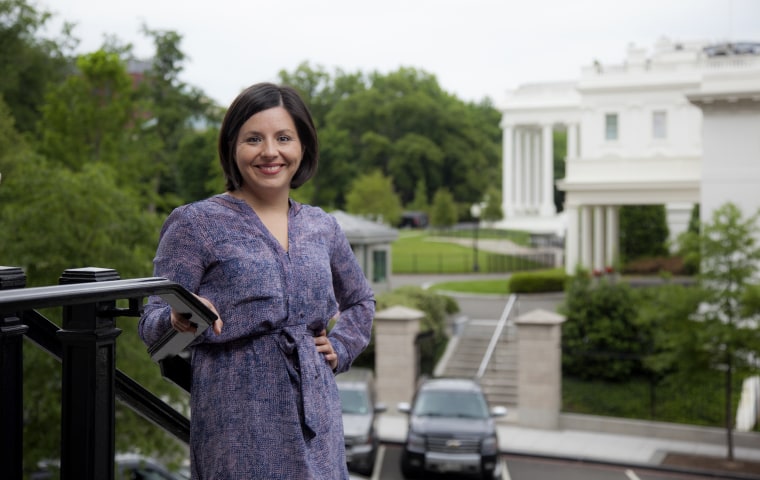 Valencia served on the Obama-Biden Transition Team and worked in the White House. There is a marked difference, she explained, between working on a campaign and working in the administration. "A campaign is grueling and exhilarating, but it comes with built-in goals and end dates. Working in the White House, it can be harder, more challenging, to translate that energy into work on long-term issues without clear deadlines."
This married New Mexico native now works at Google in Washington D.C., and admits to some nostalgia for her former life. "When you work in the White House, you have the opportunity to drive policies that have tremendous impact on millions of peoples' lives," Valencia said. "I didn't quite get the magnitude of that until I left. It is so powerful and awe-inspiring."
MARIO MORENO ZEPEDA, 27, was born in Monterrey, Mexico, and came to the U.S. when he was 8 because his parents were pursuing graduate degrees. Being raised in a college town in Illinois gave Moreno Zepeda a unique perspective on his potential.
"I grew up seeing all these Latinos who were highly educated, who were doing work on biomedical engineering, industrial engineering, and civil engineering. So I always grew up with the expectation that just because you are Latino doesn't mean you can't be at the pinnacle of academic achievement, or that you can't do certain things," he said.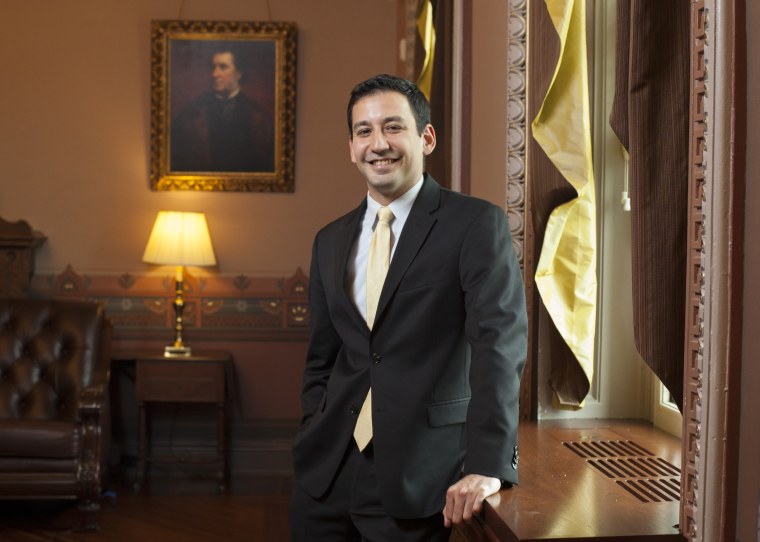 When Moreno Zepeda would return to Mexico for family visits, he saw the increasing evidence of the drug trade along the border. This inspired him to do research on immigration and drug policy while attending Duke University; he now serves as press secretary for the White House Office of National Drug Control Policy.
As a Latino, Moreno Zepeda believes it important to have a voice in the administration's drug control policy. "Addiction does not discriminate, not on socio-economic status, race, or gender; it is an issue that affects the Hispanic community."
Looking ahead, Moreno Zepeda is not sure of his future plans. "In a lot of ways, this feels like a dream job for me," he said. For now, he is focused on the work they are doing to help people who are struggling with substance abuse disorders.
Moreno Zepeda is certain that he wants to stay in public service. "And I will say this; if the next five years look anything like the last five years have looked...Then I am really excited to find out what it is I'll be doing."