AUSTIN, Texas — Rosario Doyle had thought casting a vote meant she was civically engaged. Now, the 26-year-old Latina says she and other Latinos have to do more to shake up Texas politics.
Doyle volunteers for the campaign of Beto O'Rourke, the Democrat challenging Sen. Ted Cruz, the Republican and conservative firebrand seeking his second term.
"Before I would do my due diligence. I would go and vote," Doyle said while attending a town hall held last Sunday by Jolt, a liberal group focused on turning out more young Texas Latinos to vote and getting them more engaged in politics.
"I thought that was the end of my obligation. But today, it is not just about voting. It is about getting others to do the same and getting others to be motivated," Doyle told NBC News.
"We are not a red state, we are a nonvoting state," Doyle added, borrowing a slogan she learned from the campaign.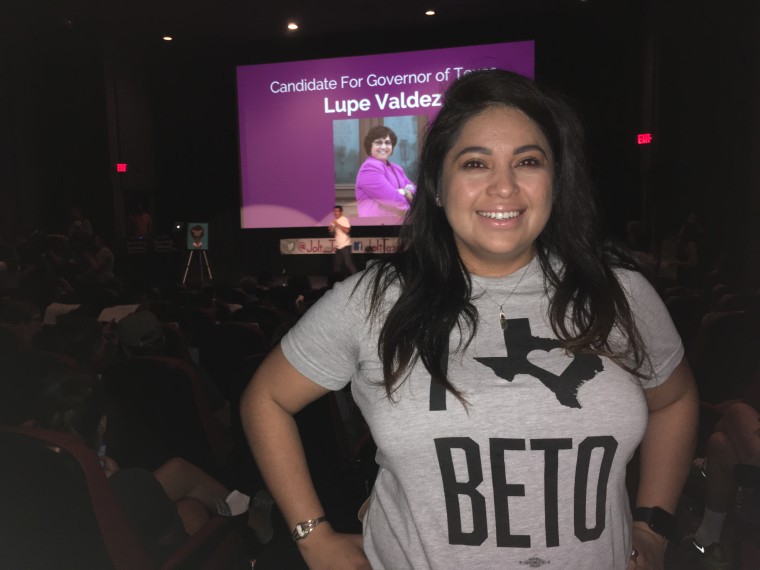 The Lone Star State's Latino youth would make for a motherlode of votes — if they can be roused to the polls. While only so many young Latino votes can be captured in time for the 2018 elections, the expanding young Hispanic population — an estimated 880,000 U.S. citizens who are Latino turn 18 every year — is an enticing lure for elections to come that could fortify the political party that captures a good chunk of them.
About 41 percent of Texas Latinos who are eligible to vote are millennials ages 18 to 33, which compares to less than a third of Texas millennials of all races and ethnicities, according to Pew Research Center.
Additionally, nearly half of Texans under 18 are Latino and 95 percent in that age range are U.S. citizens — meaning they will be eligible to vote once they turn 18, according to an analysis for Jolt done by the University of Southern California's Program for Environmental and Regional Equity.
But young Latinos continue to fail to show up at the polls in great numbers. Just 43 percent of the youngest Latino millennials — those in the 18-29 age group — registered in 2016 and less than a third voted, the USC analysis showed.
Latino millennials' turnout in 2016 fell below African-Americans and whites of the same age, who turned out at 48 percent and 44 percent respectively.
There are a number of groups in Texas whose work may help raise the numbers, most of them liberal or progressive, although the money they have to spend on the work is limited.
Cristina Tzintzún formed Jolt a year ago to mobilize young Latinos, largely focusing on those in high school and college. The group is largely in Austin, but aims to mobilize young Latinos statewide.
The group drew national attention last summer with a demonstration featuring 15 young women wearing brightly colored quinceañera dresses to protest Texas' immigration policing law, known as SB4.
The law, still the focus of the group's protests, puts elected leaders, police chiefs and sheriffs at risk of being removed from office if they restrict their officers' enforcement of federal immigration laws. The law also allows law officers to ask people during routine stops for proof that they are legally in the country or are U.S. citizens.
One of every two Texas Latinos under the age of 18 has a parent who is an immigrant. This means it may be hard for candidates to win over young Latinos if their positions on immigration aren't seen as progressive enough, as Democratic gubernatorial candidate Lupe Valdez learned last Sunday at Jolt's town hall focused on young Latinos.
Unhappy with Valdez's explanation of the immigration policies she implemented while serving as Dallas County sheriff, Jolt endorsed Andrew White, Valdez's challenger in the Democratic primary runoff May 22. Valdez apologized a day later, saying her response "fell short," according to reports. Other Latinos came to her defense after Jolt's endorsement.
There are other groups trying to raise young Latinos' turnout numbers in the state. These include Voto Latino as well as UnidosUs, formerly known as National Council of La Raza, which launched a young Latino voter registration campaign in March. The Texas Organizing Project (TOP) has a high school-focused voter registration and voting drive program.
"Since most students in high school are of color, it really hits our demographic," said Mary Moreno Montejano, TOP spokeswoman.
Although not solely focused on young Latinos, Move San Antonio has been praised for its work getting more young Latinos to vote in municipal elections.
The group was started by six University of Texas at San Antonio students after organizers learned that only six people under 30 had voted in a municipal election in the congressional district that included the university.
"Of all the colleges we work in, 14 are Hispanic Serving Institutions. We talk every day with Latinx youth and find out what issues matter to them and they are the ones telling friends and allies to get registered and to vote," said Drew Galloway, the group's executive director. Latinx is often used as a gender-neutral term.
Those groups' agendas generally align with Democrats. Some 80 percent of all Latino voters in Texas voted in 2016 for Hillary Clinton, who lost the red state by 9 points to Donald Trump.
But Republicans, too, are looking to up their Latino support. Gov. Greg Abbott has said he plans to aggressively pursue the Hispanic vote, and exit polls show he won about 44 percent of the Latino vote in 2016.
Texas Monthly reported that 395,000 more Latinos voted in 2016 than in 2012, but it wasn't enough to overcome the strong showing by non-Hispanic whites at the polls, which accounted for more than 65 percent of votes cast.
Abbott and his administration have taken hardline stands on immigration, most recently suing to end Deferred Action for Childhood Arrivals, the Obama-era program that has allowed many young Latinos to live and work legally in the U.S. He has also been supportive of President Trump's plan to put Texas' National Guard troops on the border and fought challenges to the state's voter ID law. He signed SB4 and his administration is fighting court challenges against it.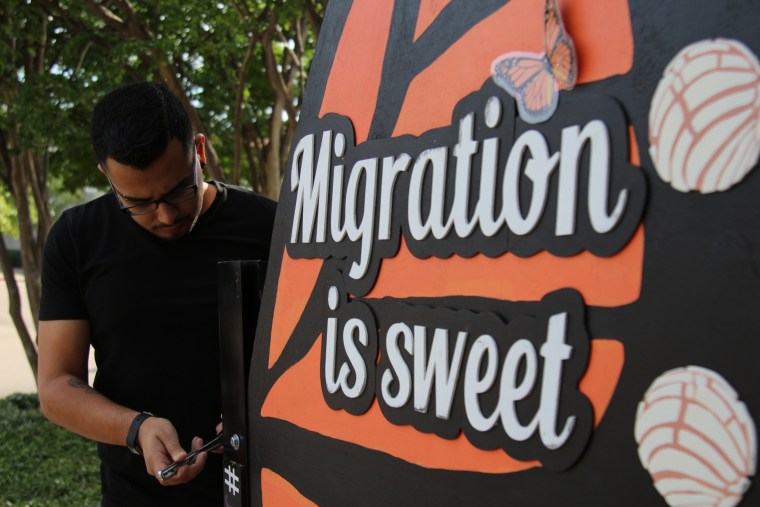 George Antuna, co-founder and board member of Hispanic Republicans of Texas, said their political action committee promotes and recruits Latinos in the state to run for office and they, in turn, are relied on to serve as conduits to bring in other Latinos, including young Hispanics.
He said the PAC leaves Latino outreach to the campaigns of candidates it supports.
While there are many young Latino immigrants or young Latinos in immigrant families in the state, "the young Latino who is an American citizen or is here legally understands that the economy is huge and it affects their wallet and their pocketbook and that is what they are voting for," Antuna said.
The Libre Initiative, backed by the billionaire Koch brothers, is also mining young Latinos for its political ambitions. Daniel Garza, Libre's executive director, said the conservative group hires many young millennials who are engaging with other young people through the group's social media.
It also organizes conversations on its position on issues in university dorms through its "Café con Libre" campaign. Millennials who volunteer with Libre help it stage its GED classes, driver's license exam classes and other such services that Libre organizes and uses as conduits for registering and engaging potential voters.
The party that successfully taps into and mobilizes the young Latino population in Texas may also be able to count on some residual effects.
Doyle, the Latina millennial who has been knocking on potential voters doors for O'Rourke, described her encounter with a man who had been naturalized for 10 years but had never voted.
"We had the Hispanic connection instantly. I was able to speak to him in his own language," she said. "We had a great human connection." She said they discussed issues at stake, and she told him about her own experience as the daughter and granddaughter of Braceros, the farm workers brought from Mexico to cultivate and harvest U.S. agriculture fields.
"If he goes out and votes," Doyle said, "I did my job for the year."