What to know about the 2023 Aspen Ideas Festival
The Aspen Ideas Festival is hosted by the Aspen Institute, a nonprofit founded in 1949 that is dedicated to "change through dialogue, leadership, and action to help solve the most important challenges facing the United States and the world."
Monday's biggest speakers include GM CEO Mary Barra, Chevron CEO Mike Wirth and former Google CEO Eric Schmidt.
Panel topics range from "Generative A.I. and the Rest of Us" to "Growing Wealth for Latinos."
NBCUniversal News Group is the media partner of the Aspen Ideas Festival.
And just like that ... Monday's panels come to an end
Wilson's conversation with Bush Hager wrapped up around 9:30 p.m. local time, marking an end to of a jam-packed Monday at Ideas Fest.
Follow NBC News for more coverage of the festival the rest of this week.
What Wilson says his mission is
Wilson said he's on a mission of service, and believes everyone has been given gifts.
"Whether it's writing, teaching, creating laughter, building a business, whatever it is that we do that makes the world a better place," he said.
He said he himself is on "a constant mission to both make myself a better person and to try and make the world a better place using the qualities that God gave me: Storytelling, humor, service to others."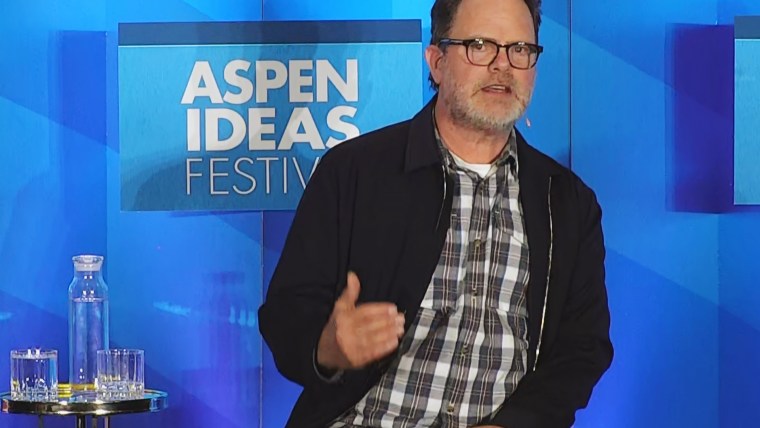 Wilson's 'deep dive into spirituality' led to creation of SoulPancake
While Wilson was on "The Office," he said he did "a really deep dive into spirituality" and founded his company SoulPancake.
While he enjoyed acting and became an actor to "buy a house," he said, he didn't get into the profession to "bestow upon the little people some laughter to enliven their meaningless, petty little lives."
But, he said, "it's been really gratifying and as I've moved along in my life and gained a little bit more wisdom, I realized that to act in grace, to act in divine light is something that we all do more of."
Fans often come up to him to share stories about how much "The Office" means to them and how the show has helped them.
"That's really what we're doing on 'The Office,' is we're telling stories, we're making people laugh."
Wilson encourages people to be honest and vulnerable
Wilson gets candid in his book, touching on the times he was at his best in his career, yet felt unhappy in his life. He said that he is all about being honest and vulnerable to have better communication with other people.
"As I've been on this book tour, people are like, 'Wow, you're just so open talking about your dysfunction and everything. I can't believe how honest you are,'" he said. "And it's like, 'Well, yeah, isn't that what we should do? Isn't that what we can do as human beings? Can we just talk about our vulnerability and our struggle and stop pretending so much?"
He added, "how is the younger generation going to learn and heal if they don't see the raw honesty" from the older generation?
Why is the actor who plays Dwight Schrute writing a book on spirituality?
In his conversation with TODAY's Jenna Bush Hager, "The Office" star Rainn Wilson discussed how his book, "Soul Boom: Why We Need a Spiritual Revolution," came to be.
The book touches on how embracing spirituality can help people navigate increasingly challenging times and global issues such as racism, sexism, materialism and climate change. The opening of his book asks the question: Why is the actor who portrays Dwight Schrute writing a book on spirituality?
"There's a number of different reasons," Wilson said. "One, is I grew up a member of the Baha'i faith … people don't know this but I have a secret inner Oprah."
The second is he left his faith in his 20s as he moved to New York to study acting. But the move prompted "a kind of mental health crisis," he said, so he spent many years reading all the holy books of all the major religions.
It eventually led him back to the Baha'i faith, which he said brought "a lot of meaning and a lot of solace."
How Amazon and General Motors plan to reduce the companies' carbon footprint
Check out a video clip from the discussion between Kara Hurst, Amazon's vice president of worldwide sustainability, and Kristen Siemen, General Motors' vice president of sustainable workplaces and chief sustainability officer.
What's coming up? Get ready 'The Office' fans
There aren't many panels left in Monday's agenda. Coming up at around 8:15 p.m. MT (10:15 p.m. ET), "The Office" star Rainn Wilson will chat with Jenna Bush Hager to discuss his new book and travel show.
What's next for Towles? A new book
In April of next year, Towles told Bush Hager that he plans to release a book with a collection of short stories.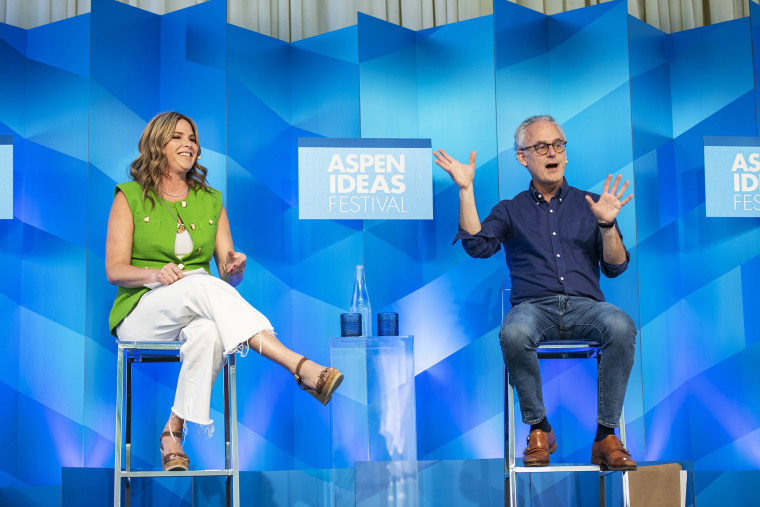 Six of the stories set in New York and "most of them are kind of in around the year 2000," he said.
The other half of the book, he said, is called "Eve in Hollywood," and was inspired by the character Eve in "Rules of Civility." She is Katie's best friend "who's very independent minded, sort of hilarious kind of character."
"Katie talks about seeing a picture of Eve in Hollywood, leaving a nightclub with Olivia de Havilland in the spring of 1939," he said. "I was really intrigued by what is Eve doing in Hollywood in 1938?"
The story begins with her on the train and readers learn what happens to her in the "first few months of being in Los Angeles," followed by "other things that would happen to her…with murder and blackmail."
Thinking even farther ahead, Towles said a year later (in 2025), "if all goes well, another novel will show up."
The story behind Billy's silver dollar
When writing his book, Towles knew he wanted to have it spend 10 days with the crew and have his character Billy bring his collections.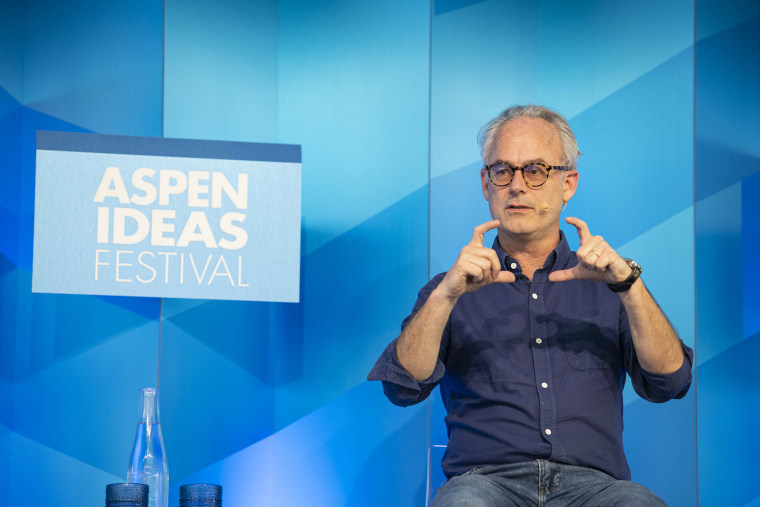 When deciding on what the collection should be, he recalled how how his great grandmother's 100th birthday she gave her great grandchildren a U.S. silver dollar minted in 1882, the year she was born.
"I had carried this with me throughout my life and it sits on my desk. And so as I'm sitting there thinking, what is the collection that Billy is going to carry?" he shared, thinking of classic collectable like toy soldiers, baseball cards or comic books. "And suddenly, I'm like, No, that's it. It's going to be the silver dollars. He's going to try to collect one silver dollar from every year between, whatever, the Civil War and the 1950s and that'll be his collection."
Towles' book had a different name at first
Towles said that at no point when he was outlining and designing the story did it mention "Lincoln Highway."
"The book was called 'Unfinished Business' and in the story where it said that the characters are going to leave the farm and instead of taking a left to go to California, they would take a right to go to New York City, it said, 'They took Route X.'"
When he began writing the novel in full swing, he finally had to decide what he would call the road and "broke out a map of America," looking at the roads that went through Nebraska. He found one called Route 30, formerly known as the Lincoln Highway.
"It was the first highway that went from all the way across the United States," he said. "It begins in Times Square and it ends in the Pacific Ocean in Lincoln Park in San Francisco."
For Towles, his journey as a writer began as a kid
Towles fell in love with writing as a child and as he got older wondered if he could a career out of it.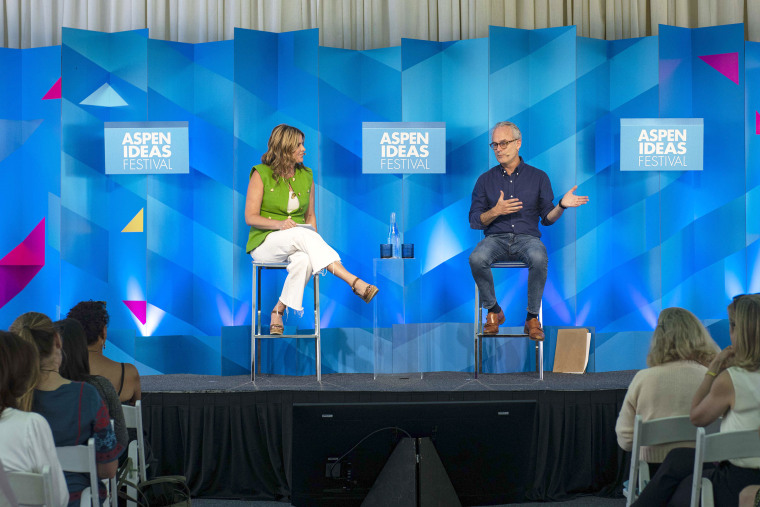 "I began writing fiction in first grade," he told Bush Hager. "It's when I realized this (is) really what I want to do, and for other people who have fallen in love with an art when you're young… through your adolescence is thinking, 'I can do this. I think I could really be a writer. I think I have this talent.'"
Comparing himself to peers, writers and his literary heroes, he said, "You sort of keep measuring yourself and saying, 'Yeah, I think I can do this.'" And through it all, he joked that "the compliments that you get from your mother don't matter."
General Motors and Amazon execs discuss carbon neutrality
Kara Hurst, Amazon's vice president of worldwide sustainability, and Kristen Siemen, General Motors' vice president of sustainable workplaces and chief sustainability officer, took the stage to discuss carbon neutrality with moderator Deirdre Bosa, of CNBC.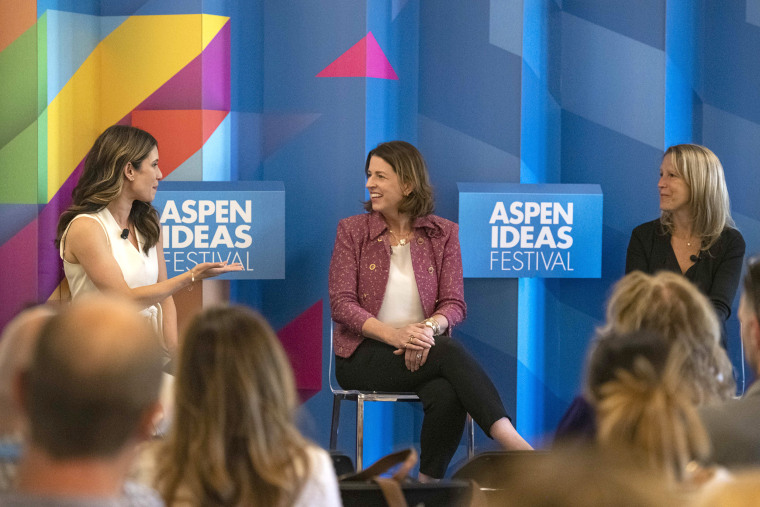 Next up: A conversation between Amor Towles and Jenna Bush Hager
The panel "The Road to The Lincoln Highway: A Conversation with Amor Towles" features Hager, of NBC's "TODAY," and bestselling author Towles chatting about his latest book, "The Lincoln Highway."
Towles will share the inspiration behind the project and the journey he went through to make it come to life.
The novel, which was originally published in October 2021, was selected as a Read With Jenna book club pick.
Wirth touches on importance of diversity, equity and inclusion
There has been a good deal of discussion at Aspen of companies sticking with stands on hot-button issues amid the rise of the "anti-woke" conservative movement targeting corporations for socially progressive policies and arguing that companies should focus only on the bottom-line results.
Asked how he felt about the attacks on DE&I programs at companies and whether Chevron felt pressure, Wirth said DE&I is critical to Chevron's strategy.
"I think the business case for DE&I is overwhelmingly evident," he said.
Chevron needs the skills and talents of people from all different backgrounds, to source people from every country, every culture, every ethnic and racial background, he added.
"And then we need them to be their best selves. ... If we can't have that, we won't have the talent to deal with these big challenges," he said. "We are not turning away because it's part and parcel of our business strategy and our success depends on it."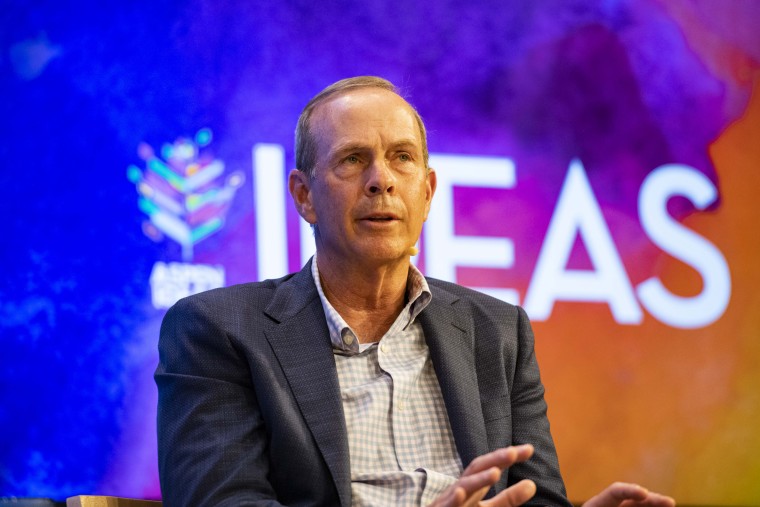 Wirth is an 'optimist on nuclear'
Nuclear fusion has often been called the "holy grail" of clean energy. But it remains elusive, because it has so far remained unattainable.
"If we are serious about climate, we need nuclear as part of the solution set, it has to be," Wirth said. "It has zero greenhouse gases. It is a dispatchable baseload power when the wind is not blowing and the sun is not shining."
Americans' perspective of nuclear energy fluctuates and has been generally increasing in the last decade, according to a recent poll from Gallup. Fifty-five percent of Americans said they either strongly favor or somewhat favor using nuclear energy as a way to provide electricity. That's the highest percentage since 2012, according to Gallup.
Wirth says market is 'still well supplied' despite sanctions
When discussing Russia and the price of oil, Wirth said sanctions imposed by the E.U. and the U.S. "have dramatically shifted the flows of energy, but haven't restricted or constrained them."
"That's why the price of oil is $70 today," he said. "The market is still well supplied. There has been this belief Russian supplies would be cut off more than they have been, but to this point, the production numbers are just about unmoved."
Chevron CEO Mike Wirth takes the stage
Chevron CEO Mike Wirth said he believes General Motors will make its target of no internal combustion engine vehicles being manufactured anymore by 2035.
However, he said the new supply chains that need to be created in batteries and upstream minerals and metals is a huge challenge.
So, what's for lunch?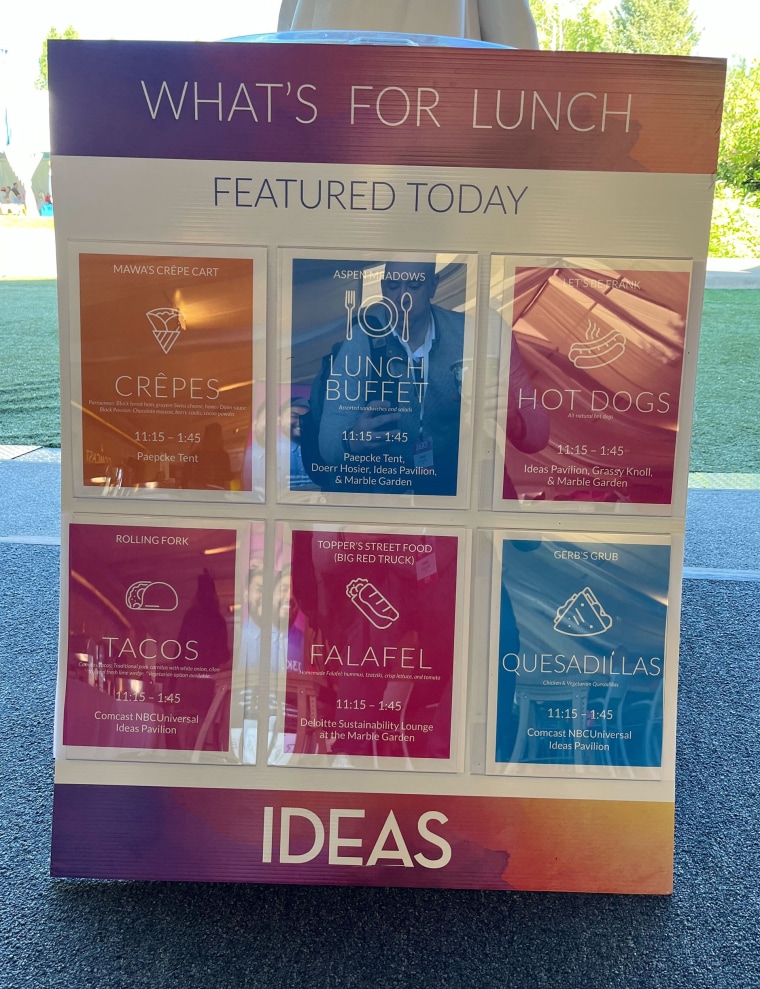 Luncheon ends with message from Hispanic Federation CEO
Frankie Miranda, president and CEO of the Hispanic Federation, finishes up the luncheon by emphasizing the gap between the digital demands of jobs and the skill gap with the Latino community.
He said by working with regional equity centers across the U.S., those gaps are closing.
"We have been able to help more than 5,000 people to get digital skilling at different levels, but at the same time doing it at these community-based organizations that are the trusted messengers in the community," Miranda said.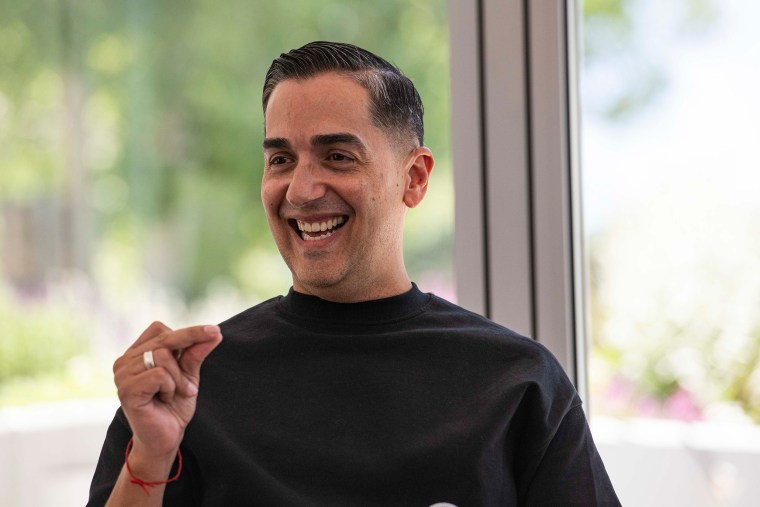 Honesty is needed about the challenges that face Latino wealth
Back at the luncheon on Latino wealth, Jessica Santana, CEO of America on Tech, a nonprofit that works to help students of color get into careers in technology, said it is crucial to be honest about the reality of the challenges that Latinos see and embrace value- and community-driven efforts.
"We have to stop playing the game that Latino dollars are Latino dollars," she said. "We really have to start building coalitions."
Barra gives advice to young professionals
In closing, Blumenstein asked Barra what advice she'd give a young professional for success in the auto industry.
She offered three tips:
Find your passion.
Do every job like you're going to do it for the rest of your life. "Don't rent a job; do it like you're going to own it," Barra said.
Work hard. "I learned that from my parents, who grew up in the Depression era," Barra said.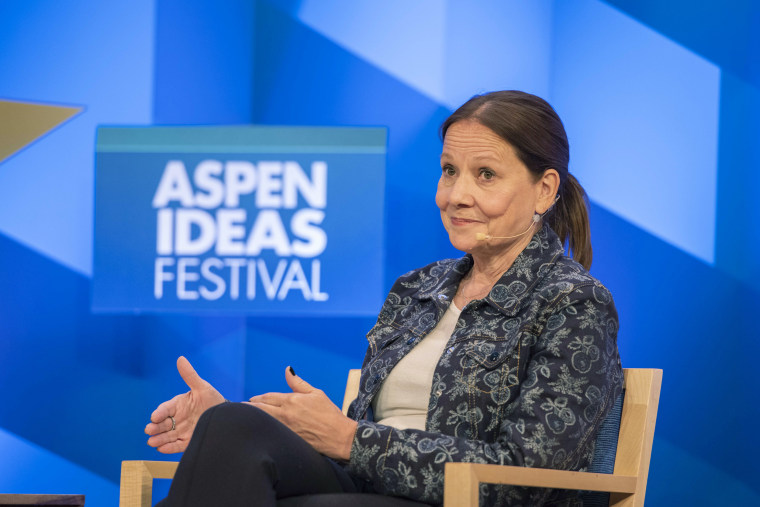 Barra defends Business Roundtable's revised position on shareholders
In 2019, the Business Roundtable signed a letter saying companies needed to move away from focusing strictly on delivering value for shareholders and instead better attend to a broader range of stakeholders, including workers and customers.
Since then, Blumenstein said, there seems to have been a reconsideration of that view, amid criticism from public officials who oppose environmental, social and governance principles in business and investing.
In response, Barra said, "I think it was seen as this seismic shift."
She added that she wasn't running the Roundtable at the time, but "it really was what good business was already doing. And it wasn't attached to what now is termed 'woke,' it was just doing the right thing for all the people you need to have a successful business."
Luncheon kicks off with discussion on economic realities of Latinos in the U.S.
Domenika Lynch, the executive director of the Aspen Institute Latinos and Society Program, started off the luncheon speaking to the economic realities of Latinos in the U.S.
"Our economic trajectory directly impacts every American in this country," she said.
Dalila Wilson-Scott, chief diversity officer of Comcast and president of the Comcast NBCUniversal Foundation, emphasized the importance of conscious efforts to invest in and build Latino businesses.
"If we're really going to build intergenerational wealth that's going to take something quite different than just stating the facts," she said.
GM employees returned to office three days a week
Barra said GM is "asking everybody to come in three days. ... We're seeing that grow almost on a weekly basis."
But she pointed out that many of the company's teams "came back six weeks after the world shut down."
GM is vying with other tech-heavy employers for high-level engineering and software talent, Barra said, which puts the company in competition with many other firms' in-office policies.
Barra says 'new conversation to be had' with Twitter
Barra said there was a "new conversation to be had" with Twitter when General Motors hires its new chief marketing officer.
"All of us are trying to make sure we spend our marketing dollars wisely," she said. "... It became a little more complicated when an important competitor is running it."
Up next, talks about Latino wealth
Now for some lunch, with a side of discussion.
We're at the Comcast luncheon titled "Growing Wealth for Latinos," where NBC News anchor Tom Llamas will talk with Frankie Miranda, president and CEO of the Hispanic Federation; Jessica Santana, co-founder and CEO of America on Tech; and Nina Vaca, chairman and CEO of Pinnacle Group. (Comcast is the parent company of NBC News.)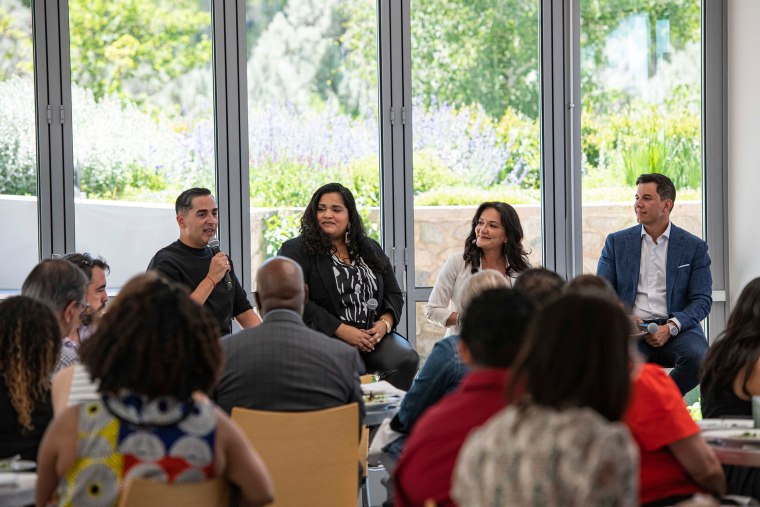 GM maintains belief in 'an electric future'
Before GM committed in 2021 to selling only zero-emission vehicles by 2035, the company had already determined it believed "in an electric future," Barra said.
But "there was a lot of internal debate about when," she said. The company's commitment "ended the debate." 
GM chief takes the stage
General Motors chief Mary Barra recounted taking over as CEO of the Detroit automaker in 2014, after spending her whole career at the company, starting at age 18 as a parts inspector on the factory floor.
After taking on the role, she said she realized the company "didn't have the right accountability and empowerment."
"What keeps me up at night is: Are we moving fast enough?" she said in conversation with NBC News' Rebecca Blumenstein.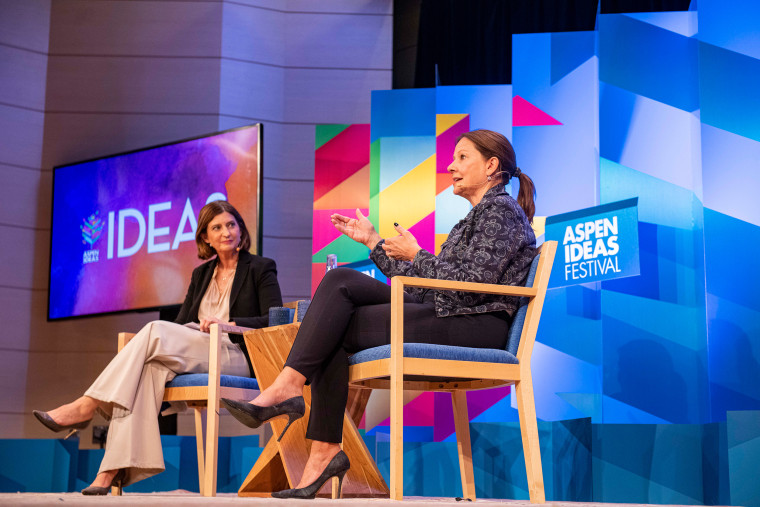 Watch: Tech leaders discuss AI ethics and regulation
'Migration and the Meaning of Home' panel also comes to an end
After a few questions from attendees, the conversation between Hager, Zamora and Ford wrapped up with one final note from Zamora.
"Remember your ancestors," he said. "You're making them proud."
Second AI panel ends with focus on educating children
The panel comes to an end with a focus on education and what age makes sense for children to be able to use tech like ChatGPT.
Roy noted that chatbots can allow for a certain amount of filtering, meaning they could be safe for kids to use — or at least as safe as or safer than surfing the open internet.
Saha said that concerns about tech changing how children learn goes back a ways — including to his own upbringing, when his parents warned him not to lean too heavily on calculators.
Ford shares why he was critical of Titan sub coverage
The author was asked to elaborate on a recent tweet in which he juxtaposed an image of the Titan submersible with one of a boat carrying migrants that capsized off the coast of Greece.
A fishing boat crowded with migrants traveling from Libya to Italy sank less than a week before the Titan submersible news broke. However, as NBC News reported, it garnered far less attention than the Titan rescue efforts.
"That was upsetting," Ford said, suggesting that perhaps the fascination with the Titan sub stemmed from "the very horrific way that we envisioned them perishing."
"But these other people also perished equally (as) horrifically," he said of the migrants, "and in a greater scale, and that's just that day."
"Five deaths is tragic; 500 deaths is a statistic," he said. "And that's heartbreaking."
Is AI going to further entrench Big Tech?
Roy warned that this could be due to the costs associated with training AI models. But Saha noted that there are a lot of startups that have their own models.
It's also worth noting that there is a big open-source AI movement that some experts think is outpacing even some of the tech behemoths.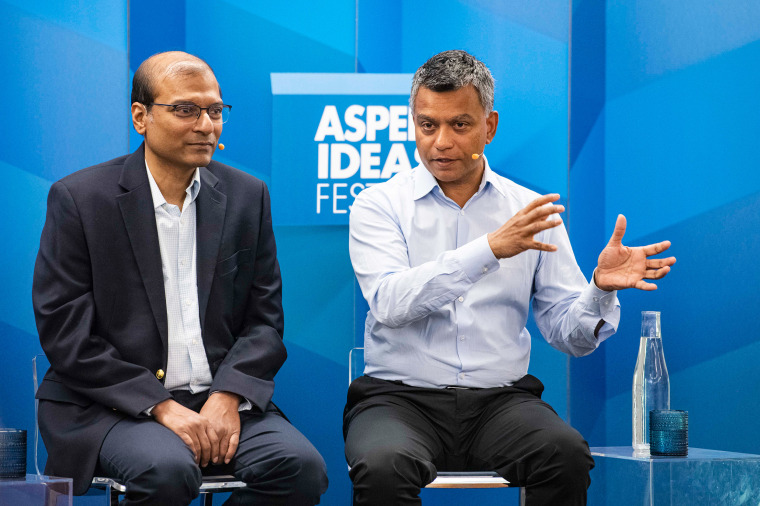 AI doesn't necessarily mean a loss of jobs, Saha says
Saha said that questions about businesses, AI and jobs are important, but that it doesn't necessarily mean a loss of jobs.
He pointed to AI used in Amazon fulfillment centers that has meant the company can service more customers, which in turn led to a need for more people.
Roy noted that there has long been a push and pull between technology and humans when it comes to labor, and that the rapid rise of AI is what makes this era unique.
"I think that it's not the first time we have a powerful technology that is clearly going to play some significant part of what people spend their time doing," he said. "The speed at which it has arrived is new."
Jamie Ford wanted to debunk stereotypes with his book
Ford, whose great-grandfather emigrated from China to Nevada to mine, said he wanted to debunk stereotypes with his book "The Many Daughters of Afong Moy."
The novel, a 2022 Read With Jenna pick, follows 250 years down the family tree of Afong Moy, a real-life historical figure thought to be the first Chinese woman in the United States in the 1830s.
"I was always fascinated with this woman's journey, especially because there's all this about her and people looked at her like this intrepid world traveler," Ford told Hager. "They looked at her like this cultural ambassador, but a Chinese woman couldn't leave China. The punishment was death if they returned. So in all likelihood she was sold into this life, and I wanted to give her a voice."
Amazon has a lot of businesses using its AI technology
Saha said that Amazon currently has more than 100,000 businesses using its AI and machine learning technology.
It's a stat that highlights how many different AI applications there are far beyond the kind of generative AI that has captured the public's imagination recently.
Author Javier Zamora reflects on 'Solito'
When talking about his memoir "Solito," Zamora said he saw someone holding a sign during the WGA strike that read, "AI doesn't have a traumatic childhood."
"It's true," he said.
The memoir follows his nine-week migration from El Salvador to the United States when he was 9 years old.
"The title of the book is 'Solito' and in a lot of ways, I felt alone when my parents left," he told Hager. "But I wasn't really because I was with my grandparents. And then during the trip, I felt alone because I was with strangers ... but then these strangers became like my second family."
Looking back he said the "hardest part ... was living with the trauma of those nights and weeks."
Temperature and AI, explained
Roy mentioned one of the more interesting elements of generative AI: temperature.
Temperature is at its basic level a certain amount of randomness introduced into the AI system to make it more creative.
"The higher the temperature, the more likely it is sometimes to pick a word that's less likely," Roy said. "And that seems to be what leads to very creative, different kinds of outputs. … As you turn the temperature up, you get more and more kind of meandering paths."
Generative AI programs are learning in ways developers can't fully explain
Roy brought up how AI chatbots work, noting that one way people talk about these models is by using mathematical probabilities to predict the next question. He said that's not the whole answer.
There's evidence that generative AI programs are learning in ways that even developers cannot fully explain, he said.
"What seems to be happening with these models is that they are actually building similar kinds of knowledge of language and of the world and common sense of all the rest that in ways that are actually mysterious to everyone, including the people actually developing the models."
How many people in the room use AI chatbot often?
Bosa starts out asking the crowd if they have incorporated an AI chatbot into their everyday life.
About a third of the room raised their hands.
Second AI panel draws in large audience
This is a smaller panel than the one before, but it's standing room only at the moment.
What's next on the agenda?
Authors Javier Zamora and Jamie Ford will join moderator Jenna Bush Hager, co-host of NBC's "TODAY with Hoda & Jenna," for a conversation about "Migration and the Meaning of Home."
And, another AI panel: "Generative A.I. and the Rest of Us," with Bratin Saha, vice president of machine learning and AI services for Amazon Web Services, and Deb Roy, professor of media arts and sciences and director of the Center for Constructive Communication at MIT, in conversation with CNBC's Deirdre Bosa.
And that's a wrap on the first panel of the day
Schmidt said he thinks AGI, artificial general intelligence that is considered at the level of humans or better, will happen in his lifetime.
He then offered a bit of science-fiction theorizing to end the session: The AGIs will develop their own language and start talking to each other.
What then? Well, the panel is over, so you'll have to mull that one for yourself.
What the panelists disagree on when it comes to AI
Schmidt and Huttenlocher wrote a book on AI together, and Schmidt said they had a disagreement about one key idea: Can and will an AI attain sentience.
"Dan and I spent three years arguing over this point," Schmidt said.
Schmidt continued that he thinks AI for the next 10 years will "be under pretty good human control," but that the technology could begin to show signs of intelligence and independent decision making.
Huttenlocher said he believes there will remain a fundamental difference between humans and AI.
"I don't believe that, that things like human-level freewill spirituality that those were things that come naturally out of some system that's just a simulation," he said.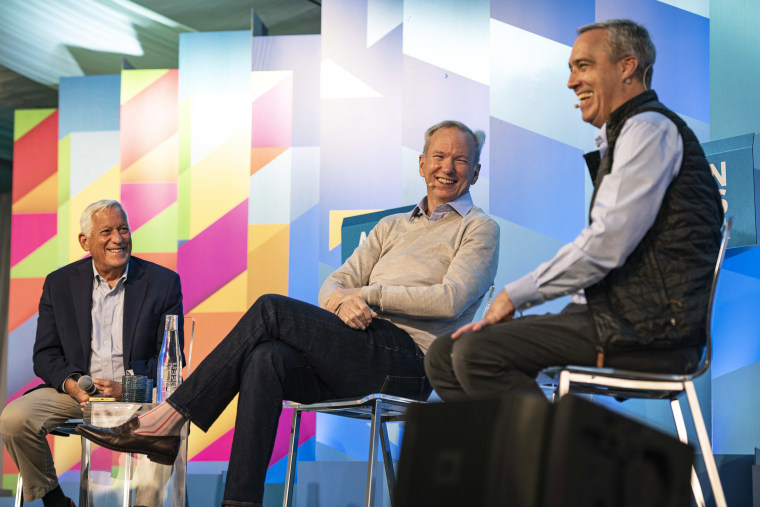 A quick mention of Elon Musk
Isaacson asked about the further melding of humans and machines.
Musk is working on Neuralink, which could include a computer chip inserted into a human brain.
"He should be first," Schmidt said, which led to some laughs in the room.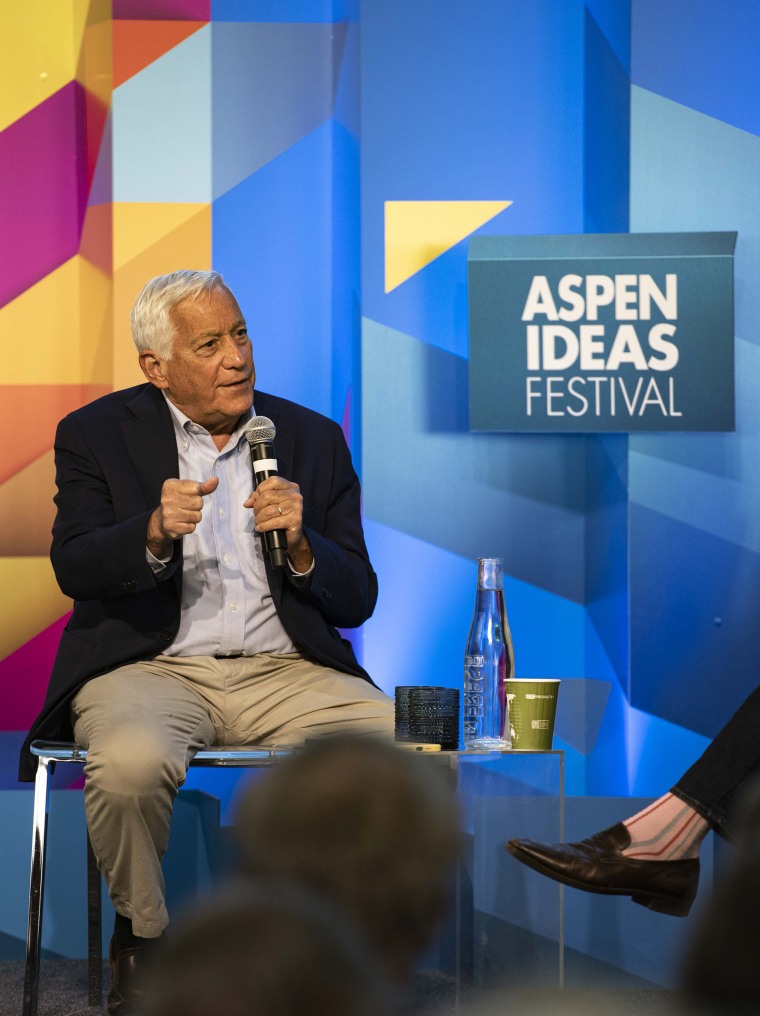 Racist chatbots can show ugly parts of humanity
Huttenlocher said he does not condone racist chatbots, but that AI is revealing ugly parts of humanity including racism, and that needs to be approached as a societal question, not just a technological one.
"AI plays a very important amplifying role in that and a very important role in revealing that but the ways to address this or not just look at the AI," he said.
Section 230 should be limited, Schmidt says
Section 230 is a landmark law that allowed tech companies to avoid legal responsibility for what is posted to their platforms.
Schmidt said Section 230 should be limited, pointing to social media companies' promotion of engaging content, especially content that generates outrage, as a problem.
While he said he's for human free speech, he is not an advocate of computer free speech.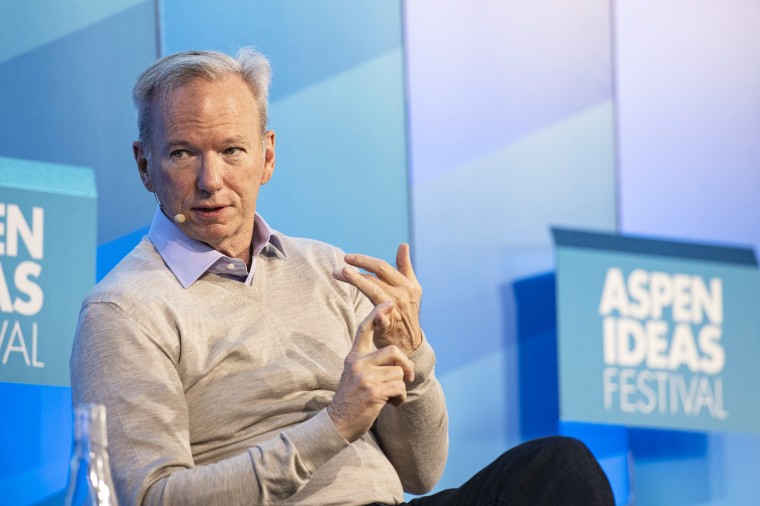 Could AI further fuel distrust in media?
Huttenlocher warned that generative AI is going to further destroy trust in media, as the technology makes it easy to generate synthetic media.
"Most of us grew up in a world where the word print was something that was authoritative. And so we still view it that way," he said. "So AI that was this huge amplifier for the fact that you should not trust anything in print. And by the way, now you shouldn't trust any images and you shouldn't trust any videos."
Schmidt warns about AI use during election
Schmidt brings a warning about the election: Campaigns are going to use generative AI to attack each other. That has in some ways already started.
A Ron DeSantis ad recently featured photos of former President Donald Trump and Dr. Anthony Fauci that appeared to be AI-generated.
"In 2024, we're going to have an election and every side, every grassroots group, every politician will use generative AI to harm their opponents, and it will involve spreading disinformation," Schmidt said. "The social media companies on mass are not ready for this."
'The bad actors are us'
Huttenlocher said we should be afraid of people, not AI, and that should be front of mind in discussion about how to regulate the technology.
"The bad actors are us," he said. "And this is a technology that can both be used for good in discovery and creativity that also can be used for bad by people."
He added that he thinks responsibility around AI should focus on the companies that are using it for its application.
Weighing in on AI regulation
Moving on from war, Huttenlocher touches on regulation — both concerns about over-regulation and under-regulation.
He noted that the West's main AI rival, China, will not put limitations on its own development, so any regulation has the possibility of giving China a lead.
Schmidt said he still views U.S. AI development as a couple years ahead of China.
What the battlefield can tell us about challenges with AI
Huttenlocher, dean of the Schwarzman College of Computing at MIT, noted that battlefields highlight one of the challenges with AI: how to keep human oversight in the loop.
"I think there are a whole set of issues here, not just about the technologies as they're used, but also about how these technologies change the ways that people interact with one another and go about our daily lives," he said. "I think the battlefield is a place where you really can see that starkly."
In response to a question about AI encroaching on war, Schmidt said that he has seen confidential systems in which advance computing is increasingly making its way into war, including a program with a "click to kill button." He did not elaborate on where that system came from or who used it.
The first question focuses on AI and warfare
Schmidt said his trips to Ukraine — he recently returned from one — have convinced him that the future of warfare will include swarms of drones and increase the need to move beyond war.
"My hope is that the technologies that we are working on will overwhelmingly strengthen democracy, strengthen the way we run modern societies, and not go back to our most primitive urges," Schmidt said.
Why is AI suddenly hot?
Blame it on ChatGPT, the AI large language model that amazed people with its ability to generate everything from Shakespearean sonnets to college-level essays. But how does this stuff work, and why is it imperfect?
The day begins with AI, the topic on all our minds
Our first panel of the day is "Wicked Problem: A.I. and the Future of Everything," featuring former Google CEO Eric Schmidt; Daniel Huttenlocher, dean of the Schwarzman College of Computing at Massachusetts Institute of Technology; and legendary tech journalist Walter Isaacson.
The panel seeks to address how AI can be regulated to address issues such as bias and misuse while allowing it to be used for good.
Good morning from Aspen
It's a cool, crisp morning in the mountains as the third day of the Aspen Ideas Festival gets started.
We'll have coverage throughout today and the rest of the week of some of the biggest panels and speakers on topics ranging from AI and the economy to China and reimagining education in the U.S.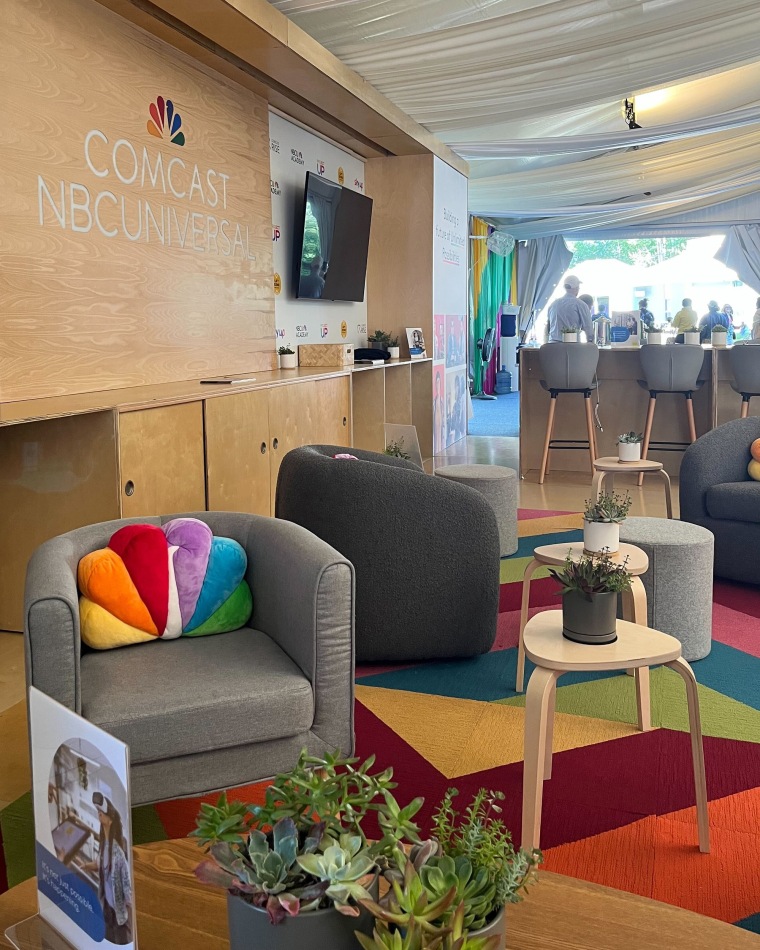 A 'sneak peak' at the festival prep
In an Instagram post last week, the festival shared a short video "sneak peek behind the scenes" as organizers geared up to welcome attendees.
When does the festival take place?
The festival officially began Saturday, June 24, and runs until Friday.
Program tracks include: We the People; The Edge of Intelligence; Age of Uncertainty: Imagining a New World Order; Life Well Lived; Driving the Economy Forward; Powering the Future; The Mind; and Viewpoints.
Who is speaking at Aspen Ideas Festival?
Monday's lineup includes people like GM CEO Mary Barra, Chevron CEO Mike Wirth and former Google CEO Eric Schmidt.
You can take a look at the full schedule here.