The hunt for dozens of missing children at a Mexico City school partially flattened by a powerful earthquake became a race against time on Wednesday as the death toll rose to at least 225.
Firefighters, police officers and volunteers pulled at least 25 bodies, all but four of them children, from the Enrique Rebsamen school in the south of the capital.
Crews wearing hard hats worked their way through pancaked concrete slabs as family members and teachers searched lists of children to see who was accounted for.
Dr. Pedro Serrano, one of the volunteers, told The Associated Press that he managed to crawl into the crevices of the tottering pile of rubble and made it into a classroom, but found all of its occupants dead.
PHOTOS: Desperate Rescuers Dig Through Rubble After Powerful Mexico Quake
"We saw some chairs and wooden tables," he said. "The next thing we saw was a leg, and then we started to move rubble and we found a girl and two adults — a woman and a man."
Eleven people were rescued alive from the school, but 30 others were still missing as of 2 a.m. ET, according to Mexico's education minister, Aurelio Nuño Mayer.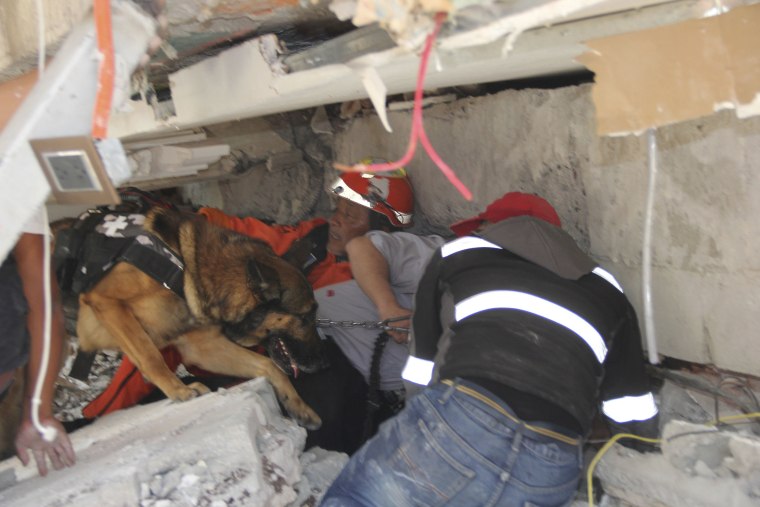 A crowd of anxious parents outside the gates shared reports that two families had received WhatsApp messages from girls trapped inside, but those reports could not be confirmed.
Rescuers brought in wooden beams to shore up the fallen concrete slabs so they wouldn't collapse further and crush whatever airspaces remained.
Similar rescues were underway across the city, with volunteers displaying an almost reckless courage as they crawled inside the ruins of collapsed buildings to save survivors who had been buried alive. Outside what had been a four-story building at the corner of San Luis Potosi and Medellin Streets, one such volunteer waited for the sign to go in.
"Yes, I'm willing to get inside right now," the brave man told NBC News, dressed in a hard hat and dust-covered denim jacket. "If there is somebody alive right now, we're going to get in."
Asked why, the man had an answer at the ready.
"Because I'm Mexican," he said. "Somebody is alive in there. Somebody has to do it."
The magnitude 7.1 temblor came on the 32nd anniversary of the deadliest earthquake in Mexico's modern history, which killed 5,000 people in 1985.
Officials had been holding evacuation drills to mark the event just hours before Tuesday's quake.
"A drill at 11 a.m. and an earthquake at 1 p.m.," said Valerie Perez, 23, a student who ran from her apartment in Mexico City. "This is the most powerful thing I have ever seen in my life."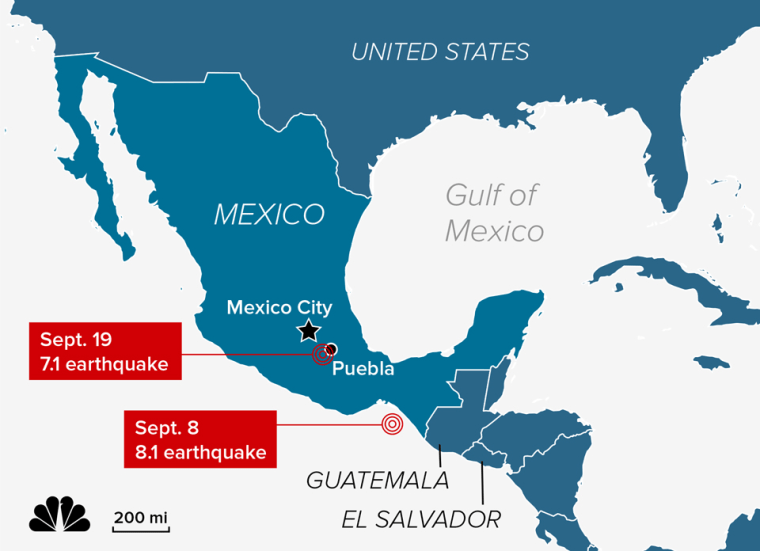 An even more powerful earthquake struck last month, Mexico's strongest in 100 years. But the damage was less widespread and the death toll remained below 100.
While considerably weaker, Tuesday's earthquake was deadlier and more destructive.
The head of the national civil protection agency said on Twitter early Wednesday that the nationwide death toll stood at 225, including 94 in Mexico City.
The Enrique Rebsamen school was one of 44 buildings that collapsed across Mexico City alone, and around 40 percent of the capital and 60 percent of nearby Morelos state were without electricity, government officials said.
On Mexico City's Reforma Avenue, thousands fled office buildings as they swayed under the stress of the tremor. In the neighborhood of Roma, rescue workers cheered after finding a woman alive under rubble. They then quieted down to listen for calls from other survivors.
PHOTOS: Powerful Earthquake Shakes Mexico City
In the Roma Norte district, 30 people were pulled alive from the rubble of a collapsed employement agency but two dozen others were still missing. Families have been waiting outside all night for news on their loved ones.
Laura Rodriguez, 62, said her street was quiet one day after Tuesday's chaos and upheaval.
"Unbelievable," said Rodriguez about the scene in her neighborhood of Narvarte after several buildings collapsed following the earthquake.
"At least one person was rescued while we were standing there," she added, describing how neighbors and military personnel were working together to try to rescue people amid fears that the collapsed structures could have dangerous gas leaks.
Unfortunately, Rodriguez found out that a friend who lived by herself in a nearby building was among the victims who died. "The rescue squad found her around 3 a.m.," she said.
Across the region, some 3,400 soldiers were deployed to help in the rescue effort, said Mexico City Mayor Miguel Ángel Mancera.
At one site, shopping carts commandeered from a nearby supermarket were used to carry water to rescuers and take rubble away.
Robert W. Bouman was in Mexico City visiting family when the quake struck — the second he had experienced in Mexico in just two weeks.
"It's an incredibly terrifying and scary experience," Bouman, 31, told NBC News. "This time, the quake was much more violent. We had trouble standing and walking. It was impossible to maintain your balance."
Mexican President Enrique Peña Nieto was on a flight to Oaxaca when the quake struck and said in a tweet that he was immediately returning to Mexico City to assess the situation. The government declared an "extraordinary emergency" for the city, where as much of 40 percent people were without power.
President Donald Trump, who has clashed with Peña Nieto over his repeated calls for a border wall between their countries, sent his support in a tweet.
Much of Mexico City is built on former lakebed, and the soil can amplify the effects of earthquakes centered hundreds of miles away.