MEXICO CITY — The wiggling fingers of a young girl trapped in the rubble of her collapsed school in Mexico City raised hopes and prodded rescuers to work furiously hour after hour early Thursday — a drama that played out at dozens of buildings toppled by a powerful earthquake that killed at least 245 people.
Mexico City Mayor Miguel Angel Mancera said late Wednesday that two women and a man had been pulled alive from a collapsed office building in the city's center.
But it was the rescue operation at the Enrique Rebsamen school, where at least 21 children and four adults perished in Tuesday's quake, that was seen as emblematic of Mexicans' rush to save survivors before time runs out.
Helmeted workers spotted the girl buried in the debris early Wednesday and shouted to her to move her hand if she could hear. She did, and a rescue dog was sent inside to confirm she was alive. One rescuer told local media he had talked to the girl, who said her name was Frida.
Hours later the crews were still laboring to free her as images of the rescue effort were broadcast on TV screens nationwide.
At one point, the workers lowered a sensitive microphone inside the rubble to scan for any noise or movement. A rescuer said they thought they had located someone, but it wasn't clear who.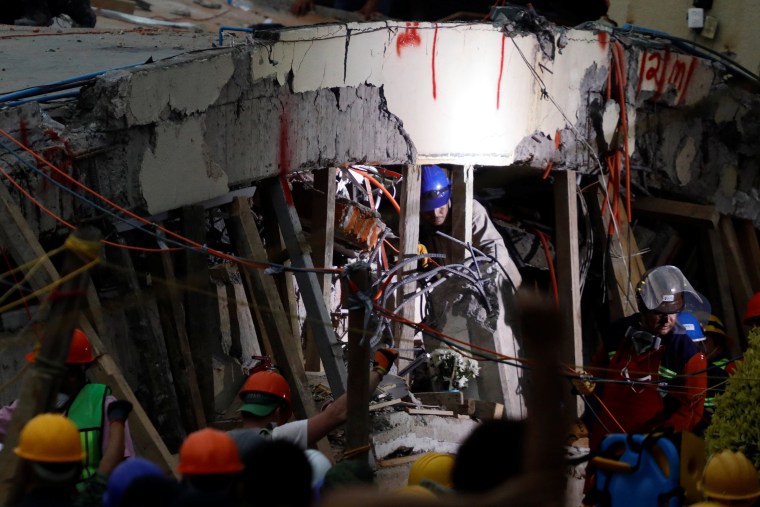 But some 15 hours into the effort, Adm. Jose Luis Vergara said rescuers still could not pinpoint Frida's location.
"There's a girl alive in there, we're pretty sure of that, but we still don't know how to get to her," Vergara told local broadcaster Televisa. "The hours that have passed complicate the chances of finding alive or in good health the person who might be trapped."
As with other disaster sites throughout central Mexico, officials dared not employ heavy lifting equipment for fear of crushing anyone below.
Similar efforts were continuing at the scenes of dozens of collapsed buildings, where firefighters, police, soldiers and civilians wore themselves out hammering, shoveling, pushing and pulling debris aside to try to reach the living and the dead.
Mexico City police said rescue workers clearing wreckage from a collapsed medical laboratory in the Roma neighborhood found and removed 40 lab rabbits and 13 lab rats used by the firm that had occupied the building, now a pile of beams and rubble.
A helicopter overflight of some of the worst-hit buildings revealed the extent of the damage wrought by the quake: three mid-rise apartment buildings on the same street pancaked and toppled in one Mexico City neighborhood; dozens of streets in the town of Jojutla, in Morelos state, where nearly every home was flattened or severely damaged and a ruined church where 12 people died inside.
Power was being restored in some Mexico City neighborhoods that had been left in darkness overnight, and officials reported that the sprawling Metro system was running at near-normal capacity.