Citing drug-fueled violence on the streets of Chicago, U.S. and Mexican authorities Wednesday announced a new cooperative push to target south-of-the-border cartel leaders, expedite prosecutions and seize the American currency that flows their way.
"This is not just a Chicago problem," the special agent in charge of the Drug Enforcement Agency's Chicago office, Brian McKnight, said during a news conference. "This not just a national problem. This is an international problem. ... A new era of law enforcement is upon us, and we are coming for you."
The joint effort was billed, in part, as a response to shocking, gang-related violence in Chicago. During the first weekend of August at least 74 people were shot, 12 fatally, across the city.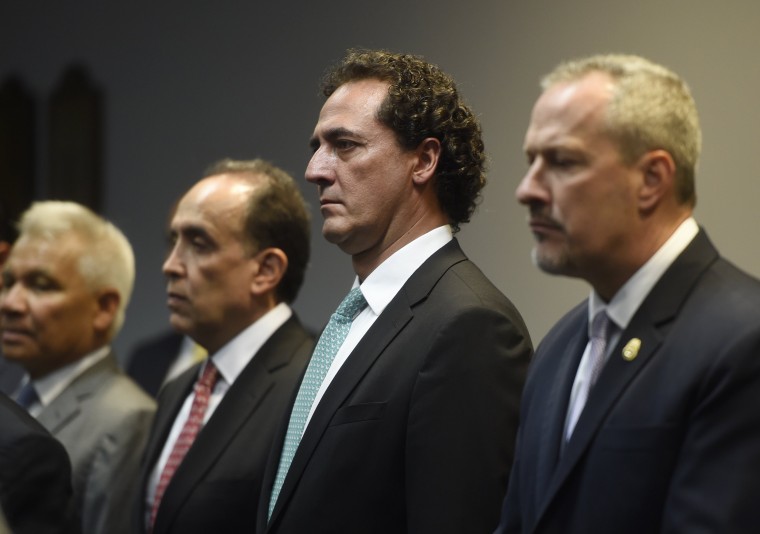 "Gangs and cartels go hand-in-hand," Anthony Williams, the DEA's chief of operations, told reporters. "They use each other in an effort to expand their independent business enterprises."
Authorities from Detroit and St. Louis were participating in the operation against cartel traffic to the Midwest, they said. The cooperation comes as the U.S. prosecution of Sinaloa Cartel kingpin Joaquin "El Chapo" Guzman has created a power vacuum that's being filled with blood in Mexico.
Relations between the United States and Mexico have been strained as a result of President Trump's insistence that Mexico pay for a proposed border wall. But in a few months Andrés Manuel López Obrador (a.k.a. AMLO) will take office as Mexico's president.
He has vowed a new era of peace, amnesty for some drug traffickers, and an end to what he has described as a failed paramilitary war on drugs.
The question now for some experts is whether Wednesday's announcement of cooperation is an end-run around AMLO's softer goals when it comes to drug enforcement.
Nathan Jones, security studies professor at Sam Houston State University, noted the "kingpin strategy" of targeting high level cartel leaders has been tried in Mexico, in cooperation with the United States, for a dozen years, but that it's "not that popular in Mexico."
Today's news "didn't sound that new in terms of the main policy proposals," he added.
"It seems they were maybe trying to lock in a new way to speed up prosecutions of Mexican nationals and extradite them faster" ahead of AMLO's inauguration in December, Jones said.
"I'm interested in the timing," he said.