WASHINGTON — The Trump administration is preparing a public display of what it says is evidence that Iran is providing missiles to Houthi rebels in Yemen, threatening a key U.S. ally in the region, according to four U.S. officials.
This week, Nikki Haley is set to unveil components of a short-range ballistic missile that Houthi rebels fired into Saudi Arabia at Defense Intelligence Agency headquarters at Joint Base Anacostia-Bolling in Washington, D.C., according to the officials.
According to a senior intelligence official, she will also present other evidence of Iran's weapons proliferation and potential violations of UN sanctions, and of Iranian destabilization and threats to U.S. allies.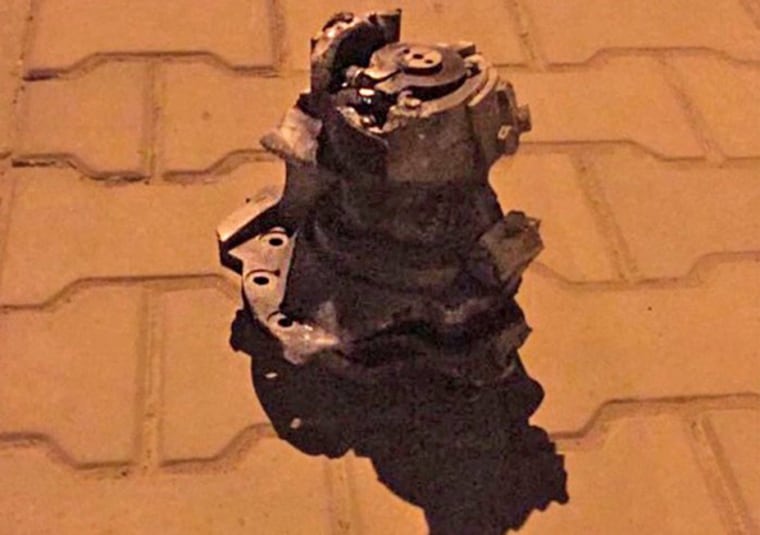 The ballistic missile was fired from Yemen on Nov. 4, striking near King Khalid International Airport in Saudi's capital city of Riyadh. Saudi defense forces say they shot it down with a surface-to-air Patriot missile and turned it to shrapnel.
"We hold Iran responsible for this," said Saudi Foreign Minister Adel al-Jubeir five days after the attack. "They're the ones that provided the missiles. … We believe this could be considered an act of war."
An Iranian official said that Saudi claims of Iranian responsibility for the missile were "malicious, irresponsible, destructive and provocative."
Arab media outlets have displayed a photo that they have described as an image of remnants of the missile. The Saudi mission to the U.N. told NBC News that the Saudi government did not provide the image to the media.