Two U.S. military veterans serving in Congress proposed a bill on Wednesday that would grant U.S. visas to Syrian Kurds who lawmakers say have been betrayed by President Donald Trump's abrupt decision to pull back American troops from Syria's northern border.
Democratic Rep. Jason Crow of Colorado and Republican Rep. Michael Waltz of Florida, both retired military officers with combat experience, announced the introduction of the bill that would provide U.S. visas to Syrian Kurds and others who worked with U.S. troops fighting the Islamic State.
The bill "will send a very strong message that the American handshake matters," said Crow, a former U.S. Army Ranger who deployed to Iraq and Afghanistan.
The Syrian Partner Protection Act sponsored by Crow and Waltz resembles "special immigrant visa" laws enacted during President George W. Bush's administration for Iraqis and Afghans who risked their lives working for U.S. forces and who face potential retribution for their association with Americans. The bill would set aside 4,000 visas a year for Syrians or others who worked alongside U.S. forces in the area as interpreters or other jobs, according to Crow's office.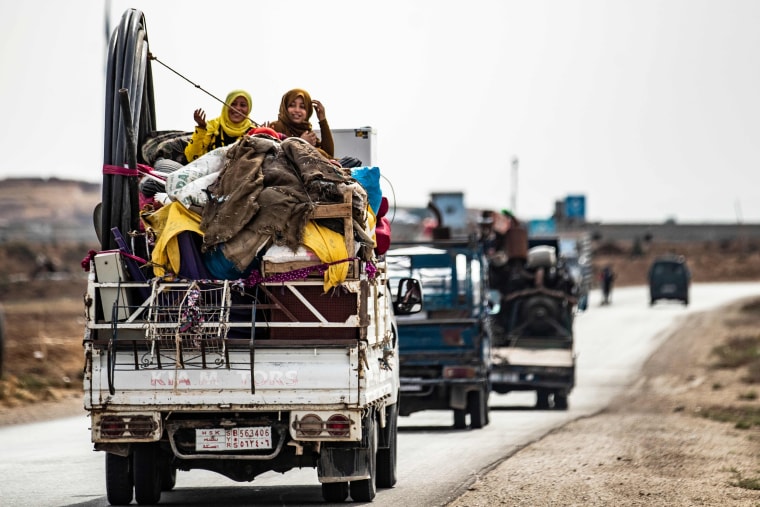 "Our Kurdish allies put their lives and the lives of their families on the line, risking retaliation, to help us fight terrorism. They deserve our country's gratitude," said Waltz, a former Green Beret who co-sponsored the bill.
Crow said the bill would likely attract strong support from other military veterans in Congress as they have first-hand experience of the role played by combat interpreters. "We have lived this and we feel a moral obligation to those folks we've served alongside," he said,
The Trump administration has come under criticism from humanitarian organizations and lawmakers over its administration of existing laws designed to grant visas to Afghans and Iraqis who supported U.S. forces. Since Trump entered office, the number of visas issued has significantly declined and refugee advocates fear thousands of Afghan and Iraqi interpreters will be left behind.
Trump earlier this month announced plans to withdraw U.S. troops from Syria, drawing condemnation at home and abroad. After pulling out American forces along the border area where Turkish forces staged an incursion, Trump has since eased up on plans for a full exit. Now administration officials say a contingent of U.S. forces will remain on the ground to help Syrian Kurds retain control of oil fields to the east.