CAIRO - A hunger-striking American citizen held for months without charge in an Egyptian prison was set to appear in court on Tuesday to face what his supporters call politically motivated charges.
Mohamed Soltan, an activist with the "Anti-Coup Coalition," an umbrella organization led mainly by the Islamist supporters of ousted Egyptian President Mohammed Morsi, was arrested in August in Cairo.
Soltan, who is appearing in court along with around 50 others, is accused of "preparing [an] operation room to command the movement of the Muslim Brotherhood in order to combat the state ... and for spreading chaos in the country."
On a Facebook page set up to support Soltan, supporters called the charges politically motivated and claimed he had lost 70 lbs in prison.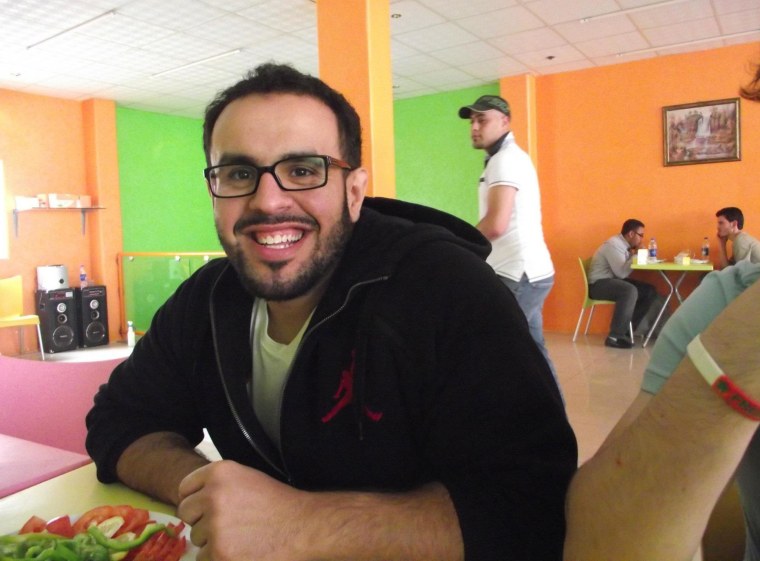 U.S. officials said they were monitoring the 26-year-old Ohio State University graduate's health.
"We remain concerned about his health and have urged the Egyptian government to make sure he is getting all necessary treatment and visiting him regularly," a spokesman for the U.S. Embassy in Cairo told NBC News.
His father, Salah Soltan, is a well-known professor at Cairo University and a member of the Muslim Brotherhood.
Soltan worked in the organization's media center during the summer sit-in protest at Cairo's Al Raba'a Square where Islamists gathered to demonstrate against what they considered to be the coup that ousted Morsi.
F. Brinley Bruton reported from London.