KFAR ETZION, West Bank — The crowd spilled out of the funeral home, encircling the modest light-caramel, Jerusalem-stone building nestled in the hills near Bethlehem. 
The wailing was almost constant, the sound swelling with every mention of Maia and Rina Dee, whose deaths last week sparked nationwide outrage. The mourners were there to remember the British Israeli sisters, who were shot and killed in their car in the West Bank while driving to a family holiday. Their mother, Leah Dee, was wounded in the attack and died of her injuries on Monday.
The sisters, aged 15 and 20, and mother, 48, are among the latest victims of the spiraling tensions and violence in the region. The girls' funeral was held on Sunday in Kfar Etzion, a Jewish settlement in the Israeli-occupied West Bank.
"How will I explain to Lucy what's happened to our two precious gifts, Maia and Rina, when she wakes up from her coma?" Rabbi Leo Dee, the father of the young women, said of his wife the day before she died.
As he wept, the sound of sobs surged up from the crowd. Nearby, two Dee sisters and one brother held on to one another tightly. One sobbed uncontrollably, her legs shaking.
Leo Dee described his distress at trading missed calls with his daughters and wife on Friday during, he assumed, the attack that killed them.
"I called Lucy, no answer. I called Maia, no answer. I called Rina, no answer," he told reporters.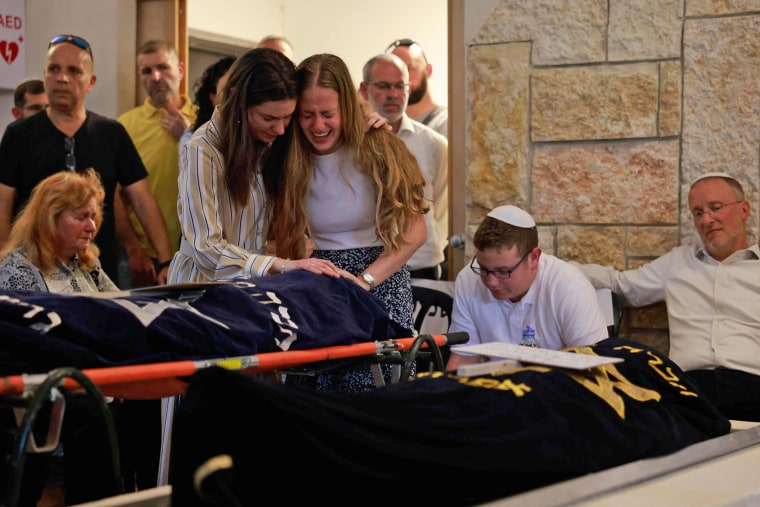 "Then I saw a missed call from Maia at 10:52. I hadn't noticed it ring, I had not picked up the phone. The feeling that she called me during the attack, and I wasn't able to speak to her, will come back and haunt me for a while," he said.
As with so much else in the region, the Dees' deaths quickly became a political rallying cry.
Far-right Israeli politicians, including Itamar Ben-Gvir, the minister of national security who has been convicted of incitement to racism and support for a terrorist organization, and Finance Minister Bezalel Smotrich, who has advocated segregating Jews and Arabs in maternity wards, attended Maia and Rina's memorial with their wives.
Visiting the scene of the attack, Israeli Prime Minister Benjamin Netanyahu described the shooters as "vile and heartless terrorists" and promised to hold them accountable.
The Palestinian Islamist group Hamas praised the attack, but stopped short of claiming responsibility.
The cycle of pain and death persisted into the weekend, when an Italian tourist was killed in a car-ramming attack. On Monday, at Aqabat Jaber, a refugee camp some 30 miles northeast of Kfar Etzion, near Jericho in the West Bank, a 17-year-old boy, Mohammad Balhan, was killed by Israeli army gunfire during a raid, according to Palestinian officials.
"I had just left my house when I saw military forces and people throwing stones," said the boy's father, Fayez Balhan. "I stopped the car and got out. I saw one person get shot."
"We walked further ahead and saw a boy lying on the ground. I approached him ... and realized that it's my son," Balhan added.
In a statement, the Israeli military said its soldiers were trying to apprehend a terror suspect when Mohammad Balhan was killed. They fired at the suspects with bullets, explosive devices and Molotov cocktails, they said. One person was arrested.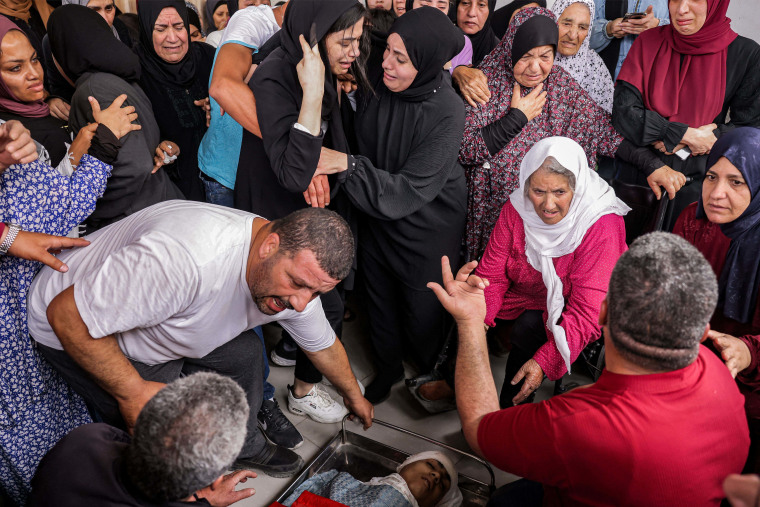 Israel says military raids are meant to dismantle militant networks and thwart future attacks; the Palestinians view them as further entrenchment of Israel's open-ended, 55-year occupation.
Israel captured the West Bank, east Jerusalem and the Gaza Strip, territories inhabited by Palestinians, in the 1967 Mideast war. Gaza is now under control of Hamas and is blockaded by Egypt and Israel.
The killings came ahead of an Israeli march to the abandoned settlement of Eviatar in the northern West Bank.
Smotrich and Ben-Gvir — who live in Jewish settlements in the West Bank — were among several Israeli Cabinet ministers at the march Monday.
Already, 2023 has been one of the deadliest years on record for Palestinians; 96 people — most of them militants but some of them civilians, including 18 children — have been killed by Israeli fire so far.
At least 19 Israelis and foreigners have died, according to Reuters.
Meanwhile, mourning and fury are growing.
"May God avenge their names," cried a woman during the Dee sisters' funeral as emotions spiraled like the rising number of deaths. 
Shira Pinson reported from Kfar Etzion and Aina J. Khan from London.