WASHINGTON — The son of murdered Washington Post columnist Jamal Khashoggi has been allowed to leave Saudi Arabia and was headed Thursday to the United States, the group Human Rights Watch and a Khashoggi family friend told NBC News.
Salah Khashoggi, a dual U.S.-Saudi citizen, had been photographed earlier in the week with Crown Prince Mohammed bin Salman and Saudi Arabia's King Salman during a condolence visit, appearing grim as he shook their hands. That visit, and earlier condolence phone calls from the king and crown prince to Salah, had come amid continuing questions about the extent of Crown Prince Mohammed's foreknowledge and involvement in his father's killing.
Khashoggi's family members — some of whom are in Saudi Arabia, Turkey and the United Arab Emirates — had expressed a desire to reunite outside of the kingdom amid concerns that Salah had been prevented from leaving the country for some time. Saudi Arabia does not generally recognize dual citizenship, meaning that he would have likely been required to use his Saudi passport to exit the country.
Three people familiar with the situation say the issue was resolved and the Saudis did not prevent him from leaving. He left Saudi Arabia either late Wednesday or early Thursday. It wasn't immediately clear when he would touch down in the U.S.
Jamal Khashoggi, a Saudi citizen and vocal critic of the Saudi government, was killed in early October in the Saudi Consulate in Istanbul, where he had visited seeking a document needed for his upcoming wedding to a Turkish woman.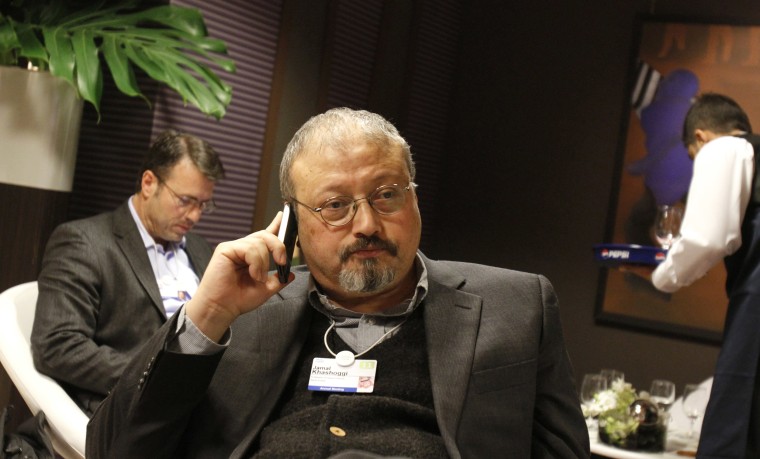 His son's departure from the kingdom came as Saudi Arabia's government acknowledged for the first time that the team dispatched to Istanbul had planned in advance to kill Jamal Khashoggi, once again altering its official explanation of his death. Previously, Saudi Arabia had said he was killed during a botched attempt to kidnap him and bring him back to the kingdom. Before that, the government had insisted for weeks that Jamal Khashoggi had left the consulate alive.
The Saudi Embassy in Washington did not respond to requests for comment.
Dan De Luce reported from Washington. Josh Lederman reported from New York.