After Zahra Nemati suffered a debilitating spinal cord injury, her fake smile masked the pain and soothed her grieving loved ones.
"I pretended I was completely fine and happy to not make my family suffer. But deep down, I was suffering a lot," Nemati said.
A car crash left the longtime martial artist confined to a wheelchair. But within three years, the native of Iran channeled her energy toward a new competitive sport: archery.
"I have to live my life, and I'm not going to surrender," she vowed to herself.
Six months after her new undertaking, Nemati, 28, was recruited to compete on a national level and has since set world records and won gold representing Iran at Olympic and Paralympic games. She was invited to speak at a United Nations panel in June called "Sports for Inclusive Development: Empowering Persons With Disabilities Through Sport" in New York City.
"I pretended I was completely fine and happy to not make my family suffer. But deep down, I was suffering a lot."
When Nemati arrived on U.S. soil for the first time, she was surprised to find that the people with disabilities she encountered weren't so much unlike herself. She learned that they're also seeking equal rights and accessibility.
"They follow the same message," she said.
The treatment of disabilities in Iran has improved in recent years, she said, and the Paralympics and Olympics attract nearly balanced amounts of attention. But because of sanctions against Iran's government, it's difficult for her to obtain basic equipment for mobility, like a wheelchair she imports from Austria, and for archery.
"Accessibility isn't complete over there," she said.
Nemati was a passenger in a 2004 vehicle collision caused by another car's wrong U-turn. The car carrying Nemati flipped over on the road several times, and doctors have speculated over whether pulling her out of the vehicle before experts arrived on the scene could have triggered a more severe injury.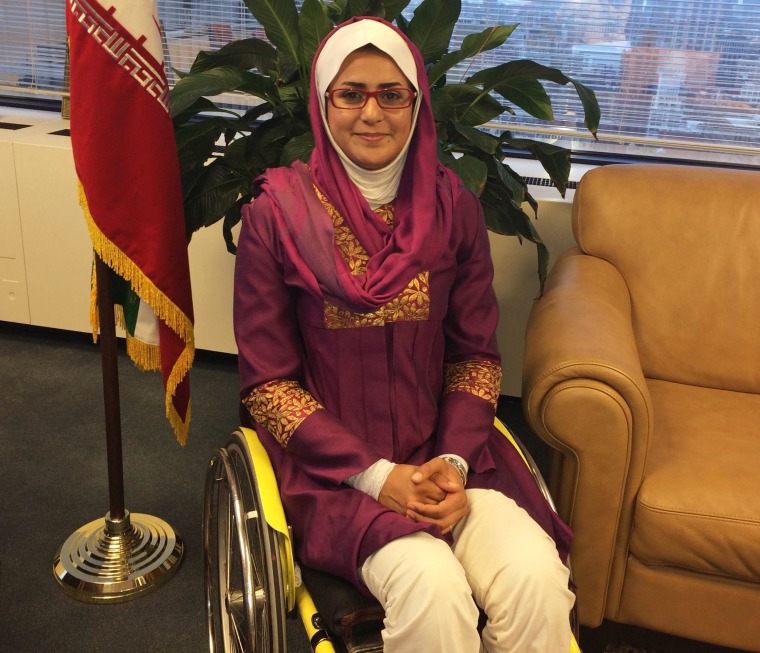 Her determination hasn't wavered since her accident, and she's leveraged her success to encourage other women and disabled people to stay active. A former black belt in taekwondo, she applied her acute focus to the bow and arrow, and her professional training regimen is like a full-time job.
"It doesn't matter if you use your legs or hands. As long as you have focus and know what you're looking at, it doesn't matter," she said.
Growing up in a society where women are traditionally more restricted, Nemati advised that young girls follow suit.
"You can bring more into your life. Sports will bring empowerment for you," she said.
At the London 2012 Paralympic Games, Nemati's careful tenacity and keen eye catapulted her into uncharted territory as the first Iranian female Olympic and Paralympic gold medalist. She was one of seven women and 72 men from Iran to attend the Games, according to the Islamic Republic of Iran's National Paralympic Committee website.
Emboldened by her achievement, the gold medal was a "burden off of [her] shoulders." The tears of sadness shed by loved ones because of her accident, she said, were replaced with tears of joy.
"More joyful than winning the medal was the feedback from people and society," she said.
Her sharp aim for the yellow bulls-eye on the ten-zone target overshadowed her impairment for many of her opponents, who confessed that facing her is as challenging as a standing player.
"The most important effect was that sometimes, I don't even feel like I'm in a chair," she said.
The celebrations didn't end with her medal ceremony.
At the 2012 Games, Nemati announced her engagement to her husband, who is also a disabled professional athlete, inspiring her nickname "bride of the caravan." She also won the individual 2013 SportAccord Spirit of Sport Award in St. Petersburg, Russia.
The most important effect was that sometimes, I don't even feel like I'm in a chair.
Nemati's storied accomplishments have propelled her own philanthropic missions.
She founded an association called Spinal Cord Injury Dynamic in 2005 in Kerman to provide accident victims with psychological, technical and financial support and encouragement to pursue arts and sports. Nemati also advocates for causes that promote road safety, autism awareness and Special Olympics, an international nonprofit that connects disabled people with sporting endeavors.
"Besides sports, I want to be effective in a positive way in people's lives," she said. "I'm a victim of a road accident. One of the greatest messages is to make roads as safe as possible."
While her experience with Americans during her New York trip was positive, Nemati said the U.S. media's coverage of Iran often misrepresents her country's rich heritage and culture. The friendly interaction between the countries in sports, she said, could transcend to other arenas.
"The great thing about sport is that it's completely politics-free," she said. "Every athlete could be a messenger of peace and prosperity."