TEL AVIV, Israel — It was a mystery that stumped even the brightest minds at Israel's Antiquities Authority for almost six months.
The shiny gold object uncovered at a cemetery was shaped almost like a rolling pin, but those assigned to identify its use were baffled.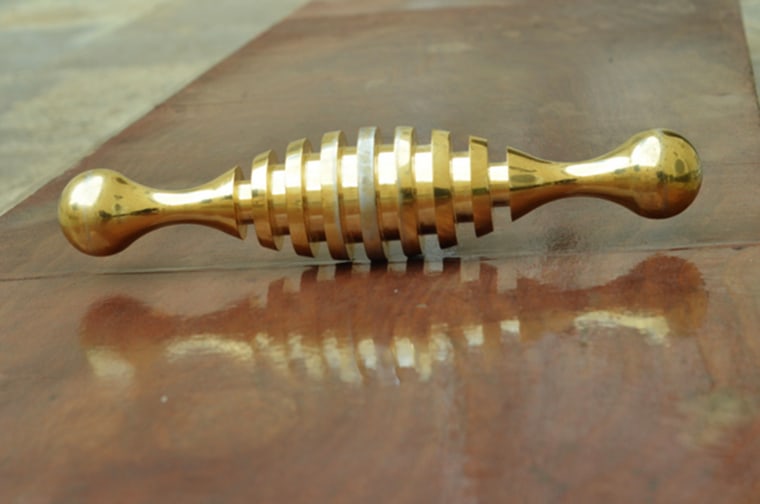 "To tell you the truth I've never seen anything like this before," Amir Ganor, head the authority's robbery prevention unit, told NBC News.
The mystery object was found six months ago by a maintenance worker who noticed something glittering in the grounds of a Jerusalem cemetery.
The burial grounds are "actually an important archaeology site where remains were found dating to the Roman, Byzantine and Crusader periods," Ganor explained.
After digging the 19-pound gold object out, the maintenance worker thought he might have found an explosive. He called the bomb squad unit, who carried out a controlled explosion.
The blast didn't damage the object at all — and after establishing it was safe, police handed it over to Ganor's unit.
Ganor joked that he thought "that aliens landed from outer space and brought the object."
Determined to find out what he had unearthed, Ganor and his team took it to a jeweler for examination. They learned the object was coated in 24-carat gold, then they x-rayed it and found out it was solid metal.
After months of failing to establish what it was they turned to the public for help, posting a picture on Facebook page early Tuesday and asking for suggestions.
Within hours, hundreds of responses had flooded in.
One said it was a cattle insemination instrument. Others suggested a tool for rolling dough, or pieces of industrial machinery, watches, a massage object, or something related to temple worship.
In the end, an Italian man named Micah Barak was credited with solving the mystery.
The antiquities authority said Barak had identified the object as something which seeks to provide energy protection and "is intended for the use of naturopaths and people dealing with energy healing."
"The object, which is produced by a German company, is called 'Isis Beamer' after the Egyptian goddess Isis," they said.
"In Egyptian mythology she was the goddess of medicine, magic and nature," the authority added in a Facebook post confirming the answer had been found.
The ministry said it had invited Barak for a visit, adding that: "We hope that those responsible for hiding the object in the cemetery will contact us and inform us why it was buried in an ancient structure and to whom of the dead they wished to give positive energy."
Henry Austin reported from London.