Death has a soundtrack in eastern Ghouta: The growing rumble of a jet ripping through the sky, punctuated by a low but loud thud. Then come screams and sirens.
It is being heard with alarming frequency in the besieged Syrian rebel enclave, near Damascus, where some 190 people have died since Sunday night according to U.K.-based war monitor Syrian Observatory for Human Rights.
These have been the deadliest days for the area since 2015, the observatory said. NBC News was not able to independently confirm the group's account but it is in line with multiple local reports.
Syria's civil war may have been raging for close to seven years, but the recent bombing of civilian areas even pushed seasoned aid workers at the U.N. children's fund UNICEF to publish a rare "blank" statement.
In eastern Ghouta, Maram al-Dimasqi prayed that her little boys — Ahmad, 3, and Omar, 8 months — wouldn't be among the next to die.
Photos: Bombs Dropped Over Eastern Ghouta Bring Region's Deadliest Days Since 2015
"The warplanes are hitting us," the 24-year-old English teacher wrote via Skype from an underground bunker during a bombing raid. She held Ahmad on her lap but he could not stop crying as "huge explosions" shook the family.
"Shells are falling like rain. We are hiding in the corridor"
"He looks for his brother and kisses him," al-Dimasqi said. "Maybe it is the last kiss and the last time he sees him."
Bombs have pounded the area, which is home to 400,000 men, women and children, for weeks; thousands have been forced to live underground in an attempt to escape the shelling. The injured are often trapped without medical care that lies, inaccessible, just across the front line.
Opposition activists say a major assault could be imminent for the enclave — the last rebel stronghold close to President Bashar al-Assad's seat of power — citing recent government reinforcements massing nearby.
"I'm writing these words and there are five planes above me, two helicopters, two Russian jets and a drone capturing everything," Firas Abdullah wrote from an underground shelter where he and more than 100 other residents were hiding.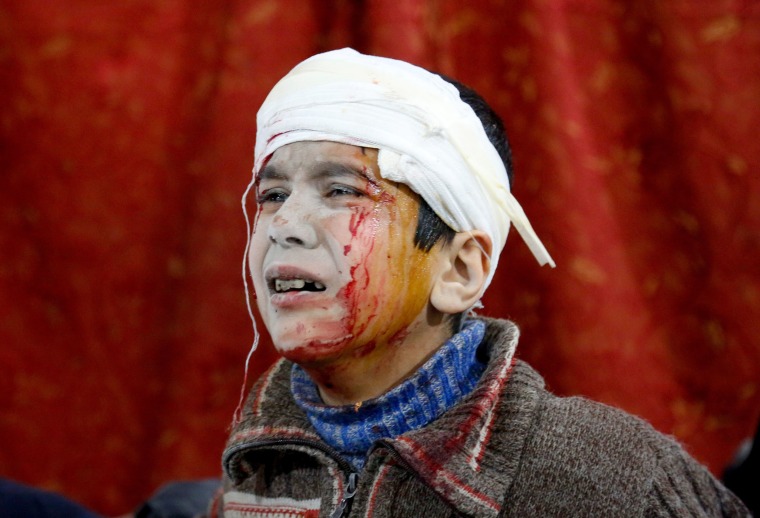 "I can hear women and children's crying voices through their houses' windows," said the opposition activist in the city of Douma in eastern Ghouta. "There is no way to escape, nowhere to hide."
A video posted on Twitter Tuesday by the activist paramedics known as the White Helmets showed the apparent immediate aftermath of an airstrike. Dust hangs heavy in the air as rescuers help a family escape a damaged apartment building. A voice from inside the yellow walls shouts, "Hurry, help us!"
A woman clutching a baby rushes out, followed by a slight child wearing a gray beanie. A ruined car sits on the rubble-strewn street. A voice calls out: "Where is Saeed?"
Photos: Syrians pulled from rubble of besieged city outside Damascus
Young, bearded men hurriedly lead residents to a grey van. As they drive off, another bomb shakes the street — evidence, the White Helmets say, that the regime targeting them directly.
Another recent video shows a rescuer dashing through more rubble-strewn streets. A small child's body lies limp in his arms. Seconds later, video shows the child's face covered in blood.
Monday's bombings, which killed close to 100 people, saw the use of warplanes, helicopter gunships and missiles as well as artillery, in a major escalation of violence, the Associated Press reported.
UNICEF took the extraordinary step of issuing a "blank" statement.
"No words will do justice to the children killed, their mothers, their fathers and their loved ones," the release from UNICEF's regional director Geert Cappalaere began.
Ten empty lines with quote marks indicating missing text, and an explanatory footnote, followed.
"UNICEF is issuing this blank statement. We no longer have the words to describe children's suffering and our outrage," it said. "Do those inflicting the suffering still have words to justify their barbaric acts?"
In northern Idlib province — another rebel-held area — residents and medical workers have described intensifying bombing and targeting of hospitals, clinics and ambulances.
Rebels have retaliated to the bombings in eastern Ghouta, shelling some Damascus neighborhoods with mortars and killing one person and wounding six people, according to Syrian state news agency SANA.
"Shells are falling like rain. We are hiding in the corridor," a Damascus resident told the Associated Press.