WASHINGTON — For two years, the Trump administration has brushed off Palestinian claims that favoritism toward Israel has undermined the U.S. role as credible peacemaker, insisting that its long-awaited plan will offer "a fair deal for both sides."
But on Twitter — the only place where the White House and Palestinian leaders have engaged directly in more than a year — Palestinian leaders say they see a digital manifestation of how the Trump team has firmly aligned itself with Israel and its leaders. They say that has come at the expense of building the trust needed to strike what the region has nicknamed "the deal of the century."
With President Donald Trump and the Palestinians officially incommunicado, his special representative for peace talks, Jason Greenblatt, has used his prolific Twitter account to criticize Palestinian leadership and their public comments hundreds of times in the last two years. At the same time, he's avoided any critique of Israel or its leaders, including Prime Minister Benjamin Netanyahu, who's set to serve a fifth term after his party's success in Israel's recent parliamentary elections.
Hanan Ashrawi, a veteran Palestinian politician criticized in seven of Greenblatt's tweets, said Palestinians don't believe diplomacy should be conducted on Twitter but are paying close attention nonetheless.
"I read whatever he says," Ashrawi told NBC News by phone from the West Bank. "It's not even like an American that has the usual American bias. It's an Israeli apologist account that tries to justify the worst of what Israel does in many ways, and shows extreme sympathy and identification with Israel."
An NBC News analysis of the 1,561 tweets Greenblatt sent between its launch in March 2017 and the end of April 2019 found that Greenblatt tweeted 186 times about what he described as acts of violence or terrorism by Palestinians, or roughly 12 percent of his tweets. His tweets include 211 about Hamas and 62 that criticize Palestinian leaders by name.
He has never criticized Israel or any of its leaders, though dozens of his tweets praise Netanyahu and other Israeli officials.
"Despicable glorification of violence & terrorism displayed at a Palestinian school," he wrote last month. "Absolutely disgusting — Terrorists attack a group of Israelis celebrating Hanukkah," he posted in December. A few days later, he added, "More Palestinian terror attacks."
Greenblatt, during an interview in his White House-complex office, said he "won't apologize for speaking out about Israel's right to defend its citizens when they are attacked or in danger of attack." He said the U.S. has a "different relationship" with Israel — "one of our strongest allies" — than with the Palestinians.
"It is the plan that matters, not my Twitter account," Greenblatt said. "When both sides see the plan, that is when they will decide if it works for them or not."
Yet Palestinians have questioned why, if it's committed to brokering peace, the administration has repeatedly granted concessions to Israel, such as moving its embassy to Jerusalem and the Golan Heights recognition. Palestinian leaders and intellectuals said any confidence they had that Trump's envoy was acting in good faith has been further undermined by his allegiance to Israel's interests on Twitter.
That was the message that new Palestinian prime minister, Mohammad Shtayyeh, delivered in person to Sens. Mitt Romney, R-Utah, and Chris Murphy, D-Conn., the two top members of the Senate's Mideast subcommittee, when they visited Ramallah last month.
"He said you need to have an honest broker to make an agreement like he would hope to see work, and he felt we had become so aligned with Israel that it's difficult for us to play that role," Romney said.
Shtayyeh had been on the job for less than a week when Greenblatt in April chastised him for dismissing the yet-to-be-unveiled peace plan. Greenblatt offered the new prime minister some professional advice: "You have an obligation to first look at an opportunity before you dismiss it."
In 280 characters or less, Greenblatt has accused Saeb Erekat, the chief Palestinian negotiator who would ostensibly be at the table for any peace talks, of "dishonest hysteria." He charged Palestinian Authority spokesman Nabil Abu Rudeineh of being "both anti-Semitic and anti-Christian," and in three languages — English, Arabic and Hebrew — echoed a speech by former U.N. ambassador Nikki Haley urging the world to tell "Palestinian leadership how foolish they look" for preemptively rejecting Trump's peace plan.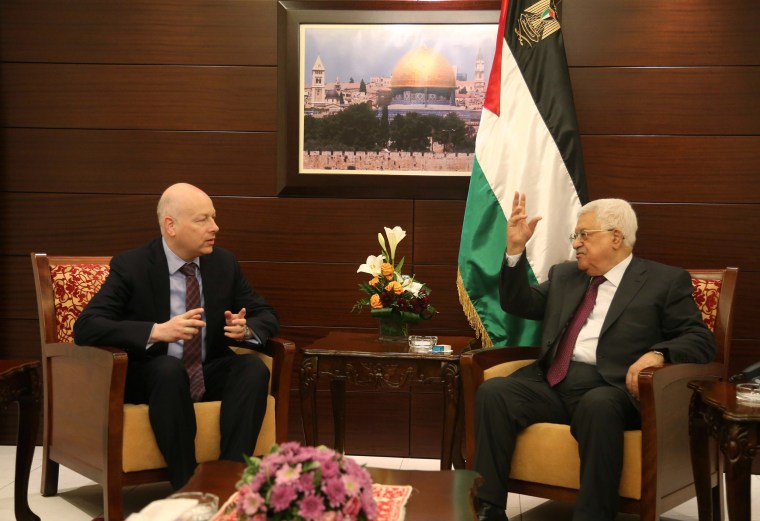 Daoud Kuttab, a Palestinian journalist and former Princeton University visiting professor, said that after Greenblatt accused him on Twitter of anti-Semitism, hatred and a "completely detached" grasp of history, Kuttab performed his own analysis of two months of Greenblatt's tweets to identify any patterns. He said he concluded it showed Greenblatt was "committed to delegitimizing Palestinian nationalism."
He said one tweet irked him more than any other: an April post praising Brazil for following Trump's lead by moving its embassy to Jerusalem and adding: "We encourage all nations to consider moving their embassies to the capital of the State of Israel."
"You're trying to negotiate peace," Kuttab said by phone from Jerusalem. "You're trying to do things that make people want to engage with you. Why do you get Palestinians angry? You're not an activist for Israel. It's not your job to get the entire world to move their embassy."
But Greenblatt told NBC News that the U.S. does "care very much" about the Palestinians and said he believes that for the peace plan to succeed, "There must be a perception by the Palestinians that they will get a fair shake from the U.S." He said the plan will be "fair, realistic and implementable," offering both sides "a path forward to a better future."
Still, he disputed the notion that the U.S. is a "mediator or a judge" in the Israeli-Palestinian conflict.
"We are a facilitator," he said. "It is the parties themselves that must negotiate and reach an agreement together."
Greenblatt, a real estate attorney who worked for Trump's business for roughly two decades, had no formal diplomatic experience before being named to the Mideast peace envoy role at the start of the Trump administration. His prior experience on Israel issues was mostly personal: As a young man, he studied at a yeshiva in a Jewish settlement in the West Bank and later wrote a book about a family trip to Israel.
The peace plan, spearheaded by Greenblatt and Trump senior adviser Jared Kushner, is coming into sharp focus now that Israel's high-stakes elections are over. The White House has repeatedly delayed rolling out the plan, and Kushner last week offered a new timeline: after the Muslim holiday of Ramadan, which ends the first week of June.
The team has fiercely guarded the plan's contents and has prevented details from leaking, declining even to say whether it will include an independent state for Palestinians, the basis for all serious peace efforts for decades. Trump himself has wavered on the need for a two-state solution, and Kushner said last week that since the term means different things to the different sides, the administration is avoiding using it.
The tone of the White House's social media messages about the Israeli-Palestinian conflict has come under particular scrutiny because of the fact that it's the only channel of communication still open.
The Palestinian Authority cut off formal contact in 2017 after Trump recognized Jerusalem as Israel's capital and ordered the U.S. Embassy to be moved there, reversing longstanding U.S. policy that negotiations should determine the future of Jerusalem, part of which the Palestinians claim for the capital of a future state.
The Trump administration in turn shut down the Palestine Liberation Organization's Washington office, the de facto Palestinian embassy in the U.S., and revoked visas for the family of its ambassador, Husam Zomlot, who now serves as the Palestinian envoy to the U.K.
"Before the Twitter spree, we found out first-hand their one-sidedness, hence our decision to disengage this administration," Zomlot told NBC News. "Perhaps that's why they turned to Twitter."
Still, Trump administration officials say Greenblatt's admonitions toward Palestinian leaders — especially Hamas — are part of a deliberate strategy to try to split the Palestinian public from their leaders, whom the Trump administration believes are obstacles to a deal the Palestinian people might otherwise support. They say Twitter and social media allow the U.S. to make the case directly to Palestinians that they are ill-served by their leadership.
Dan Shapiro, who was the U.S. ambassador to Israel in the Obama administration, said it was "perfectly legitimate" for the administration to call out Palestinians for unacceptable acts such as terrorism and incitement. But he said that while the Trump administration has offered generalized comments about peace and improving economic conditions for Palestinians, "they never speak about the aspirations of self-determination and an independent state."
"If you were trying to split the Palestinian people from their leadership, you would think that the messaging would enable the Palestinians to see that a different style of leadership would help them achieve those core aspirations," Shapiro said. "But you have to speak to those aspirations."
To be sure, many of the tweets that criticize Palestinian leadership also include positive references to the Palestinian people and their humanitarian needs, such as a December tweet that said that "rational, reasonable people can discuss how best to help the Palestinians in Gaza."
"But first & foremost, we must recognize they are subjugated by Hamas," Greenblatt wrote. "Hamas is the root cause of their suffering."
Many of the tweets speak to economic possibilities for the Palestinians, such as one last year stating that "if Gaza lives peacefully with its neighbors, it can be a tourist destination like Sharm el-Sheikh and Tel Aviv."
And on a handful of occasions, he has spoken out against incitement against Abbas and the throwing of rocks at Palestinians in the West Bank, without specifying who he is condemning for those actions, which are alleged to have been carried out by Jewish settlers.
Another element of the Trump administration's Mideast strategy also finds a frequent home on Greenblatt's Twitter: encouragement for warmer ties between Israel and Arab states, including many that still do not recognize Israel but have begun quiet talks behind the scenes. Greenblatt has tweeted 64 times praising meetings and other contacts between Israel and Bahrain, Oman and the United Arab Emirates, as well as Israel's ties to Egypt and Jordan, the only two Arab countries that have formal diplomatic relations with Israel.
Over two years of tweeting, Greenblatt has also tweeted 64 times criticizing Iran, the Trump administration's top geopolitical foe, and 29 times criticizing the United Nations — almost always for perceived anti-Israel bias. He's tweeted 25 times about the Holocaust, 20 times about the shooting at the Tree of Life synagogue in Pittsburgh, and 46 times praising Trump's decision to recognize Jerusalem as Israel's capital and move to the embassy.
The NBC News analysis included all 1,561 tweets from Greenblatt's account between its launch on March 10, 2017, and April 30, excluding retweets.