BRUSSELS — In Syria's bomb-tilled earth, six miles can mean the difference between life and death.
Patients in besieged eastern Ghouta, near Damascus, are trapped so vital medical care often lies inaccessible just across the front line ringing the densely populated area.
"Doctors are standing helpless in front of their patients," said Dr. Mohammad Katoub of the Syrian American Medical Society (SAMS), which works in rebel-held parts of Syria. "It is very hard for a doctor when a patient knows it's a very simple protocol, but because of the siege treatment isn't available."
Katoub and other doctors visiting Brussels this week for meetings with European officials told NBC News that bombings in rebel strongholds had spiked since the beginning of the year with an average of one health facility hit every 24 hours.
SAMS representatives said Russian and Syrian forces had escalated their attacks even further on eastern Ghouta and Idlib — another rebel-held region near Aleppo, in the northwest of the country — in the past two weeks.
Hundreds of civilians have been killed in eastern Ghouta — which the International Committee of the Red Cross estimates is home to 400,000 people — and in Idlib this year, according to U.N. rights chief Zeid Ra'ad al-Hussein.
A SAMS medical worker was killed by an airstrike in Idlib on Thursday.
An overall increase in attacks on hospitals, clinics, ambulances and other health facilities tracks Russia's involvement in the war, which began in earnest in the fall of 2015, according to SAMS.
While the SAMS doctors admit they cannot prove which strikes are Russian and which are work of the Kremlin-backed military of Syrian leader Bashar al-Assad, they cite the use of more sophisticated and powerful weapons as evidence of Moscow's involvement.
Medical workers have responded by building hospitals deep underground, but that has not stopped the destruction and death.
"We noticed different types of weapons being used since the Russian intervention — especially those mass destruction weapons like bunker buster weapons, for example, that can penetrate the fortifications that we have built," Katoub said. "We fortified our hospitals, we used hospitals underground, we dug caves, and we tried to protect our staff by ourselves."
But since the Russians got involved, he said, "we've noticed that advanced weapons are used to penetrate those fortifications."
The Russian Defense Ministry did not immediately respond to a request for comment.
There were more than 400 attacks on medical facilities across the country in 2016, according to SAMS. That number fell to 110 last year but has jumped to an average of one a day since Jan. 1, the group added.
Since 2012, more than 800 health workers have been killed in various attacks on the medical facilities, according to SAMS.
This month, the United Nations called for an immediate month-long humanitarian cease-fire to prevent civilian suffering and deaths.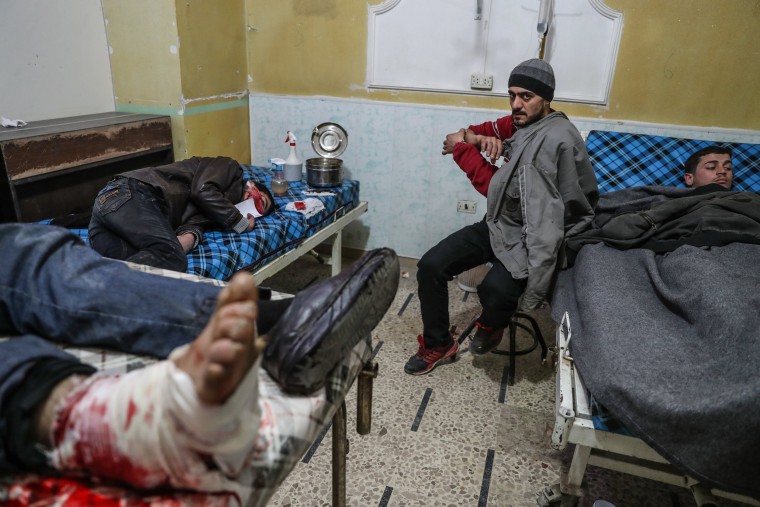 On Wednesday, the U.N. and Syrian Arab Red Crescent announced that nine trucks carrying food, health and other supplies for 7,200 people reached eastern Ghouta. It was the first aid convoy to enter the area since Nov. 28, and follows months of pleading by the U.N. for the government to grant access.
This is rare good news in the civil war that started in 2011 with pro-democracy protests and soon exploded into a full-fledged conflict that has killed hundreds of thousands of people and forced millions from their homes.
The Syrian government has also been accused by rescue workers, aid groups and the U.S. of using chlorine gas against civilians in Ghouta and Idlib.
In October, a report by the United Nations and the Organization for the Prohibition of Chemical Weapons' Joint Investigative Mechanism accused the Syrian regime of using sarin and mustard gas against civilians. The sarin attack prompted a U.S. missile strike in April against a Syrian air base that Washington said was used to launch the strike.
The regime consistently denies using chemical weapons against civilians.
While the use of chemical weapons "strikes fear and terror into the hearts of civilians," regular arms are still far more dangerous and deadly, said Ayman al-Sheikh, a vascular surgeon working with SAMS in northern Syria.
"What's being used on a daily basis, particularly what's being used to target hospitals, are conventional weapons," he said. "It's not just important to stop the use of chemical weapons, but all weapons directed at civilians and health facilities needs to end."
Ziad Jaber reported from Brussels, and F. Brinley Bruton from London. Alice Tidey contributed reporting from London, and Elena Holodny from Moscow.