"Beyond imagination."
That is how the U.N. has described the onslaught by forces loyal to Syrian President Bashar al-Assad on the rebel enclave of eastern Ghouta, which is located in a so-called "de-escalation zone."
The intensifying bombing campaign around 10 miles from the country's capital has killed and wounded hundreds in just a few days.
Idlib, a city in the northwest of the country where many people from Aleppo were relocated to after a rebel-held area there fell in Dec. 2016, is also bracing for a major government attack.
It has been almost seven years since pro-democracy protests exploded into a full-fledged civil war in Syria, and the conflict has changed direction many times since then.
NBC News takes a look at what is driving a war that has killed hundreds of thousands of people and forced millions into exile.
What is happening in eastern Ghouta?
The intensity of bombing in eastern Ghouta — the Associated Press reported Tuesday that airstrikes were coming at a rate of one per minute — has horrified observers.
The London-based Syrian Observatory for Human Rights war monitor estimates that more than 250 have been killed in the Russia-backed assault since Sunday night.
Some 400,000 men, women and children are estimated to remain in the last rebel stronghold close to Damascus, Assad's seat of power. Thousands of hard-line Islamist fighters are living among the civilians.
"The airstrikes, the rockets, the artillery and the bombing haven't stopped in three days," said one doctor in the enclave who asked to be identified only by his first name, Sakher.
Photos: Bombs Dropped Over Eastern Ghouta Bring Region's Deadliest Days Since 2015
"We are lacking everything — no medicine, medical equipment and not enough doctors," the orthopedic surgeon told NBC News in a telephone interview Wednesday. "But there is also not enough food. Those who survive the bombing will not survive for a long time because lack of food."
Eastern Ghouta was among the first communities to rise up against the government in 2011.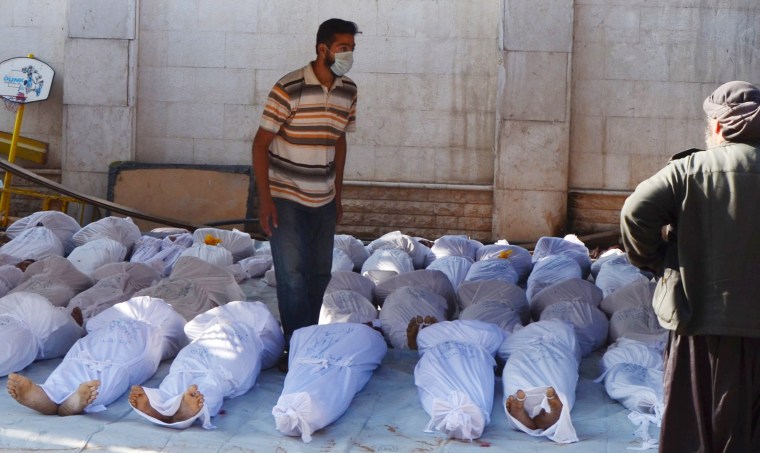 It was also the site of a sarin gas attack that killed some 1,500 people on August 21, 2013, which was widely believed to have been ordered by the Assad regime.
More recently, homes, schools and hospitals have been driven underground in an attempt to escape attacks in the area.
While government strikes have intensified since Sunday, the area has been under siege since 2013.
In recent days, pro-Assad forces have been seen massing close to the rebellious Damascus suburb, suggesting that a full onslaught is imminent.
Who is Bashar al-Assad?
The second son of longtime dictator President Hafez al-Assad was not originally destined to become Syria's strongman, but the death of older brother Basil in a car accident in 1994 put him in line to replace his father.
When the seemingly mild-mannered ophthalmologist came to power in June 2000, he and his glamorous U.K.-born wife Asma were welcomed in the West as probable reformers in a region beset by sclerotic dictatorships.
Assad, a member of the minority Shiite-linked Alawite sect, originally delivered, promising economic and political reforms. He briefly tolerated the country's first independent newspaper in decades.
This flirtation with reform soon ended, and by the time the Arab Spring swept the region in 2011 Assad viciously put down the largely Sunni-Muslim opposition movement.
Thousands have been detained by the government's notorious security agencies, with thousands tortured and missing, according to rights groups such as Human Rights Watch, which has conducted meticulous investigations into the widespread abuses.
Which militant groups are Assad fighting?
The vast majority of those killed since the start of the conflict have died at the hands of Assad's military, according to the Violations Documentation Center in Syria, a network of opposition activists.
But "terrorists" are the purported target of the government's offensives.
The Free Syrian Army, founded by former members of the Syrian military, was once considered the main opposition group. But the FSA's power and standing has diminished dramatically since it first emerged as an apparently moderate rebel group.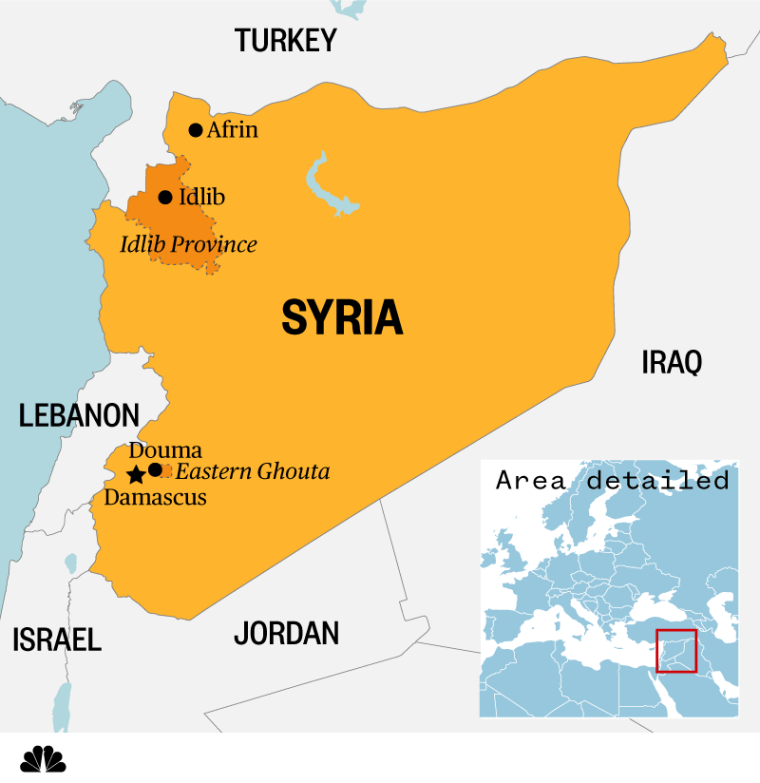 According to a recent report by U.N. experts, Syria's powerful Nusra Front is one of the "strongest and largest al-Qaeda affiliates" in the world and is a dominant force in Syria's Hay'at Tahrir al Sham coalition. The group, known as HTS, boasts between 7,000 and 11,000 fighters.
HTS is entrenched in Idlib province in the northeast of the country. The Army of Islam group is based in Douma in eastern Ghouta, as are conservative Ahrar al-Sham and Faylaq al-Rahman groups. From bases close to the Damascus, the groups are able to shell the capital, killing and wounding civilians.
Who else is involved in this conflict?
The complex, multi-front war has involved supporters of the regime, like Russia, Iran and Tehran-backed Lebanese militia Hezbollah, and regional powers seeking to unseat Assad, such as Saudi Arabia, the United Arab Emirates and Turkey.
The United States and other Western powers opposed to Assad have also gotten involved in the fight to defeat Islamic State extremists. The group was last year ousted from most of the parts of the country they had controlled.
Israel, Syria's southern neighbor, has also become involved, bombing Hezbollah supply lines as well as Syrian and Iranian targets.
"With the fight against ISIS in eastern Syria all but over, the regime could turn its attention and manpower to other areas outside its control," according to the International Crisis Group, an international organization aimed at preventing and resolving deadly conflict.
Is the regime using banned weapons?
Rescue workers, aid groups and the U.S. have accused Assad's forces of using banned agents against civilians.
The deadliest of these attacks was when sarin killed some 1,500 people in eastern Ghouta in 2013. The Assad regime denies it uses chemical weapons.
Syrian forces are also accused of dropping thousands of "barrel bombs" on civilian populations.
These crudely made weapons — large containers that can be packed with gasoline, nails and chunks of steel — are typically thrown out of helicopters and are a relatively cheap form of aerial warfare. They are also indiscriminate.
What about Idlib?
Idlib is "a humanitarian catastrophe waiting to happen," according to the International Crisis Group.
Syrian and Russian aircraft have been bombing towns in the area, home to an estimated 2 million including opposition supporters, hardened jihadis and rebels from Aleppo's eastern neighborhoods that fell to the government in December 2016. Fighters and civilians were allowed to leave the city under a deal with the government.
Now Russian-backed troops are advancing on the enclave. The largest remaining rebel stronghold is controlled by the al Qaeda-linked HTS alliance, which Russia, Iran and the West have vowed to defeat.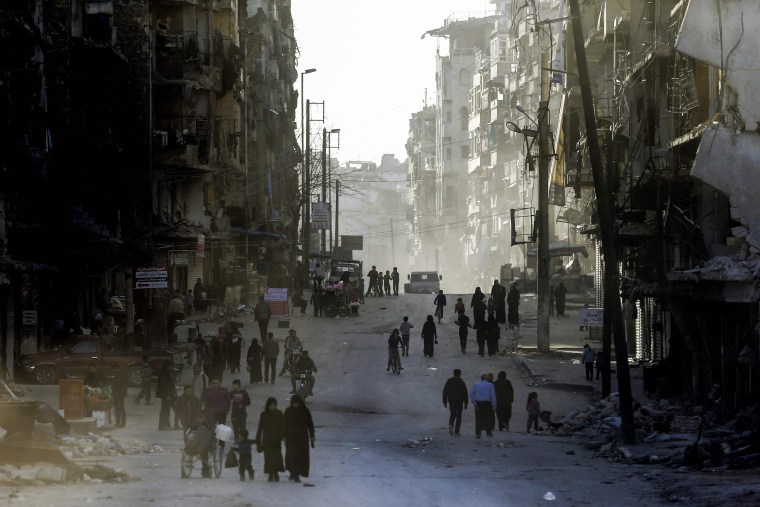 Residents have "reason to fear falling under regime control again," according to Crisis Group. "Prior experience, such as the Aleppo siege in 2016 — suggest that such an attack will be accompanied by a ferocious bombing campaign."
The region is close to the border with Turkey and is of intense interest to that country, which has already taken in millions of Syrian refugees and fears more fighting will trigger another exodus.
Turkey is also focused on U.S.-backed YPG Kurdish forces, who are allies to separatist PKK fighters and viewed as a security threat, in Afrin.
And Afrin?
In Afrin and elsewhere in Syria, Kurdish YPG fighters and the government have largely avoided direct confrontation, although they are not strictly allies.
In recent days, however, pro-government fighters have entered Afrin, which is 50 miles north of Idlib, to help the Kurds fight approaching Turkish soldiers.
Turkish President Recep Tayyip Erdogan on Monday promised that the "besieging of the Afrin city center will start rapidly in the coming days."
That means the complex Syrian war just became even messier.