The U.S. military drastically stepped up its air campaign in Yemen last year, conducting more than six times as many airstrikes as in 2016, according to data from U.S. Central Command (CENTCOM).
In addition to the airstrikes, the Pentagon also acknowledges there is now a small intermittent U.S. military presence inside Yemen.
In 2017, the U.S. military carried out 131 airstrikes, both manned and unmanned, against al Qaeda in the Arabian Peninsula (AQAP) and ISIS in Yemen, the data shows. That's up from 21 strikes in 2016, the last year of the Obama administration. There have been at least 10 additional strikes since Jan. 1.
The airstrikes were carried out by drones, AC-130 gunships and fighter-bombers.
A senior U.S. intelligence official said the increased level of activity "has killed fighters, eviscerated AQAP's propaganda network, cut off external support and enabled UAE partners to regain territory."
The official confirmed an earlier U.S. military report that more than 50 ISIS fighters were killed in one October raid alone.
The increase is the result of a policy change by President Donald Trump almost immediately after taking office in January 2017.
Soon after the Trump administration took office, it declared parts of Yemen as well as neighboring Somalia to be "areas of active hostilities," giving the U.S. military more leeway to target terrorists from the air and on the ground without White House approval.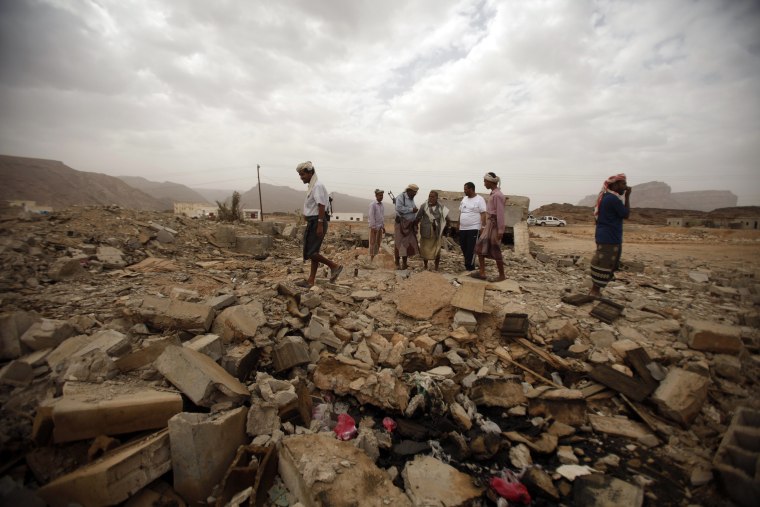 Initially, the Pentagon operated off a target list developed during the transition between the Obama and Trump administrations. That target list focused almost exclusively on AQAP. Some additional strikes were conducted in support of counterterrorism operations by the special forces of the United Arab Emirates and Yemen, according to a senior intelligence official. As the year progressed, both air and ground strikes increased.
The U.S. launched a massive SEAL Team 6 operation in January the week after Trump was inaugurated. One Navy SEAL was killed and five were wounded in that raid. In addition, 29 Yemenis, including 16 civilians, were killed, according to U.S. intelligence officials. Subsequent to that, CENTCOM accelerated its airstrikes in follow-on attacks.
In May, the U.S. paused its Yemen operations after a ground assault, supported by aircraft and drones, went awry. Several U.S. service members were injured in a raid against a compound associated with AQAP in Yemen in which at least seven militants were killed, the Pentagon said. Witnesses also reported a small number of civilian deaths as well.
By October, the U.S. military counterterrorism operations grew to include strikes and missions against ISIS, specifically a regional group called ISIS-Yemen (ISIS-Y). CENTCOM spokesperson Lt. Col. Earl Brown said in December that targeting ISIS "is required to prevent ISIS-Y from filling the vacuum left by a diminished AQAP footprint or influence in the region."
Despite that, a U.S. intelligence estimate contends that ISIS-Y doubled in size in 2017.
In December, CENTCOM acknowledged that the U.S. military had conducted "multiple ground operations" in Yemen in 2017, but did not provide a specific number or details about the raids.
Asked how many U.S. forces are stationed in Yemen, a Pentagon spokesperson declined to provide details.
"We do not discuss specific troop numbers, but at times there is a small amount of U.S. personnel in Yemen," the spokesperson, Lt. Cmdr. Rebecca Rebarich, said.