WASHINGTON — U.S. intelligence agencies investigating the killing of journalist Jamal Khashoggi believe it's inconceivable that Saudi Crown Prince Mohammed bin Salman had no connection to his death, but still have no "smoking gun" evidence that he ordered Khashoggi killed, multiple government officials tell NBC News.
Although President Donald Trump and Secretary of State Mike Pompeo remain tight-lipped about what they know, Trump finally acknowledged Thursday that Khashoggi is likely dead. Behind the scenes, U.S. spy agencies are trying to determine whether the killing was pre-planned or resulted from either an interrogation that went awry or a botched operation to bring him to Saudi Arabia, officials say — and how directly Crown Prince Mohammed was involved.
The emerging U.S. picture of what transpired in the Saudi Consulate in Istanbul comes as the Trump administration says it's giving Saudi Arabia a "few more days" to investigate internally and then reveal the results publicly. Turkish authorities and critics of Saudi Arabia are concerned that Trump is allowing the Saudis to come up with a cover story that will clear Saudi leadership of any responsibility, thus allowing the U.S. to continue its close relationship with Saudi Arabia.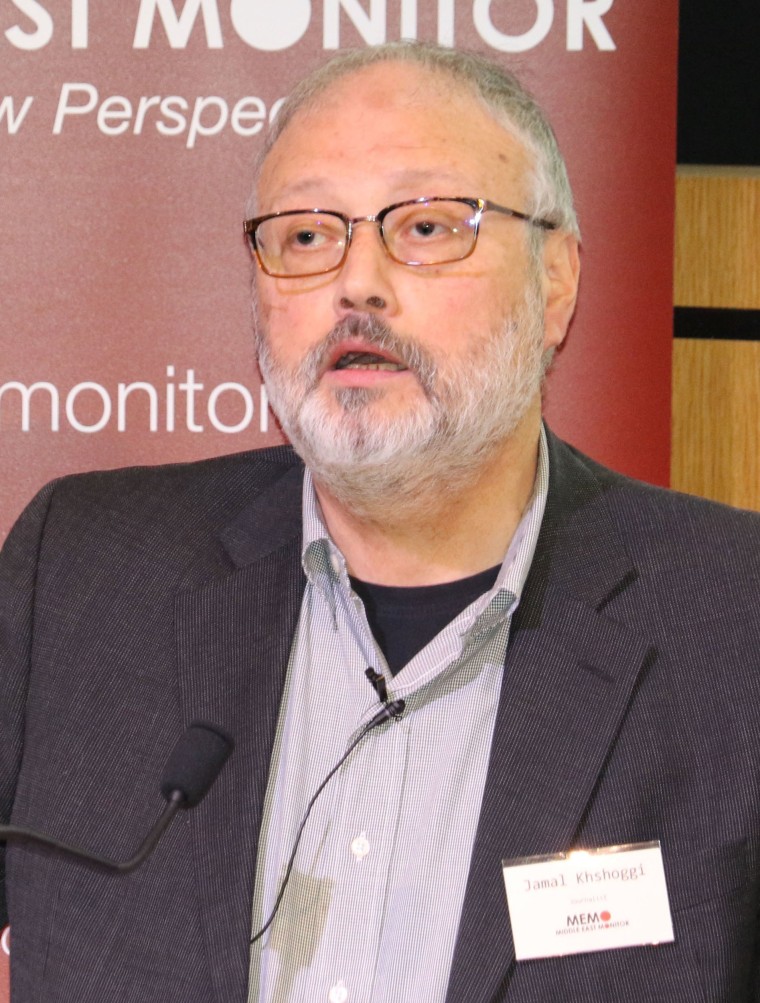 Turkish authorities claim that a recording of Khashoggi's killing in the consulate proves he was killed within minutes of entering by a 15-member hit team sent from Saudi Arabia, and have leaked details about the purported tape's contents to Turkish media. But three U.S. officials tell NBC News that the Turks have not yet given any tape to the U.S. government to review.
Trump called on Turkey to turn over that audio "if it exists." As of now, neither Trump nor Pompeo have heard the tape, officials said.
In fact, it took Trump more than two weeks after Khashoggi's disappearance to acknowledge the likelihood that he is dead.
"It certainly looks that way to me," Trump said Thursday. "It's very sad."
The question of how much U.S. and other intelligence agencies already know about Khashoggi's killing may help determine whether the explanation the Saudis eventually provide will hold up to scrutiny.
Trump and Pompeo say they're awaiting the results of a joint Saudi-Turkish investigation. Yet U.S. intelligence agencies already have obtained far more information than has been reflected in Trump's comments, officials said, and some of that intelligence will be available to members of Congress who oversee the intelligence community.
If the Saudis offer an explanation — such as that Khashoggi died during a botched interrogation — that is contradicted by U.S. intercepts or other intelligence, the Trump administration would face pressure to dispute it.
In the White House, Trump and his aides have been focused on preventing the debacle from disrupting the U.S.-Saudi relationship, which the Trump administration sees as key to its broader Mideast agenda and its campaign to isolate mutual foe Iran, officials say. Jared Kushner, Trump's son-in-law and senior adviser who is close to Crown Prince Mohammed, has emphasized that as a close U.S. partner, Saudi Arabia should be treated differently in this situation than if it were a U.S. enemy.
Pompeo, who traveled this week to Riyadh to discuss the situation with Saudi leaders, was stern in his meeting with Crown Prince Mohammed, two U.S. officials familiar with the meeting said. Pompeo emphasized that the U.S. is committed to maintaining its close relationship with Saudi Arabia and working together on Iran but can no longer tolerate domestic messes like the Khashoggi killing, the officials said. In recent months Saudi Arabia and Crown Prince Mohammed have also attracted negative international headlines for crackdowns on women's rights activists and a heavy-handed corruption purge in which princes and members of the business elite were rounded up and jailed in the Riyadh Ritz-Carlton.
Although the U.S. currently lacks definitive proof, officials say there is a strong circumstantial case linking the killing to the crown prince, including published reports in recent days that many members of the Saudi team Turkey has accused of killing the journalist had ties to the prince.
Moreover, experts say, Salman's total control of the Saudi security apparatus makes it almost inconceivable that Khashoggi's death was the result of a "rogue operation."
"It's possible that there was a complete misunderstanding, a partial understanding or that what happened in Istanbul was somehow ordered by him," said Jon Alterman, a former State Department official and Mideast expert at the Center for Strategic and International Studies. "But it's very hard for me to imagine — given what I've heard about the crown prince and how his office works — that people were wildly freelancing."
To gain a fuller picture of what transpired, former intelligence officials say, the National Security Agency, which specializes in eavesdropping and hacking communications, would seek to obtain any evidence as part of the U.S. intelligence collection effort targeting this incident, including stealing audio and video surveillance maintained by private companies or the Turkish or Saudi governments.
Foreign consulates are often the targets of CIA recruiting, former officials say, meaning it is possible the CIA or an American ally such as Britain, Israel or Jordan has a paid informant inside the facility.
The mandate to the NSA would be "give me everything you got," said former Deputy CIA Director John McLaughlin, now an NBC News analyst, who briefed Republican and Democratic presidents. "They are constantly sweeping up stuff and most of it never sees the light of day. They would look back and determine what did we pick up in [in eavesdropping], what do we have in imagery collection that could be relevant."
The NSA would likely have the capability to piece together the movements of the Saudi team through cellphone location data, a former NSA official said.