WASHINGTON — Two U.S. fighter jets intercepted two Russian planes in Syria on Wednesday after the Russians crossed a "deconfliction line," and the U.S. fired chaff and warning flares in a confrontation that lasted 40 minutes, an American military spokesman said Thursday.
One of the Russian planes flew so close to a U.S. jet that the two aircraft nearly collided, said the spokesman.
Russian planes have been breaching U.S./coalition airspace up to eight times a day since early November, according to the spokesman for the Air Force Central Command, meaning that 10 percent of Russian flights are crossing the deconfliction line meant to separate U.S. and Russian aircraft.
"On Dec. 13, two Russian Su-25s flew into coordinated coalition airspace on the east side of the Euphrates River near Abu Kamal, Syria," the spokesman said, "and were promptly intercepted by two F-22A Raptors providing air cover for partner ground forces conducting operations to defeat ISIS."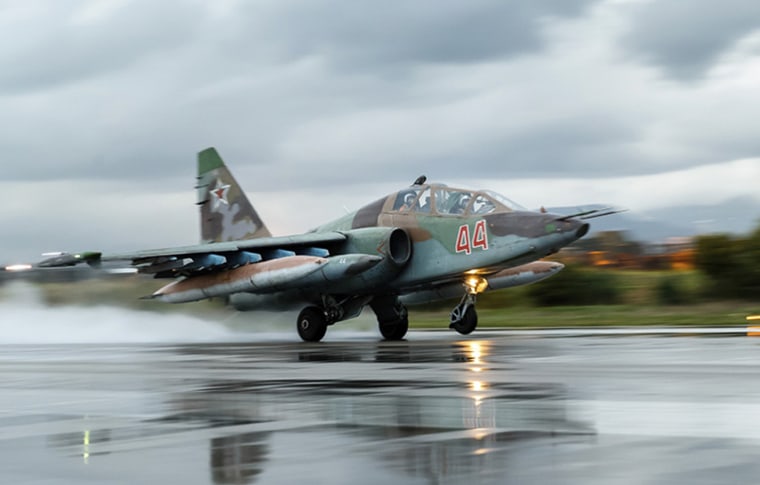 The U.S. jets used chaff, flares, and other maneuvers to "persuade the Su-25s to depart," said the spokesman, and also made repeated calls on N emergency channel to the Russian pilots. Coalition leaders also contacted Russians on the ground along the deconfliction line. After 40 minutes, the Russians flew back to the west side of the Euphrates.
The U.S. and Russia verbally agreed in early November that Russian aircraft would stay west of the Euphrates and American jets would stay east. According to the spokesman, since the Russians are now crossing the river six to eight times a day, "it's become increasingly tough for our pilots to discern whether Russian pilots' actions are deliberate or if these are just honest mistakes."
"The coalition's greatest concern," he said, "is that we could shoot down a Russian aircraft because its actions are seen as a threat to our air or ground forces. We train our aircrew to take specific actions and to make every attempt possible to de-escalate the situation wherever possible."