President Joe Biden is deploying about 3,000 troops to Afghanistan to help secure the withdrawal of most staff from the U.S. Embassy in Kabul amid growing alarm over a Taliban military offensive, officials said Thursday.
One Army and two Marine battalions will head to the Hamid Karzai airport in Kabul "within the next 24 to 48 hours," Pentagon press secretary John Kirby said.
Additional troops will be deployed to Kuwait in case more forces are needed, officials said.
"We are further reducing our civilian footprint in Kabul in light of the evolving security situation," State Department spokesman Ned Price told reporters, citing the Taliban's advances and rising violence.
The U.S. Embassy will remain open with "a core diplomatic presence" and continue to provide consular services and carry out diplomatic engagement with the Afghan government, he said.
"The embassy remains open," Price said.
He added: "This is not an abandonment. This is not an evacuation. This is not the wholesale withdrawal. What this is is a reduction in the size of our civilian footprint."
The move marked a change in course from a rapid U.S. troop withdrawal launched in April, only weeks before the last remaining American forces were due to depart under an Aug. 31 deadline set by Biden.
The White House has come under criticism from some lawmakers and former U.S. officials for how it has managed the troop pullout, with critics saying the administration should have had more detailed plans in place to sustain Afghan security forces and to evacuate Afghans who assisted the U.S. government.
"This is a very narrowly focused, temporary mission to facilitate the safe and orderly departure of additional civilian personnel from the State Department," Kirby said at the Pentagon.
The troops also will support the planned evacuation of former Afghan interpreters and others who worked for the U.S. government and now face the threat of retribution from the Taliban, Kirby said.
About 1,200 Afghans have been flown out so far, and additional flights "will begin landing daily" with the number of evacuees expected to increase in the coming days and weeks, said Price of the State Department.
Lawmakers and refugee advocates have called for a much larger evacuation for about 20,000 Afghans who applied for visas under a special program for those who assisted U.S. troops and diplomats.
The move to scale back the U.S. embassy staff comes after a warning to U.S. citizens to leave the country immediately and stunning battlefield advances by the Taliban.
Just in the past week, the Taliban have captured a string of provincial capitals and border crossings – including Herat, the third largest city in the country – in a major offensive that has taken U.S. officials by surprise. On Thursday, the Taliban was closing in on the key southern city of Kandahar.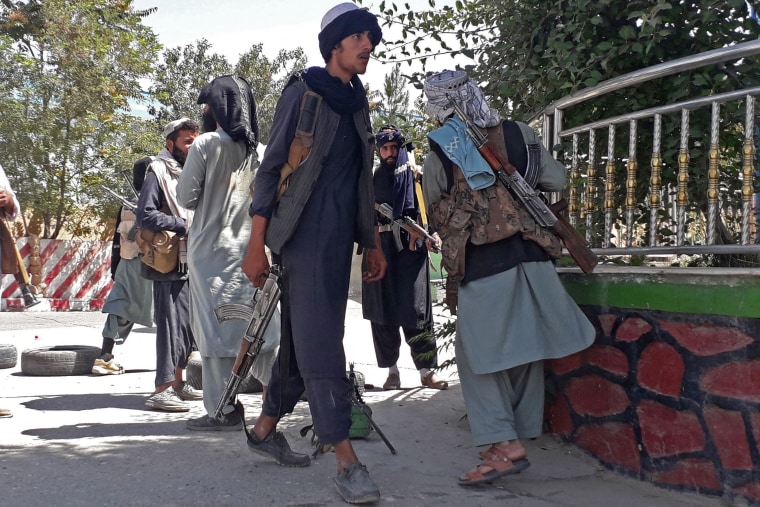 "All of the momentum is going one way right now," one U.S. defense official said.
Biden has vowed that there will be no chaotic scenes similar to the U.S. departure from Vietnam in 1975, when American diplomatic staff and Vietnamese were evacuated by helicopter from the American embassy in Saigon. He told CBS News in July that "there's going to be no circumstance where you're going to see people being lifted off the roof of an embassy of the United States from Afghanistan."
For the U.S. and other governments, maintaining an embassy in Kabul depends in part on whether the city's main airport is secure.
The heavily fortified American Embassy is located within a few miles from the airport. Turkey has said it is ready to secure the airport and has held discussions with the United States and other governments. But financial and logistical details have yet to be worked out.
Meanwhile, the top U.S. diplomat in Kabul warned in a cable to Washington that Afghan employees of the U.S. embassy under threat from the Taliban -- as well as other Afghans -- cannot get out of the country to apply for refugee status because the insurgents have seized border crossings and neighboring countries are closing their doors to Afghans.
Describing a dire situation unfolding in Afghanistan, Ross Wilson, the charge d'affaires and acting ambassador in Kabul, suggested that the U.S. government should take into account the plight of the Afghan employees and others with ties to the U.S. in evacuation planning, according to the cable obtained by NBC News.
"Any assumption that Afghan refugees can make their way to safety on foot does not reflect the new reality as Taliban forces exercise control of more than half of Afghanistan's international border crossing points, and Pakistan and Iran resist adding to the sizeable refugee populations already present in their countries," Wilson wrote.
"With security worsening by the day, leaving Afghanistan is proving impossible for most," he added.
The Taliban now controls eight of 12 major border crossing points, including all major border crossings to Iran, Turkmenistan, and Tajikistan, he said.
To leave by plane, Afghans need a visa but "the international community has almost completely stopped issuing Afghans visas," Wilson wrote.
Wilson wrote that until an effort is undertaken to assist these refugees – including embassy employees – to leave Afghanistan, they will be unable to take advantage of visa programs created to help them.