Acting Navy Secretary Thomas Modly on Monday delivered a scathing attack against the captain who sounded the alarm over the spread of the coronavirus on his ship.
Speaking in Guam to the crew members of the aircraft carrier USS Theodore Roosevelt, Modly said Capt. Brett Crozier was guilty of a "betrayal of trust" in choosing to express his concerns to a broad audience in an email that ultimately was leaked to the media, according to a recording of the speech obtained by NBC News.
"If he didn't think, in my opinion, that this information wasn't going to get out into the public, in this day and information age that we live in, then he was either A, too naive or too stupid to be a commanding officer of a ship like this," Modly said. "The alternative is that he did this on purpose."
Crozier was relieved of his command last Thursday. In a news conference, Modly defended the decision as his own and insisted it was made because Crozier went outside the chain of command.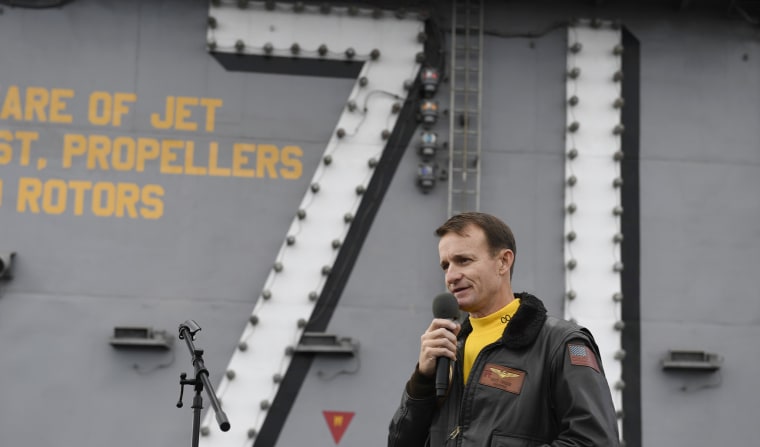 But Modly used far more biting language in his speech to the Theodore Roosevelt crew members Monday.
"It was betrayal," Modly said, according to the recording, which was first obtained by the online publication Task & Purpose. "And I can tell you one other thing: Because he did that, he put it in the public's forum and it's now become a big controversy in Washington, D.C., and across the country, about a martyr CO who wasn't getting the help he needed and therefore had to go through the chain of command, a chain of command which includes the media."
Modly, in a statement released after a purported transcript of the remarks was reported by several news outlets, said he stood by his words.
"The spoken words were from the heart, and meant for them," Modly said. "I stand by every word I said, even, regrettably any profanity that may have been used for emphasis. Anyone who has served on a Navy ship would understand. I ask, but don't expect, that people read them in their entirety."
But several hours later, Modly reversed course and apologized for his remarks.
"Let me be clear, I do not think Captain Brett Crozier is naïve nor stupid," he said in a statement. "I think, and always believed him to be the opposite."
Modly went on to describe Crozier as "smart and passionate."
"I believe, precisely because he is not naive and stupid, that he sent his alarming email with the intention of getting it into the public domain in an effort to draw public attention to the situation on his ship," Modly said. "I apologize for any confusion this choice of words may have caused. I also want to apologize directly to Captain Crozier, his family, and the entire crew of the Theodore Roosevelt for any pain my remarks may have caused."
Modly's new statement came after President Donald Trump addressed the controversy at a news conference, saying he planned to intervene.
"The letter shouldn't have been sent," Trump said, referring to Crozier. "But all of that said, his career prior to that was very good, so I'm going to get involved and see exactly what's going on there because I don't want to destroy somebody for having a bad day."
Modly had delivered the sharply-worded speech to the Theodore Roosevelt crew members two days after a video appeared on social media showing dozens of them cheering for Crozier in a rousing farewell as he walked off the ship in Guam.
Modly said the governor of the U.S. territory told him that the release of Crozier's letter caused great alarm among local residents who feared an influx of sailors infected with the virus.
"So think about that when you cheer the man off the ship who exposed you to that," Modly said. "I understand you love the guy. It's good that you love him. But you're not required to love him."
In justifying his decision to remove Crozier, Modly said the captain lost sight of the ship's mission and "compromised critical information about your status intentionally to draw greater attention to your situation."
"This put you at great risk," Modly said.
Nearly 4,900 crew members were aboard the vessel. According to the latest figures, tests have been performed on 61 percent of the crew.
Some 173 have tested positive for the virus. More than 800 others are in isolation at a base on Guam, many of them still awaiting test results. About 1,150 crew members who tested negative were moved off the ship and placed in hotels. Nearly 2,900 sailors remain on board.