NOGALES, Ariz. — Wearing uniforms brandished with badges from deployments in Syria, Afghanistan and Iraq, 10 American soldiers dangled their legs off a concrete ledge, spitting out sunflower shells and tobacco juice, as they waited the better part of Thursday morning for their forklift to arrive.
When it did, the soldiers, all trained as engineers, would begin constructing their 30th barricade, by stacking one shipping container on top of another and coiling concertina wire around its top. Most of the barricades they have made sit idly, waiting for a scenario where the Nogales border is so overrun with immigrants that U.S. Customs and Border Protection orders the Army to seal the border and stop all traffic.
It's the scenario President Donald Trump warned about when he sent 5,200 troops to the southern border to stop the approaching Honduran migrant caravan.
The only problem: The migrant caravan isn't headed anywhere near Arizona.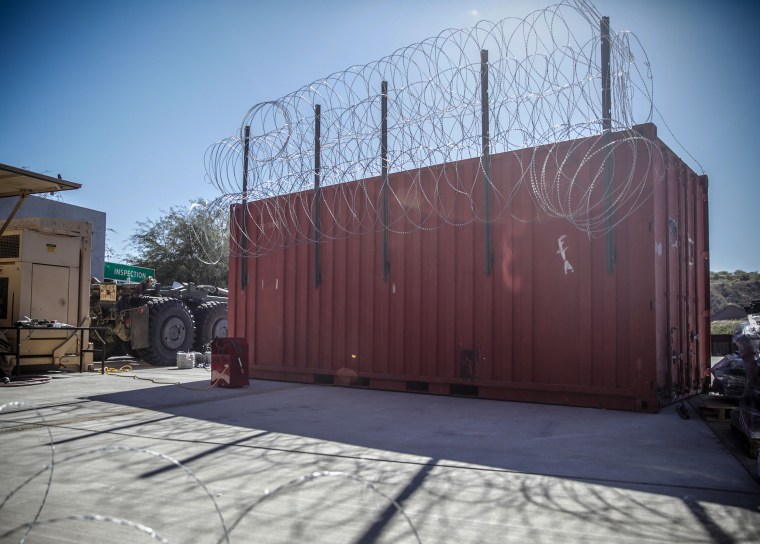 According to internal DHS reports and officials tracking the caravan, the first wave of approximately 3,500 migrants is expected to arrive in Tijuana in the coming days and attempt to cross into California. Even there, they won't swarm the border crossing, but are instead expected to wait in a bottleneck for days before they can enter San Ysidro, California, to make an asylum claim.
Border crossings by undocumented immigrants have been on the rise in recent months, but no section of the border has been threatened by anything resembling an invasion. That is because immigrants arriving at designated border crossings, like the ones now ready to be barricaded, typically do so to make an asylum claim.
On Thursday morning, the soldiers were forced to wait for the forklift because it was being used by their fellow engineers who are just down the road, hanging concertina wire over a 25-foot fence along the border. There they have had to turn the forklift into a makeshift cherry picker by building a basket big enough to hold two soldiers out of two-by-fours fixated atop its two prongs.
Col. Larry Dewey, the commander overseeing the Army's border mission in Arizona, said the engineers are still in the process of renting or contracting the equipment they need, including cherry pickers.
"Just one is not going to be enough for a border that stretches several miles. We are renting or contracting for several more," Dewey said. "But I think that bodes well for the engineers, how adaptive they are and able to improvise."
In another sign of the rushed deployment, the soldiers had to spend their first few nights at the border in Nogales sleeping inside a warehouse used to store cold food during cargo inspections, but with the freon turned off, until CBP could provide them with sleeping quarters inside their offices at the border crossing.
The rush to deploy soldiers to the border, 1,500 of whom are in Arizona, has been criticized even by anonymous military officials, who have described it as a political ploy that drew on voters' fears of illegal immigration ahead of the midterms and resulted in an ill-defined mission without proper planning.
Here in Nogales, commanders are reluctant to criticize the mission, but offer few answers about what doomsday scenario they seem to be preparing for.
Lt. Col. Chad Caldwell, battalion commander for the 62nd Engineer Battalion, who oversees the engineers hanging wire and building barricades in Arizona, told NBC News his team's job is solely to carry out the requests of Customs and Border Protection, not to make their own decisions about how to protect the border.
"Everything we're putting in is at their request," Caldwell said. "There are some temporary measures in case there are some changes in what the caravan plans are. I think there's a large portion of [the caravan] who have not necessarily decided where they are going to go, so we are still here to support as long as we need to."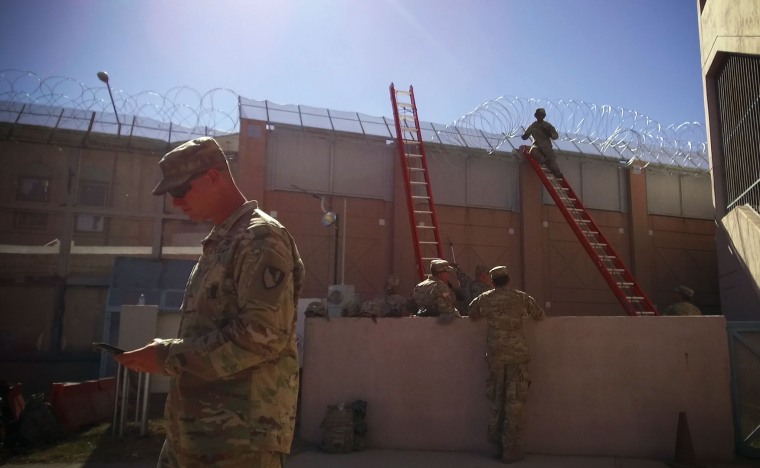 The engineers waiting for their forklift to arrive to build more barricades call this their "rehearsal." By Thursday morning, they had already built 29 barricades by stacking two shipping containers, welding them together, and topping them with more wire.
Two of the barricades have been moved to block two previously closed cargo lanes, one at the Mariposa border crossing and one at the Deconcini border crossing. The rest sit in what the engineers call their staging area.
Though the 20-foot high structures they build now are sitting in storage, they are ready to act in a moment's notice to seal the border, if U.S. Customs and Border Protection asks them to do so.
Defense Secretary James Mattis and Department of Homeland Security Secretary Kirstjen Nielsen visited troops deployed to the Texas-Mexico border on Wednesday. Mattis, like Caldwell, reinforced the same message: The troops are here to serve DHS, no matter how long it takes or what they ask.
With Thanksgiving around the corner, the commanders have gotten used to being asked by media whether their troops will be eating MRE's over the holiday.
"We are working really hard to make sure everyone gets a Thanksgiving meal on Thanksgiving Day," Caldwell said. "Of course we are all disappointed to not spend Thanksgiving with our families, that's just a natural human reaction."