MAINZ, Germany — American battle tanks will be deployed to Bulgaria this weekend and conduct live-fire exercises across the Black Sea from Russia for the first time.
As part of a maneuver dubbed "Power Shock," the pair of M1A2 Abrams battle tanks are scheduled to be flown from Ramstein Air Base in Germany to the Novo Selo training area in Bulgaria. They'll be joined by 15 U.S. Army soldiers from the "Speed and Power" battalion out of Fort Stewart, Georgia.
The training exercise is part of a series of NATO war games taking place at Europe's eastern borders in the wake of Russia's annexation of Ukraine's Crimea region. Earlier this week, Vladimir Putin announced that Russia would add more than 40 new intercontinental ballistic missiles to its nuclear arsenal this year.
Bulgaria was a close ally of Moscow during the Soviet era but joined NATO in 2004.
Power Shock is designed "to test the ability to rapidly deploy our forces," Capt. Randy Ready from the 3rd Infantry Division told NBC News.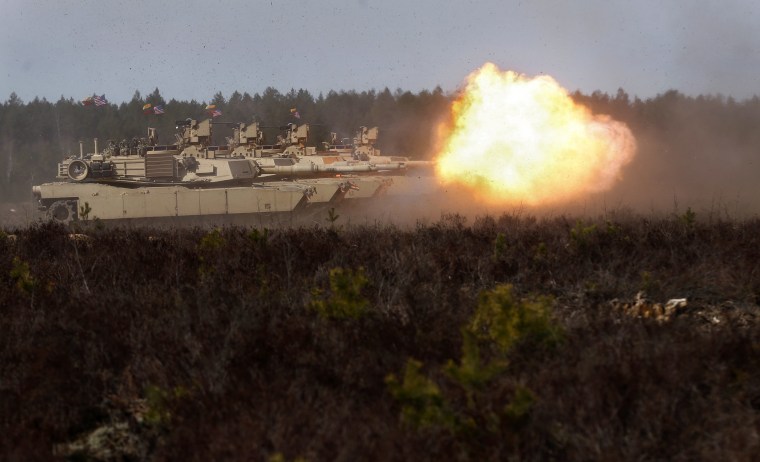 The U.S. troops from Georgia participated in integrated training with Bulgarian soldiers last month in Germany for the first time but the battle tanks will now conduct gunnery training and simulate the engagement with hostile targets on eastern European soil.
"Our soldiers understand that they are doing something unique and the importance of magnitude is not lost on them," said Maj. Matthew Dawson from the 3rd Combined Armored Battalion — referred to as 3-69 armor.
It also marks the first time M1A2 tanks from the Fort Stewart-based unit have been moved by air inside Europe, officials say.
Meanwhile, the first exercise of NATO's new spearhead force — the so-called Very High Readiness Joint Task Force (VJTF) — has been taking place in Poland this week, where the country's defense minister warned that the "time of decades of peace after the Cold War is over."
Those war games included F16-fighter jets, Polish tanks and more than 2,000 troops from nine nations.