A Russian fighter jet twice came within a short distance from a U.S. Navy surveillance aircraft over the Black Sea this week, U.S. military officials said.
On Tuesday, a Russian Su-27 jet approached the U.S. Navy P-8A Poseidon while it was "conducting routine operations in international airspace," according to Capt. Pamela Kunze, a spokeswoman for U.S. Naval Forces Europe.
Kunze added that the interaction "was considered safe and professional" by the P-8A's mission commander.
In a statement issued Friday, Russia's Ministry of Defense said a Su-30 jet had "executed a 'greeting' maneuver" toward the American pilots.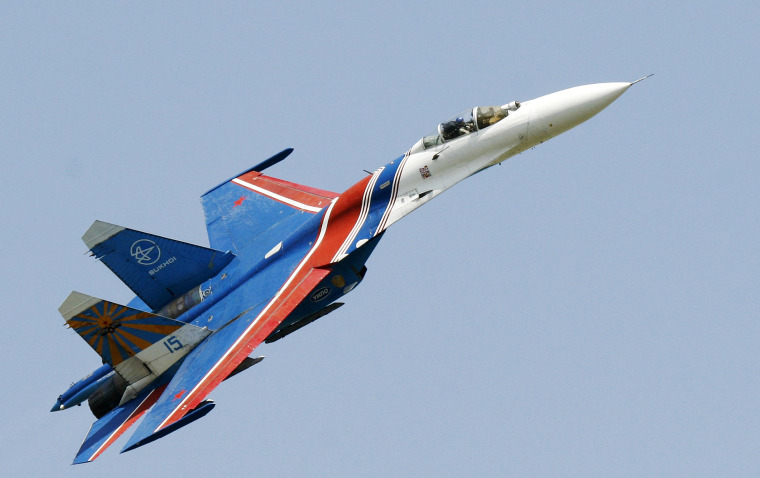 It added that the fighter had been scrambled after "an air target approaching the Russian state border had been located ... above Black Sea neutral waters."
The statement said that the U.S. reconnaissance plane subsequently "changed its course to move away from the Russian border."
Then on Friday morning, a P-8 Poseidon had another close encounter with an SU-27 over the Black Sea, about 120 miles southeast of Crimea, said Pentagon Spokesperson Cmdr. Sarah Higgins.
Despite the fact the two aircraft came within approximately 45 feet of one another, Higgins said the incident was considered "safe and professional" — just like Tuesday's incident.
Related: Trump's Rhetoric Has This Town 'Ready for War'
Kunze highlighted that U.S. Navy aircraft and ships routinely interact with Russian vessels and aircraft in international territory.
However, 20 feet is extremely close and other encounters at much greater distances have been deemed unsafe and unprofessional by the U.S. military in the past.
Kunze said that distance is "only one of many variables considered when defining what is safe and professional."
Speed, altitude, visibility and other factors are also taken into account.