On Sept. 16, 2007, private security guards working for the firm Blackwater Worldwide were escorting diplomats with the U.S. State Department through Baghdad, Iraq, when they got into a firefight that left 14 Iraqis dead and 18 others injured.
The circumstances surrounding that incident have been investigated and disputed for nearly seven years, and they will now finally get their day in court — barring any further delays.
Sign up for breaking news alerts from NBC News
Jury selection will begin Wednesday in the trial of four former Blackwater guards, who are charged with crimes ranging from murder to manslaughter to weapons violations.
The key question is whether the shootings were an act of defense or an unprovoked attack.
"The core disputed issue in this prosecution is self-defense — whether the defendants believed that deadly force was necessary to defend themselves and their teammates from an insurgent attack, and whether that belief was objectively reasonable," lawyers for the guards said in court filings.
They argued that it's not fair to do "hindsight analysis in a courtroom seven years and thousands of miles removed from the event."
Why Is the Blackwater Trial Important?
This episode damaged America's reputation in the region and has been repeatedly held up by critics of the George W. Bush administration as an example of why it can be problematic to task private companies with military assignments — although the idea is nothing new.
"There have been mercenaries involved in wars for thousands of years."
"This is really a post-Cold War phenomenon. With the draw-down of the U.S. military, that's when we really started to privatize the military in earnest," said Joe Young, a professor of justice, law and criminology at American University in Washington, D.C., and an expert on international extremism who has worked with the Defense Department.
"You have all these American, South African, British and Australian special forces who were looking for employment — you start to see groups like DynCorp (a similar firm), Blackwater and other private military who are going all over the world," said Young.
He noted that beyond the murky legal status of private military operations, they can actually lower the morale of enlisted soldiers, who are often performing the same services for far less pay than the contractors.
And Young added, "One interesting thing — I've been to several Blackwater services demonstrations — one of the things they'll remind you of: There have been mercenaries involved in wars for thousands of years."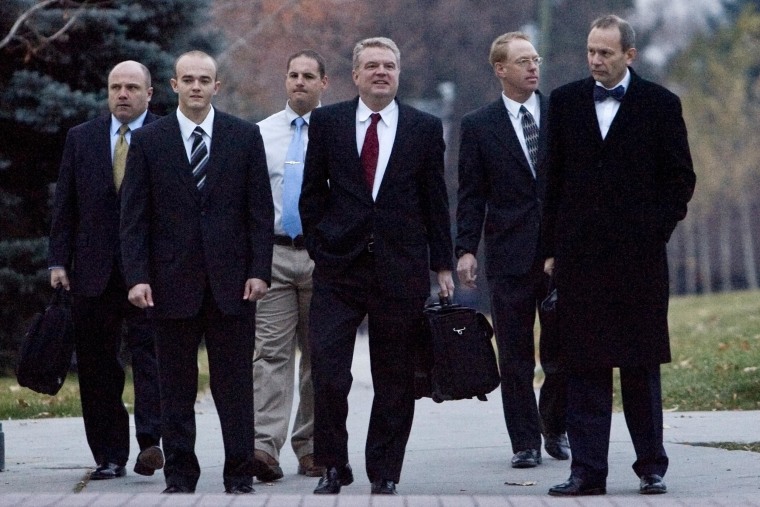 What Is Blackwater?
Blackwater was founded by ex-Navy SEAL Erik Prince in 1997 as a shooting range and military training ground in Moyock, North Carolina. It was funded with millions that Prince inherited from the sale of his late father's auto-parts business.
The 6,000-acre facility quickly grew into a place for current and former military, FBI, CIA and local law enforcement operatives looking to hone their skills and socialize.
Then 9/11 happened. The CIA began hiring more private firms to provide protection in Afghanistan and then Iraq, and Blackwater's real money-making operation took off. Multimillion-dollar contracts started rolling in from the government. That included a $27.7 million contract in late 2003 to provide ongoing security for U.S. officials in Iraq looking for "weapons of mass destruction."
After years of controversy, Prince sold the company in 2010 and moved to Abu Dhabi.
Regarding the 2007 shooting, Prince has previously said, "I believe we acted appropriately at all times."
The firm eventually changed its name to Xe in 2009 and then the facilities were sold to a private group of investors which formed a brand new company called "Academi" in 2010.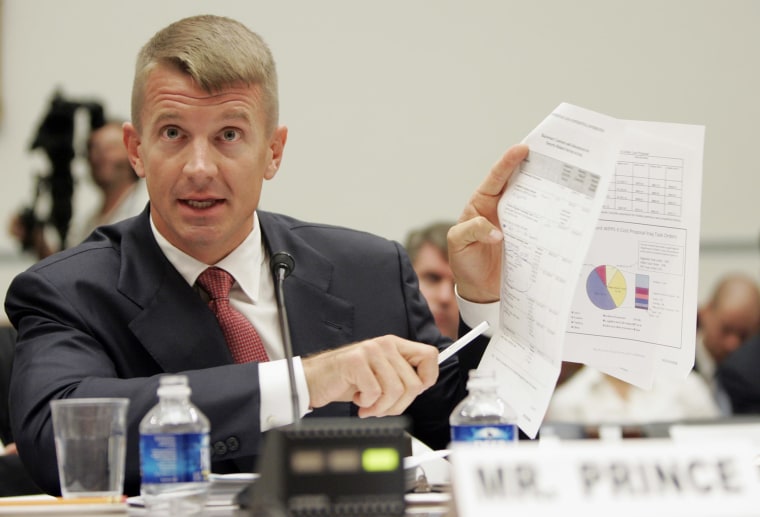 What Happened on That Fateful Day?
On Sept. 16, 2007, a Blackwater security team — code named Raven 23 — was assigned to clear the way for a convoy of diplomats traveling through western Baghdad to a meeting with officials from the U.S. Agency for International Development.
When a car bomb exploded in downtown Baghdad along the route, the 19-member Blackwater team decided to set up a blockade at nearby Nisoor Square.
Government prosecutors say six members of the team fired shots that left 14 Iraqi civilians dead and 18 more injured.
Who Is Actually on Trial in the Killings?
One of the squad members, Nicholas Slatten, is charged with first-degree murder.
Slatten "initiated the entire incident" by firing the first shots that day "without justification," the prosecutors said, firing his sniper rifle from a concealed position inside the convoy's command vehicle.
Three other Blackwater guards — Paul Slough, Evan Liberty and Dustin Heard — are charged with voluntary manslaughter, attempted manslaughter and gun charges.
Slatten could be sentenced to life in prison if he is convicted, while the other guards face a mandatory minimum of 30 years in prison if convicted of the gun charge and at least one other charge.
In September, prosecutors agreed to dismiss their case against a fifth guard, Donald Ball, a retired Marine from West Valley City, Utah.
A sixth guard, Jeremy Ridgeway of California, who pleaded guilty to voluntary manslaughter and attempted manslaughter, is expected to testify for the prosecution and is awaiting sentencing.
Why Are They Being Tried in the U.S., not Iraq?
In June 2004, L. Paul Bremer — who had been set up by the Bush administration as the governor of Iraq after the US-led occupation — issued Order 17. That rule established, among other things, that "contractors shall not be subject to Iraqi laws or regulations in matters relating to the terms and conditions of their contracts."
Why Did the Trial Take So Long to Happen?
After it became clear that the massacre at Nisoor Square wasn't as clear-cut as good guys-vs.-bad guys, many Iraqi and even U.S. officials condemned the event, and the FBI was almost immediately tasked with investigating the incident that October.
The probe plugged away, including interviews with dozens of foreign nationals and Americans, but In 2009, U.S. District Judge Ricardo Urbina dismissed the case. He said government lawyers ignored the advice of senior Justice Department officials by building the criminal case on sworn statements of the guards given under a grant of immunity — meaning the guards' own statements could not be used against them.
Then, in 2011, a three-judge panel of the U.S. Court of Appeals for the District of Columbia Circuit revived the prosecution, ruling that Urbina had wrongly interpreted the law and that the case could proceed.