CAMP HUMPHREYS, South Korea — The Metallica hit "Enter Sandman" blasts at a tailgate party before a championship high school football game.
Folks sit in lawn chairs next to cars, coolers of beer and barbecue grills. Most are wearing the home team's colors — black and gold. Fans drift inside the stadium as it gets dark, and from kickoff they're banging on cowbells and chiding the referees.
It could be anywhere in the U.S., but this slice of Americana is well within the range of Kim Jong Un's missiles — just 80 miles away from South Korea's border with its totalitarian neighbor.
"This is Saturday night under the lights whether you're in Texas, Oklahoma, Kansas," Col. Fred Snyder says. "We're just in a different country, that's all.
U.S. Army Garrison Humphreys, near the city of Pyeongtaek, about 40 miles south of Seoul, is currently home to 26,000 service members, their families and civilians. President Donald Trump visited the camp on Nov. 7 as part of his 11-day tour of Asia.
"It's an honor to be with you," Trump told the troops. He later said there had been progress on resolving the North Korea nuclear crisis and called on Pyongyang to "make a deal."
Kim has made a series of threats vowing to hit U.S. targets, including a military base on the U.S. territory of Guam.
Estimated to have cost around $11 billion, the recent expansion of Camp Humphreys allows the bulk of U.S. forces in South Korea to live without worrying about Pyongyang's artillery. But missiles are another matter.
The garrison also serves as a reminder that war between the U.S. and North Korea has yet to end. A truce led to a cease-fire in 1953, but no peace treaty was signed.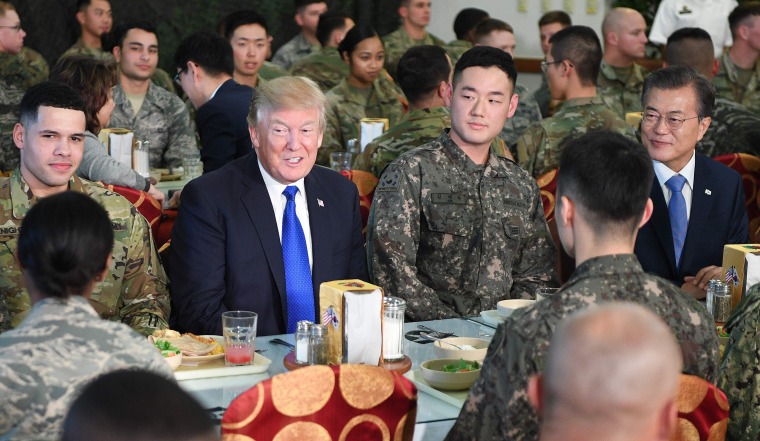 But the tailgate, the football and the chili-topped concessions are all vivid examples of how an American community is developing in South Korea.
"It's a great, great life here," Sgt. 1st Class Shane Schroeder told NBC News as he watched the Blackhawks of Humphreys High School play the Samurai of M.C. Perry High School of Marine Corps Air Station Iwakuni, Japan. The Hawks won the Far East District title in a 39-0 blowout.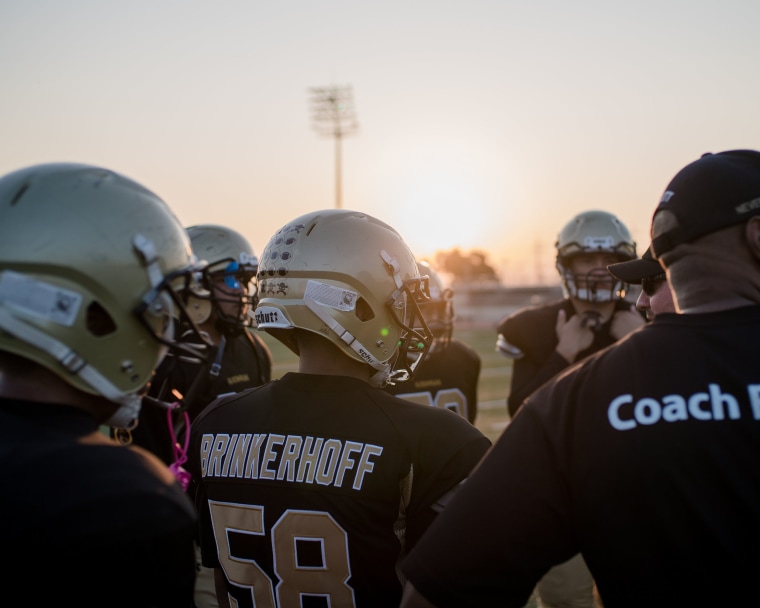 Camp Humphreys is one of the largest construction projects in the history of the U.S. military. Already the country's largest overseas base by area (at more then 3,400 acres), it will be the largest by population when it is finished in 2020, when it is expected to house up to 46,000 people.
Modern high-rise apartment blocks with brown angular roofs are the new barracks here, while the new Post Exchange includes a Dunkin' Donuts, a Popeyes, a Starbucks and a retail store similar to a Target, but with more high-end apparel, including designer perfumes and clothing brands.
Up the road, there's a veterinary clinic and a shoppette — similar to a 7-11 — with a display of Pabst Blue Ribbon 12-packs on sale inside the door.
Soldiers and civilians are moving in from several U.S. bases in Korea, including Yongsan Garrison in Seoul.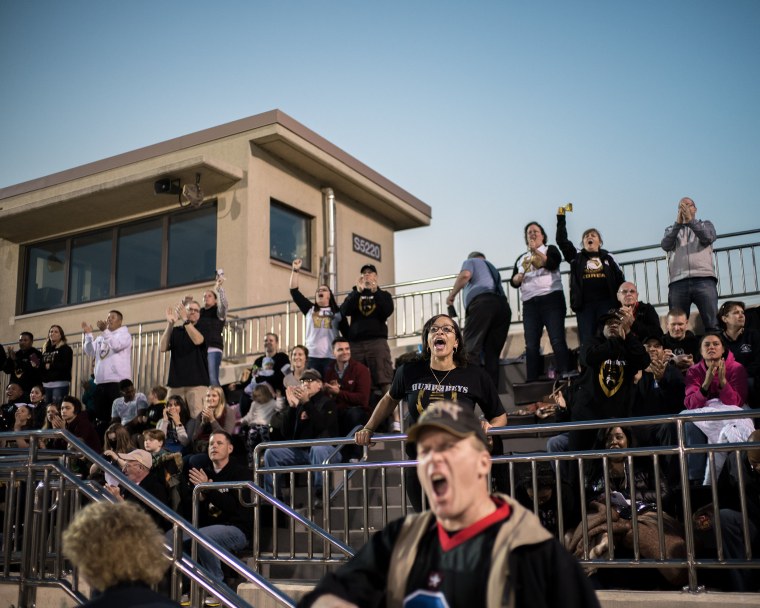 South Korea and the U.S. agreed more than a decade ago to consolidate the bulk of U.S. military strength in the country at Camp Humphreys.
Career soldiers like Snyder, who spent four months at Yongsan, prefer the peace on rural Humphreys.
"I'm a farm boy, so I love it a whole lot more down here," he says.
But while the move will allow for the return of land to Koreans and the construction of an elaborate park in the heart of Seoul, it's displaced hundreds of villagers living around Humphreys. Many protested fiercely for years against expanding the base before they were forced off the land.
Related: War With Kim Jong Un 'Must Not Happen,' South Korea Says
Tensions across the region have been building this year after Pyongyang tested more missiles and nuclear weapons and Trump threatened to use force against North Korea. Trump was the first U.S. president to visit the base.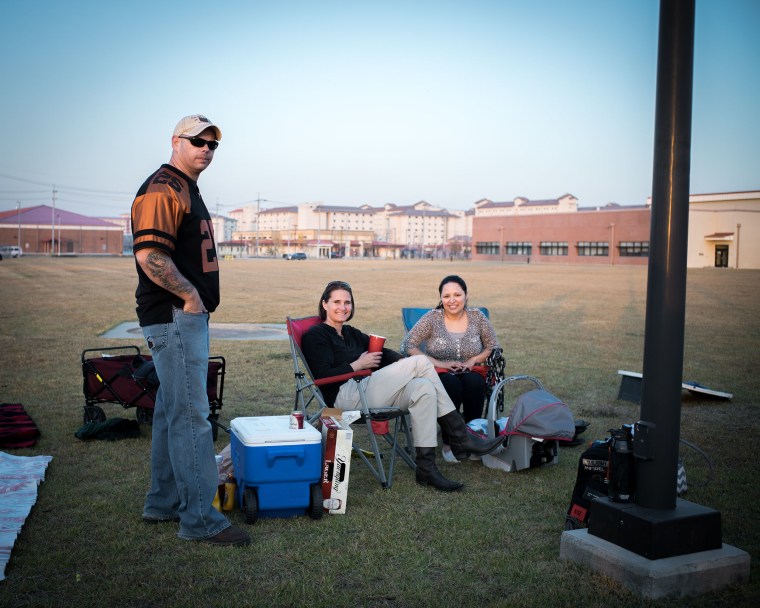 Soldiers often speak of readiness here when talking about the threat from North Korea. In an empty lot next to some new high-rise barracks, Patriot missile defense batteries are parked with their launchers aimed to the sky.
"You can be paralyzed by something, or you can get ready to react to it," says Lt. Col. Fred Dixon at the tailgate. "You do what you have to do. We're in the Army."
The proximity to Kim and his 1.1 million-strong military doesn't seem to concern most people on game night.
"Quite honestly, there are some parts of the United States that I wouldn't want to be in compared to being here," Snyder said. "So, I mean, we're just as safe if not safer here than parts of our own country, as sad as that is to say sometimes."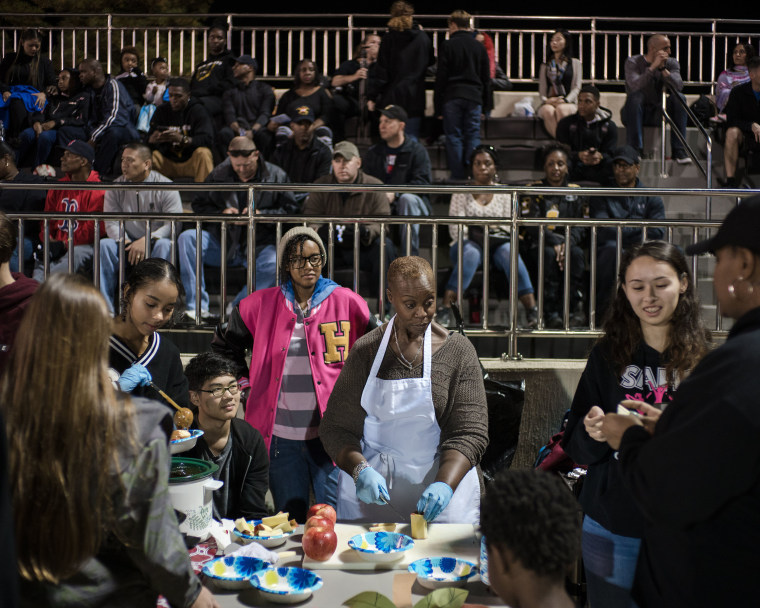 In front of the home bleachers, Dr. Joi Mitchell, the senior class advisor, ladles warm caramel into a bowl of freshly cut apple slices.
She calls it a "caramel apple sundae," and you can top it with crushed toppings such as Oreos or graham crackers.
A nearby group of teens from military families, including A.J. Johnson, a wide receiver at Seoul American High School, seem most worried about the limited exposure players in the Asia Pacific have to colleges and the pros back home.
"A young boy's trying to go the NFL," Johnson said, "but he can't really get scouted out here."
CORRECTION (Nov. 6, 6:55 a.m. ET): An earlier version of this article misspelled the name of a U.S. soldier. He is Lt. Col. Fred Dixon, not Lt. Col. Fred Dickson.