The Citadel is considering a request from an admitted student who is Muslim to wear a hijab — a notable exception to its uniform requirements.
If the request is granted, it would seem to be the first time the public military college in Charleston, South Carolina, has broken its tradition of mandating cadets wear uniforms at practically all times.
The 174-year-old school hasn't ever allowed a uniform deviation "to our knowledge," spokeswoman Kim Keelor told NBC News. "It's an old school, though."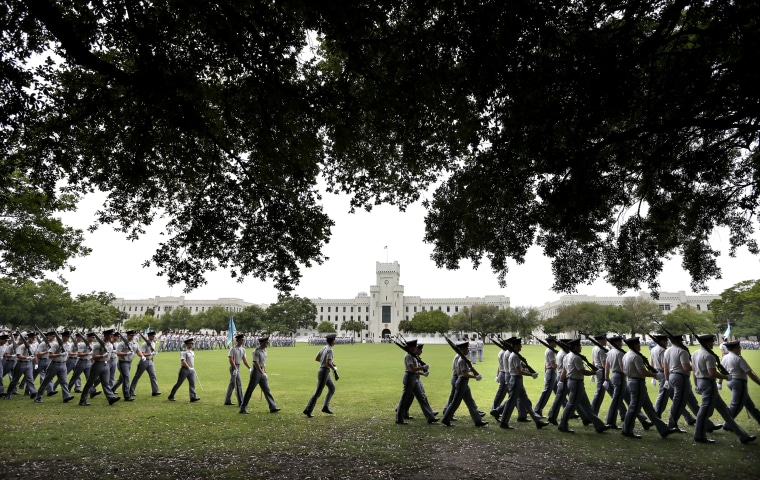 Keelor would not say what factors are being weighed, and she would not provide any information on the student. A decision is expected in the next few weeks, she added.
The school doesn't currently have any students who have a special religious accommodation for uniforms, according to Col. Brett Ashworth, vice president of communications and marketing.
In its religious accommodation policy, the Citadel says it "places a high value on the rights of cadets to observe tenets of their respective religious faiths."
"The Citadel will approve requests for accommodation of religious practices unless accommodation will have an adverse impact on a competing institutional interest including, but not limited to, cohesion, morale, good order and discipline, cadet welfare, safety and/or health," the policy states.
The Citadel's stringent policies call for uniforms to be worn at all times, with two exceptions: Upper-class cadets can wear civilian clothes during the academic year when they're departing on or returning from furlough, and all cadets can change out of their uniforms when they're swimming at area beaches.
But even that is tightly regulated: "Cadets will change into appropriate swimwear upon arrival and change back into uniform when departing," according to the rules.
The consideration to allow a headscarf sparked controversy on social media, with some calling it "disgraceful" and an "assault on American values and institutions."
But others supported it.
"Who cares if she wants to wear her hijab?" wrote one commenter on a Facebook post written by Nick Pinelli, a Citadel cadet, who said he was called a "bigot" for objecting to the Muslim student's request. His post has been shared nearly 800 times.
While classified as a "military college," the Citadel does not operate under the control or authority of the Pentagon or U.S. military. U.S. officials told NBC News they had no comment regarding the Citadel's decisions.
The Citadel admitted its first woman student in 1995.