Fraidoon "Fred" Akhtari said his life began the day he first set foot on American soil at Dulles International Airport, just outside Washington, D.C.
Akhtari served the U.S. military for 13 years as an interpreter in Afghanistan, knowing he would become a target of the Taliban for enlisting with the Americans, but hoping peace would ultimately flourish because of their efforts.
"No one compared to [Akhtari]. He was phenomenal," Pennsylvania National Guard Sgt. David Shiner told NBC News. "The things he would do and say — he was probably the best person you could be in a combat zone with."
Shiner is one of at least 25 servicemen who says his life was saved by Akhtari's work during a stint in Afghanistan's Laghman Province in 2008.
After six years and five applications, Akhtari was finally approved for a special immigration visa. In July, he finally made the journey from his native Afghanistan to Washington, D.C.
"There was fighting in my country every day. I was hearing everyone is dead. But when I get off plane on 15 of July — that was my greatest time," Akhtari said. "That was my first day I was living in a peaceful situation."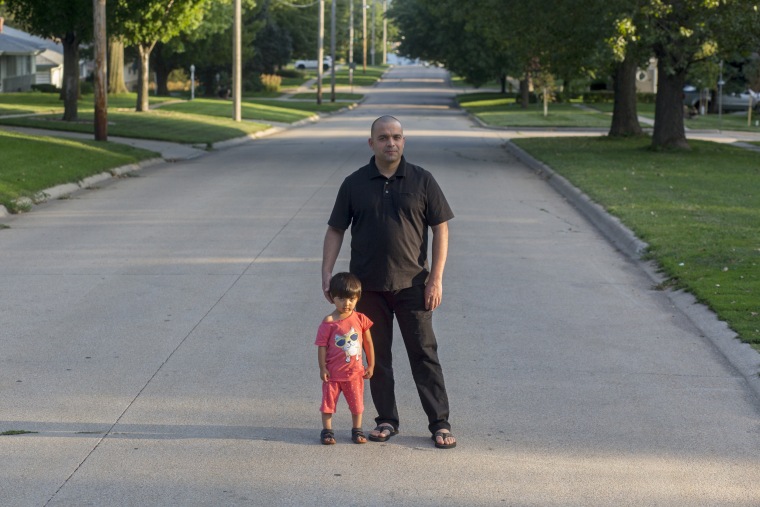 Akhtari is just one of thousands of interpreters who apply annually to come to the United States after serving with the military.
He's one of the lucky ones.
The Afghan translators who take on the role with the U.S. military often become targets of the Taliban, according to former U.S. Army Officer Matt Zeller. That makes extended wait times on visas potentially deadly.
Zeller is the founder of No One Left Behind, a veteran-run program that seeks to bring the translators to the United States. The organization helped Akhtari and his family move to the United States.
Related: U.S. Has Thousands More Troops in Afghanistan Than the Pentagon Admits
For every translator they successfully assist, there are thousands more waiting for a chance at life in America, Zeller said. And as President Donald Trump removes any timetable from the war in Afghanistan, translators remain critical in helping American soldiers there.
"[My translator] believed we would honor our commitment. I fear that if that goodwill gets eroded, the people we can't help out are going to be killed by the very enemies we asked them to fight," he said.
"An essential and often overlooked part of the job"
In the last 70 years of American wars, the U.S. military has relied on interpreters — sometimes called "terps" — to be successful.
"We tried [not using translators] in the Korean war. We sent in advisers who didn't speak the language, and a number of them got left on battle field," said Rebecca Zimmerman, a policy researcher for the think tank RAND Corporation. "We've tried it that way, and it doesn't work. For the types of missions we're doing, translators are an essential and often overlooked part of the job."
"I should be dead and buried in a military cemetery. I'm only sitting here because of a man named Janis."
Zimmerman said there might be a number of American translators who could work in Afghanistan, but there will never be enough — which is why local translators are key to running missions.
"The mission is not possible if we don't have translators," Zimmerman said.
And Akhtari has demonstrated just how invaluable a translator's skills are in the field.
When a 2008 attack came in the night at Outpost Najil in Laghman Province, Afghanistan, platoon leaders were prepared — thanks to a tip from Akhtari.
While listening to a two-way radio, Akhtari overheard insurgents planning an attack on the 25 members of the National Guard. The assault came less than a week later. And because of his diligence, the Americans were ready.
"I was thinking that they came all the way from U.S to bring peace to my country and that was my responsibility to keep them [safe] and let them know what is going to happen," Akhtari wrote in an email to NBC News.
As the fight unfolded around the outpost, Akhtari continued to get information about the direction of the attack and disseminate it to the soldiers — including Shiner, who said he survived because of Akhtari's diligence.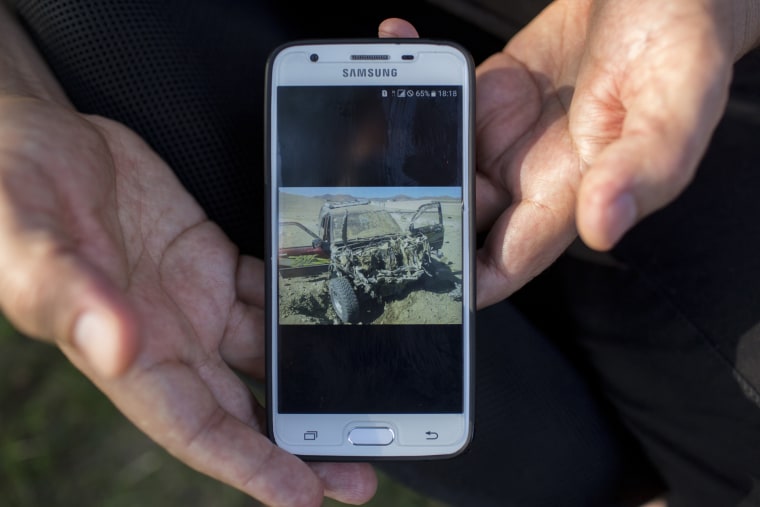 Zeller also said he wouldn't be alive today if it wasn't for his translator Janis Shinwari.
The former Army officer was ambushed by two members of the Taliban while in the middle of a raging firefight early into a 2008 tour of Afghanistan. He never saw them coming.
"I should be dead and buried in a military cemetery," Zeller said. "I'm only sitting here because of a man named Janis."
More than ever — with the U.S. changing its strategy in Afghanistan to be conditions-based rather than attached to a time frame — America needs interpreters.
Related: Afghan Taliban 'Happy To Continue' War After Trump Vows Victory
Zimmerman said history has not forgotten America abandoning Vietnamese allies during the Vietnam War. She said she believes veterans have learned that lesson well, which is why many are so passionate about bringing interpreters home.
"The [Vietnamese] people who thought they would be saved weren't. If we repeat that again, there will be national shame," Zimmerman said. "The soldiers who are taking on this effort have a keen sense of how it isn't just the right thing to do — but it's also something where our national honor really depends on this and our own morality depends on saving all the people who risk their lives for us."
"Decision to let them in must be unanimous"
Zeller, the founder of No One Left Behind, has worked tirelessly to ensure America keeps its promises to the Afghans who have served the United States.
Since the special immigration visas (SIVs) were first instated for Afghans, 40,000 translators and their families have benefited from the program, a State Department official wrote in an email to NBC News. In fiscal year 2016, more than 10,000 people — 2,639 interpreters and their family members — were approved for SIVs.
Related: The War in Afghanistan: By The Numbers
No One Left Behind has been responsible for petitioning and financing SIVs for approximately 5,000 interpreters, Zeller said.
He estimates the SIV program is experiencing a visa backlog of close to 50,000. The State Department estimates there are 12,000 Afghan principal applicants currently at some phase of the SIV process.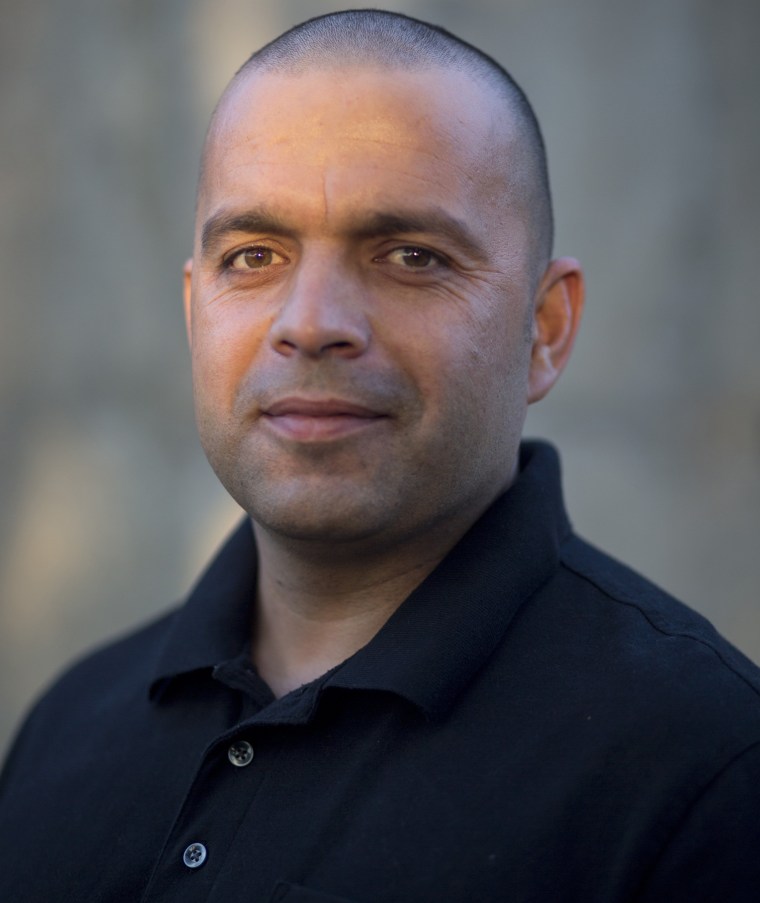 He said a large part of the holdup is due to the extreme vetting process the interpreters are subjected to, and the scarce number of spots the program allots each year.
"All 16 U.S. intelligence agencies have to individually investigate every single applicant on the application for a visa," Zeller said. "The decision to let them in must be unanimous."
He said if an applicant isn't cleared by one agency, the application is not only tossed in the trash, but the applicant is permanently barred from entering the United States and placed on a no-fly list.
"This is not what al Qaeda and ISIS are doing to get into the country," Zeller said.
"This is not what al Qaeda and ISIS are doing to get into the country."
Congress approved the annual authorization of 2,500 SIVs in May 2017, according to the State Department. Zeller was unsuccessful in petitioning Congress to expand the annual allotment to 4,000.
"The Department of State has the highest respect for the men and women who take enormous risks to support our military and civilian personnel in Afghanistan. We take these threats very seriously and we are committed to providing efficient and secure SIV processing while maintaining national security as our highest priority," a State Department official wrote in an email to NBC News. "Everyone involved in this process, whether here in Washington or at our embassies abroad, is fully aware of how much we owe to our Afghan and Iraqi colleagues and the risks that they face. We have increased the resources dedicated to SIV processing, and have undertaken steps to streamline the process at every application stage. These changes are ongoing and have already resulted in reduced wait times."
The State Department said "administrative processing times currently average six months for Afghan SIV applicants."
Related: 'Attack We Will': Trump Vows Victory in Afghanistan, Stays Silent on Troop Levels
Zeller, Shiner and Akhtari, however, have witnessed the agonizing process drag on for years. They have also experienced the elation when an interpreter finally comes home.
"Ecstatic to just have him in America"
"I've been to every type of VA therapy," Zeller said. "I have PTSD and a traumatic brain injury. I did get back from war with a significant injury. I tried everything. The most therapeutic thing I've ever done with my injury is picking people up from the airport."
Shiner hadn't seen Akhtari for nearly a decade when his former interpreter walked off the plane at Dulles International Airport with his family. A group of veterans had been waiting patiently at the airport for their brother in arms to come home.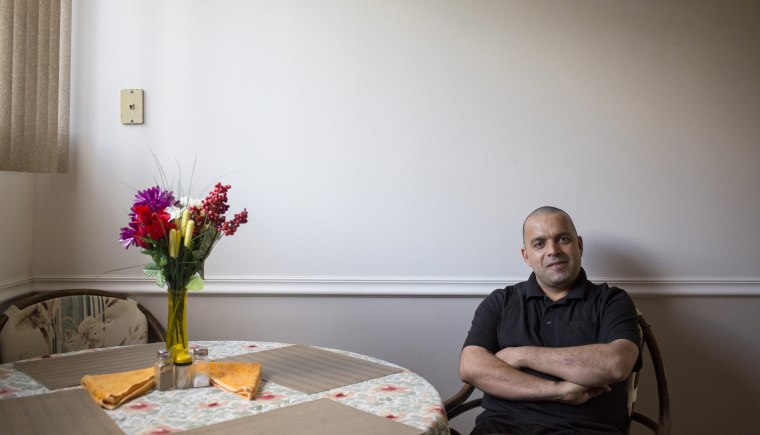 "It was pretty awesome — the second he walked through the door, being able to yell his name after 10 years, and seeing his family, and just being around him was just a very happy feeling," Shiner recalled. "It was just happiness everywhere. I think all of us were ecstatic to just have him in America."
Shiner said he often thought about the interpreters back in Afghanistan who were still fighting for America despite the danger they put themselves in.
"To know the work we did got him here was just indescribable."
"Over there is so dangerous and you hear all the time people are killed and just knowing your friends have to deal with that, it's a shame," Shiner said. "People really take safety for granted in America, I believe."
With money Shiner raised through a GoFundMe page, Akhtari was able to pay the State Department back for his flight to America. Akhtari and his family now live in Omaha, Nebraska, where the local No One Left Behind chapter has assisted in helping them settle into their new life in America.
"The whole thing — I don't have words to describe that either," Shiner said. "To know the work we did got him here was just indescribable."
But Zeller's work is unfinished. He continues fighting to keep the SIV program alive, but said one day he hopes to be out of business.
"I'm an optimist at heart," Zeller said. "There's a unified government. There's one part in control. Conceivably, you'd think you only need to convince a few people, but I don't think this gets resolved unless American people demand it."