A powerful Congressional committee asked the California National Guard on Tuesday to turn over all documents related to a growing reenlistment bonus scandal which has outraged veterans and their supporters.
The request by the House Oversight Committee came amid growing bipartisan anger over revelations that the Pentagon was forcing thousands of soldiers to return bonuses of $15,000 or more that were doled out more than a decade ago to get them to reenlist for six years and fight in Iraq and Afghanistan.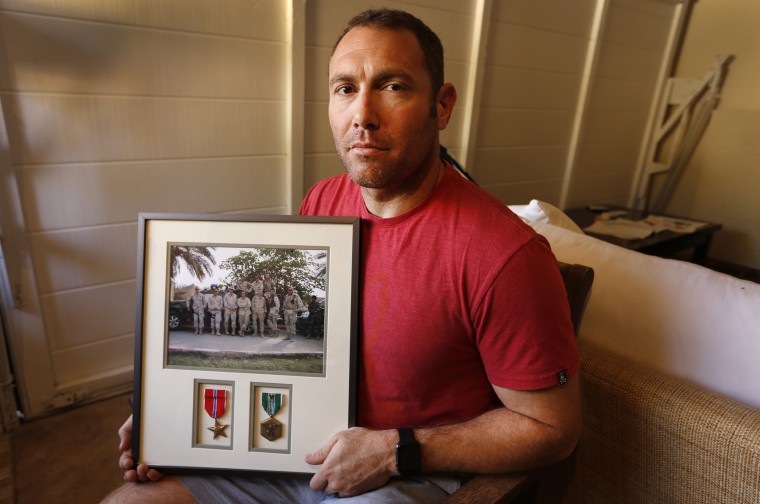 "The repayment demands are based upon audits that found bonuses and student loan repayments were improperly awarded to soldiers who did not qualify or were approved despite paperwork errors," the lawmakers' letter states. "The Committee is seeking information about this serious matter, and to see that officials who mismanaged bonus programs are held accountable."
Among other things, the committee is seeking all audits of overpayments made by the California Guard since 2002, an update on how much money has already been collected from the soldiers who got the bonuses, and all documents related to appeals filed by soldiers seeking relief from having to pay back the money.
White House spokesman Josh Earnest said it was about time Congress acted.
"First of all, this is something members of Congress (were) confronted with two years ago, and as with so many other things, failed to engage in a kind of constructive effort that could make things better for the country," Earnest told reporters on Tuesday. "We're not going to hold service members responsible, unfairly, for unethical conduct or fraud perpetuated by someone else."
Earlier, House Speaker Paul Ryan joined the chorus of lawmakers calling on the Pentagon to "immediately suspend efforts to recover these overpayments." Ryan's request came after House Democratic Leader Nancy Pelosi of California urged him and Senate Majority Leader Mitch McConnell to pass legislation to halt the debt recovery "as soon as we gavel back into session " after the Nov. 8 presidential election.
"These brave Californians were willing to give everything to serve our country, and they earned every penny and benefit given to them," Pelosi wrote.
Defense Secretary Ash Carter confirmed he has been made aware of the situation and vowed, "We are going to look into it and resolve it."
That can't happen soon enough for Christopher Van Meter, a 42-year-old former Army captain and Iraq War veteran who had to refinance his home to pay back the $25,000 in reenlistment bonuses and $21,000 in student loans he got from the Army back in 2007.
"I think we really got screwed and it feels like a slap in the face," Van Meter told NBC News earlier.
Van Meter said it was galling that after he served an extra six years he's now being told, "'Hey, you know, by the way we found some is not dotted, some is not crossed in your contract, and we want that money back."
"That was really tough to swallow," he said. "It really was."
About 9,700 other California National Guard soldiers have also been ordered by the military to return the bonus they got in 2007 and 2008 when the Defense Department was struggling to find enough soldiers to fight in the Iraq and Afghanistan wars.
"Our service members stepped up at a time when our country needed them," Rep. Tony Cardenas (D-California) said in a statement. "These men and women are now being forced to pay, years later, out of their own pockets, for the Pentagon's lack of oversight."
"Taking money from the pockets of American soldiers is an outrageous solution," he added.
The Los Angeles Times, however, reported Tuesday that California lawmakers in Washington had been warned two years ago that the Pentagon was trying to recoup the bonuses and apparently raised no objections then.
Cardenas said that was news to him.
"I have no record of receiving any formal notice of this widespread issue from any department — federal or state," the congressman said. "The only record I have is of individual cases of service members who approached my office to get help, and we are working with these individuals who have served our country to make sure they are treated fairly."
The official the Los Angeles paper cited, Andreas Mueller, chief of federal police for the California Guard, also warned that soldiers from other states who got the big bonuses to reenlist were also being pressured by the Pentagon to pay them back.
The Pentagon has already admitted the soldiers from other states may also be going through what their California brothers-in-arms are enduring.
Reenlistment bonuses jumped during President George W. Bush's administration when the government began offering big bonuses to get soldiers — many of whom had already served multiple combat tours — to reenlist.
In 2010, federal investigators discovered that thousands of bonuses and student loan payments were improperly approved for California Guard soldiers.
Army Master Sgt. Toni Jaffe, the California National Guard's bonus and incentive manager, pleaded guilty in 2011 to filing $15.2 million in false claims and was sentenced to 30 months in federal prison.
But instead of moving to forgive the botched bonuses, the California National Guard sent its auditors to collect from the soldiers arguing that the law did not allow them to do otherwise.
The bonus program was also the subject of at least two federal General Accounting Officer reports in 2009 and 2015 which noted the need for better oversight by the Army National Guard.