The first two women to graduate the Army's famously punishing Ranger school — a 62-day gauntlet of hunger, fatigue and exhausting tests of physical endurance — are "exceptional soldiers," their families said Wednesday.
In a joint statement, the families of Capt. Kristen Griest and 1st Lt. Shaye Haver said the women were just like their classmates — "happy, relieved and ready for some good food and sleep."
"Like everyone who will pin the tab on Friday, they are exceptional soldiers and strong teammates," the families said, referring to the coveted yellow and black decoration that Griest and Haver will receive Friday at Fort Benning, Georgia.
Griest, 26, is a military police officer from Orange, Connecticut, a defense official said. She graduated West Point in 2011 and served a tour in Afghanistan. Haver, 25, is a helicopter pilot from Copperas Cove, Texas, who graduated West Point in 2013.
Their families asked for privacy. "The journey of Class 8-15 has been exciting and exhausting," the statement said, "and just as they trained as a team, they wish to celebrate as a team."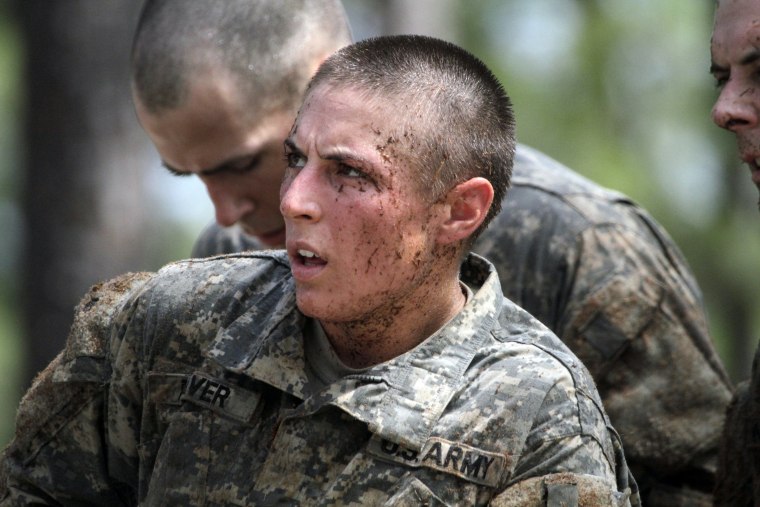 Four hundred soldiers, including 19 women, started Ranger training in April, setting out on weeks of grueling tests of skill and endurance. Only Griest, Haver and 94 men made it all the way.
For the two women, one obstacle remains insurmountable for now: Women are not allowed to serve in infantry or special-operations posts, including the elite 75th Ranger Regiment.
The Army opened the Ranger course to women for the first time this year as the military figures out whether and how to open combat posts and other military jobs to women.
Ranger training is in three phases. The first focuses on military skills and endurance. The second, in the Georgia mountains, focuses on survival techniques. The third, in the swamps of Florida, includes air assault and extreme mental and physical stress.
Graduates have to complete a physical regimen that is wearying to read, much less execute.
It includes 49 push-ups, 59 sit-ups, a 5-mile run in 40 minutes, six chin-ups, a swimming test, a land-navigation test, a 12-mile march in three hours, obstacle courses, four days of mountaineering, three parachute jumps, simulated air assaults and combat patrols.
The Pentagon announced two years ago that it would lift its ban on women in combat. The armed services have until the end of this year to recommend which jobs will remain men-only. Defense Secretary Ashton Carter has the final say.