A former Army Special Forces officer is accusing retired Marine General James Mattis, President-elect Donald Trump's pick to be defense secretary, of "leaving my men to die" after they were hit by friendly fire in Afghanistan in 2001.
Mattis has not commented publicly on the incident, which was chronicled in a 2011 New York Times bestselling book, "The Only Thing Worth Dying For," by Eric Blehm. The book portrays Mattis as stubbornly unwilling to help the Green Berets.
His actions, which were not formally investigated at the time, are now likely to get far more scrutiny during the retired general's Senate confirmation process.
Trump's transition team did not respond to request for comment from NBC News. Nor did Mattis, whose 2013 retirement from the military means he would need a waiver from Congress to serve as the civilian Pentagon chief.
Mattis is a highly decorated former wartime commander who became famous for leading the 1st Marine Division's lightning fast movement into Baghdad during the U.S. invasion of Iraq in 2003.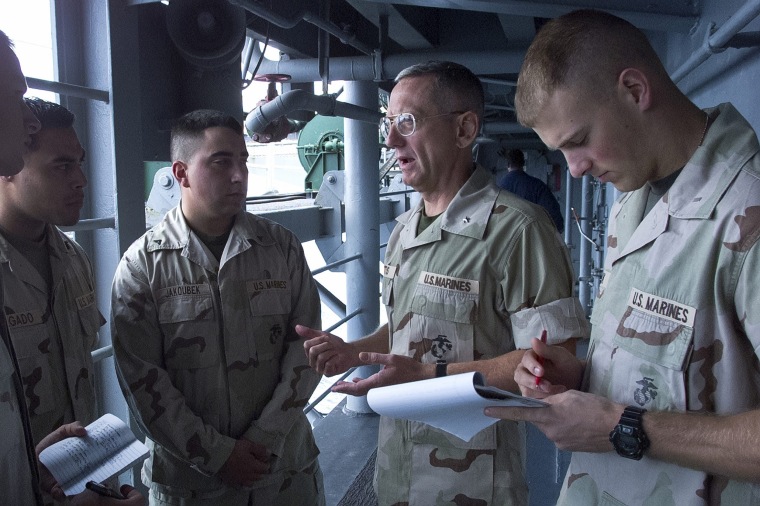 On December 5, 2001, as the wreckage of the twin towers still smoldered in lower Manhattan, a team of Army Green Berets accompanying Hamid Karzai, the future president of Afghanistan, was hit by a U.S. smart bomb in a case of friendly fire.
Two American soldiers died instantly and a third was badly wounded. He would later die, thought it is unclear whether that soldier would have survived had a rescue team arrived more quickly. Dozens of Afghans also were killed, and the CIA officer who now runs the agency's spying arm protected Karzai with his body.
Mattis, then a brigadier general commanding a nearby group of Marines, refused repeated requests to send helicopters to rescue the Green Berets, people involved in the operation tell NBC News. The helicopters under Mattis' command at Camp Rhino were about 45 minutes away, according to the book.
And, as commander, Mattis had final approval for the decision not to dispatch a rescue mission from there.
"He was indecisive and betrayed his duty to us, leaving my men to die during the golden hour when he could have reached us," Jason Amerine, who led the Army special forces operation as a captain, said in a Facebook post Friday morning.
"Every element in Afghanistan tried to help us except the closest friendly unit, commanded by Mattis," added Amerine, who retired as a lieutenant colonel and made news in recent years as a prominent critic of the Obama administration's hostage policies.
The 15th anniversary of the Afghanistan friendly fire incident is Monday. Master Sgt. Jefferson Donald Davis, 39; Sgt. 1st Class Daniel Henry Petithory, 32; and Staff Sgt. Brian Cody Prosser, 28, were killed.
Ultimately, an Air Force Special Forces unit based three hours away, in Pakistan, sent older helicopters to rescue Amerine and his men. Three more Afghans and a badly-wounded American, Brian Cody Prosser, died on the way to the hospital, according to the book. It is not known whether any of them could have been saved.
Mattis declined to be interviewed for the book, Blehm, its author, told NBC News. Other witnesses quoted Mattis saying that he didn't want to send a rescue mission into an uncertain situation.
According to witness accounts in the book, Mattis reportedly questioned why a rescue mission was needed and worried about whether the situation on the ground was secure.
Later, when a special forces Sergeant, David Lee, protested his decision, Mattis threw him out of his office, Blehm wrote.
The Obama administration was criticized for years by many Republicans—including Vice President-elect Mike Pence — for failing to mount a military rescue when a diplomatic post was attacked in 2012 in Benghazi, Libya, despite military officials saying no rescue was possible.
In this case, another military unit had to act because Mattis did not, Blehm said.
"The Air Force Special Operations Command had the same exact information as Mattis. They launched immediately," he said.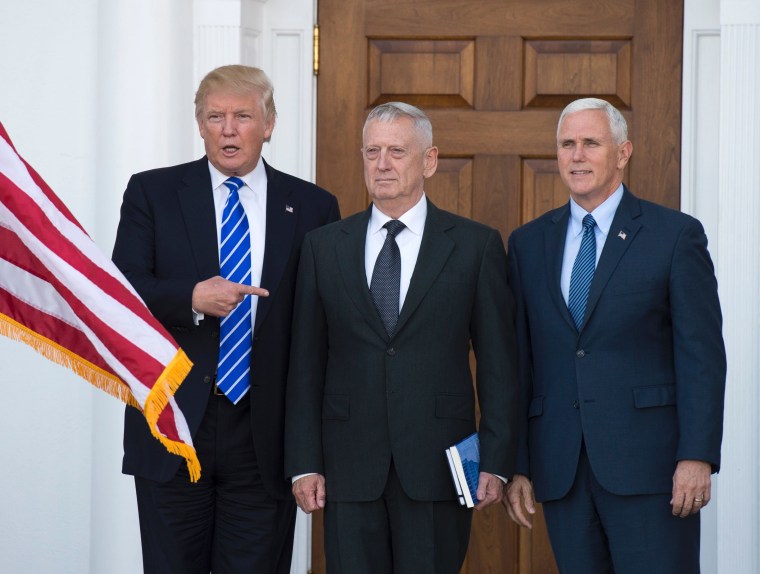 Blehm spent three years researching the book, including a long interview with Karzai, he told NBC News.
He interviewed six of the surviving eleven Green Berets involved in the operation.
"Every one of them said, when they were this mass casualty situation, either wounded tending to the wounded of their buddies, every one of them were thinking, where in the hell are the Marines?"
In his Facebook post, Amerine — who declined to speak on the record to NBC News — said it was ironic that Mattis later became famous for relieving a battalion commander for alleged indecisiveness during the invasion of Iraq in 2003.
"The delay of Mattis in launching MEDEVAC on December 5th was never in question, not even by him," Amerine said. "The only debate was whether it was justified and how many died as a result."