The first ever female graduates of the Army's notoriously rigorous Ranger school received their elite tabs on Friday along with 94 male soldiers.
The graduation ceremony, held at Fort Benning, Georgia, was the capstone of a historic week for 1st Lt. Shaye Haver of Copperas Cove, Texas, and Capt. Kristen Griest of Orange, Connecticut.
Maj. Gen. Scott Miller, commander of all Army infantry and armor training and education, told the graduates they all met Ranger standards — regardless of their sex.
"You'll leave Victory Pond today with a small piece of cloth on your shoulder, but more importantly, you carry the title of Ranger from here on out," he said.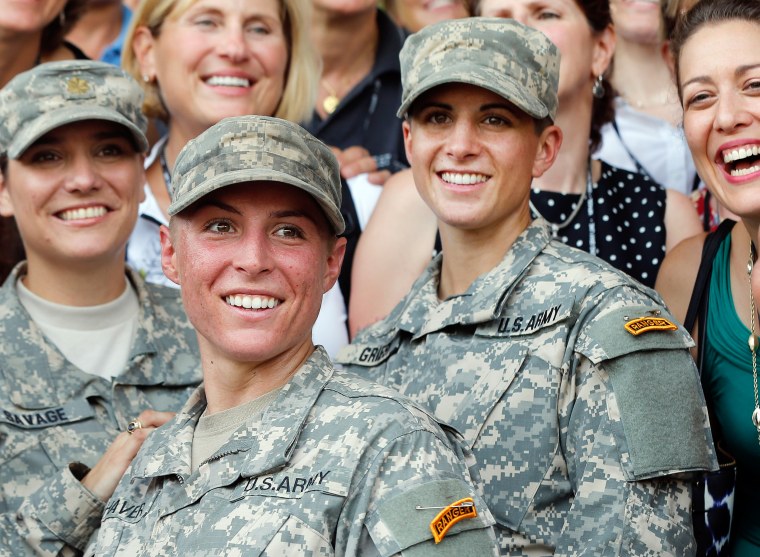 Although the women graduated, they are not permitted to actually join the Army Rangers, or even serve in infantry or any special operations posts, because they are women.
RELATED: Why Can't Women Who Graduate From Army Ranger School Actually Be Rangers?
At a news conference Thursday, flanked by several of their fellow male graduates, the two said that they were motivated to get through the punishing 62-day course by thinking of the doors they were opening for other women.
"I felt some internal pressure," Capt. Griest said at the Army panel. "I was thinking really of future generations of women, that I would like them to have that opportunity. So I had that pressure on myself."
RELATED: First Female Ranger Graduates Were Thinking of 'Future Generations of Women'
Four hundred soldiers — including 19 women — started the grueling Ranger training in April, but just Griest and Haver, along with 94 men, completed the full course.
"We ourselves came to Ranger school skeptical," Haver said. "But we didn't come with a chip on our shoulder, like we had anything to prove."
This was the first year that the Army opened Ranger School to women. The training tests physical endurance and survival skills, with graduates stretched to the extreme on mental and physical stress.
The 62-day exam includes a 5-mile run in 40 minutes; a 12-mile march in three hours; an air assault in Florida's swamps; and other obstacles.
Defense Secretary Ash Carter called the women Thursday to offer his congratulations.