The roads are unpaved. Many of the buildings still standing are riddled with bullet holes. But this secretive U.S. base, located near Syria's eastern border with Jordan and visited by journalists for the first time Monday, is now seen as a crucial bulwark against Iran.
The Al Tanf garrison was established to help local forces eliminate the Islamic State terror group. But with the Islamic State in decline and on the run, the base is now playing a critical role in the American effort to diminish Iran's influence in the region.
NBC News joined Army Gen. Joseph Votel, the top U.S. commander for the Middle East, on a trip to Al Tanf where he acknowledged the base's strategic importance in countering the sway of Iran.
"We don't have a counter Iranian mission here. We have a defeat ISIS mission," Votel said Monday. "But I do recognize that our presence, our development of partners and relationships down here does have an indirect effect on some malign activities that Iran and their various proxies and surrogates would like to pursue down here."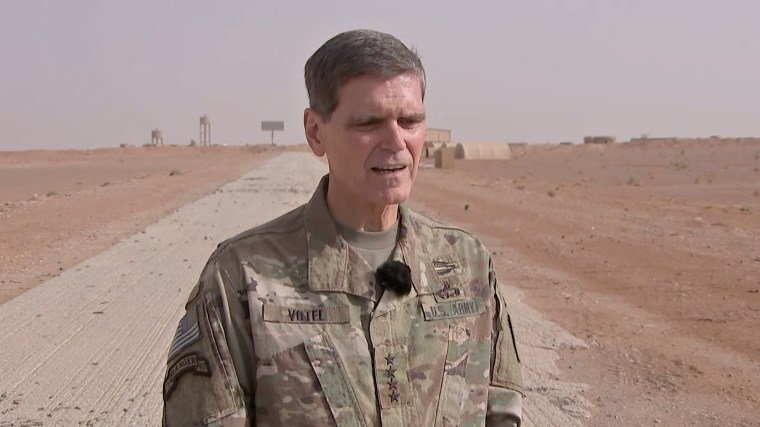 The American forces use the remote outpost to train Syrian opposition fighters known as Maghawir al Thawra, or MaT, formerly the Free Syrian Army.
The MaT has roughly 300 soldiers working out of Al Tanf, conducting patrols in the region outside the base's walls as part of the effort to drive out ISIS. The territory is home to roughly 100,000 people including Bedouins and refugees living in the Rukban camp.
The base is located along a critical road that stretches from Tehran to Baghdad to Damascus. Known as the Baghdad Damascus Highway, it was once a busy thoroughfare for smugglers transporting both legal and illegal goods, including weapons.
The area that now houses the base sustained major damage when it was under Islamic State control.
But since 2015, the base has served as a key outpost in the fight against ISIS. U.S. forces, with the aid of Syrian opposition fighters, have driven ISIS out of an area that stretches roughly 35 miles from the Jordanian border in what is known as a "deconfliction zone."
"What we've been able to do is ensure that this area, the deconfliction zone that we have around Al Tanf, does not support freedom of movement for ISIS," Votel said.
"They're not safe here. They can't operate here. Undoubtedly some elements try to pass through here and I think we have been very successful at interdicting them."
Al Tanf's location is also central to its role in preventing the Iranians from gaining a firmer foothold in the region.
The base sits in the heart of what Iran hopes will be part of a "Shia Crescent," a continuous land bridge linking Iran through Iraq and Syria to Lebanon.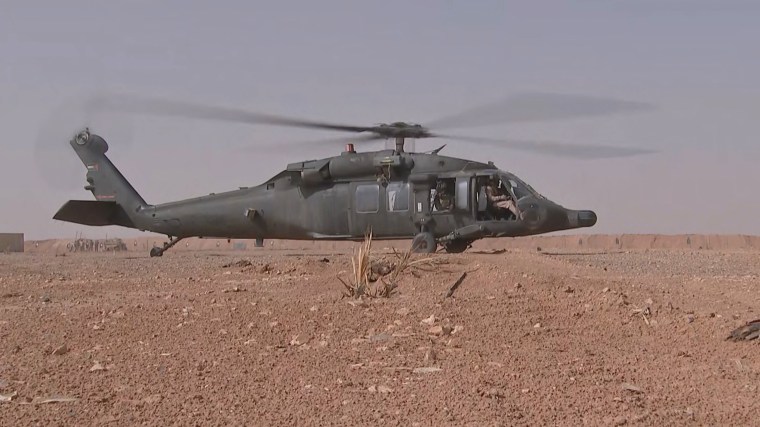 As NBC News reported earlier this month, the Trump administration has been developing a new strategy in Syria that would focus more heavily on pushing Iran's military and its proxy forces out of the country. The plan would emphasize political and diplomatic efforts to squeeze Iran financially.
Votel said the remote garrison is already playing a role in that effort.
"There's no denying we have some kind of indirect effect on them," Votel told NBC News.
"Our continued pressure down here is really helping enable the diplomats as they begin now to move forward to pursue the political solution that will ultimately need to be attained here."